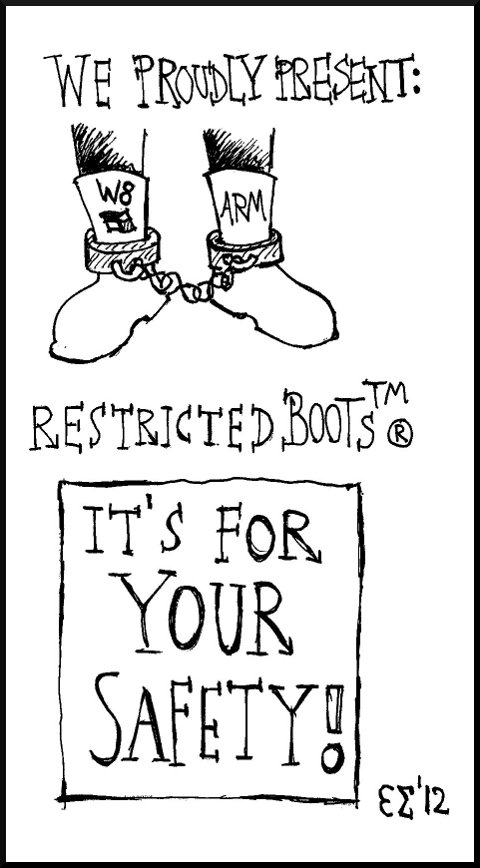 Summary: Ubuntu -- unlike Debian -- trusts not the FSF and instead plays along with the UEFI plot, gets chastised for it
THE FSF has spoken out against UEFI right from the start (when Microsoft had made it public information); it ran a petition that got signed by over 30,000 people and organisations.
"Restricted boots" is the cartoon above, which
came out
through competing against other artists. It is something that Debian really seems to 'get' because it signed the FSF's petition and its
leader is working with the FSF to earn endorsement
. Here is
the message
and a report
from The H
. It says: "Debian Project Leader Stefano Zacchiroli has announced a plan that aims to get the project included in the FSF's list of free software distributions. To that end, Zacchiroli wants to set up a team within Debian that is actively working to resolve the remaining issues which prevent Debian's inclusion in the list."
Debian signed the petition as part of its strategy or philosophy which seeks to distinguish the project based on values. The
FSF says
: "With over 30,000 signatures to our statement and over a dozen high-quality submissions to our contest, I'm confident our message that Restricted Boot is a mistake has the attention of Microsoft and computer-makers alike. Now we need take the next step of turning this support into tangible results."
"Debian signed the petition as part of its strategy or philosophy which seeks to distinguish the project based on values."UEFI is not inevitable because Microsoft is falling (it will soon report losses), so it is very disappointing to see Canonical, which forked or branched off Debian, choosing to lean on Microsoft's scheme. One columnist wonders if OEM pressure had something to do with it. He writes: "As the Linux community continues to debate the best way to deal with Microsoft Windows 8-certified machines that will have Secure Boot on UEFI, some nagging questions still remain as to why Canonical opted to take the solution it did.

"Both the Fedora Project and Canonical has publicly announced their proposed solutions to how users will be able to boot Secure Boot-enabled machines to Linux. Secure Boot requires that "all firmware and software in the boot process must be signed by a trusted Certificate Authority." Microsoft is requiring that hardware makers of all Windows 8-certified machines be configured to meet these strict requirements."

A Microsoft booster spoke to Canonical's founder about it. Shuttleworth replied: "The SFLC advice to us was that the FSF could require key disclosure if some OEM screwed up. As nice as it is that someone at the FSF says they would not, we have to plan for a world where leaders change and institutional priorities change. The FSF wrote a licence that would give them the rights to take specific actions, and it's hard for them to argue they never would!"

Swapnil Bhartiya, who runs a Ubuntu site, chastised Shuttleworth for it in his article "Is Microsoft More Trusted Than FSF: Ubuntu Chief Defends Grub 2 Drop". To quote: "Free Software Foundation, FSF, recently published a white paper criticizing Ubuntu's move to drop Grub 2 in order to support Microsoft's UEFI Secure Boot. FSF also recommend that Ubuntu should reconsider their decision. Ubuntu's charismatic chief, Mark Shuttleworth, has finally responded stating the reason why they won't change their stand on dropping Grub 2 from Ubuntu."


"The bottom line is, FSF and FSFE refuse to accept Microsoft's UEFI plans and Debian does the right thing."This is debated in Slashdot, which summarises as follows: "The Free Software Foundation recently published a whitepaper criticizing Ubuntu's move to drop Grub 2 in order to support Microsoft's UEFI Secure Boot. The FSF also recommended that Ubuntu should reconsider their decision. Ubuntu's charismatic chief, Mark Shuttleworth, has responded to the situation during an interview, and explained the reason they won't change their stand on dropping Grub 2 from Ubuntu. Shuttleworth said, 'The SFLC advice to us was that the FSF could require key disclosure if some OEM screwed up. As nice as it is that someone at the FSF says they would not, we have to plan for a world where leaders change and institutional priorities change."

To quote the top comment: "So in other words they're anticipating not only that OEMs are going to accidentally or intentionally ship machines running Ubuntu that are locked down so that you cannot boot your own kernels on them but also that they won't be able to convince the OEMs to fix their broken BIOSes to allow users to run their own code. By not using GRUB2 they ensure that said OEMs would have no legal obligations to allow you to run the code you wanted on the PC you'd just bought."

It is worth adding that the FSFE made its opinion known by writing: "We demand that before purchasing a device, buyers must be informed concisely about the technical measures implemented in this device, as well as the specific usage restrictions and their consequences for the owner."

The bottom line is, FSF and FSFE refuse to accept Microsoft's UEFI plans and Debian does the right thing. My most recently installed distro is Debian and I have no regrets. ⬆