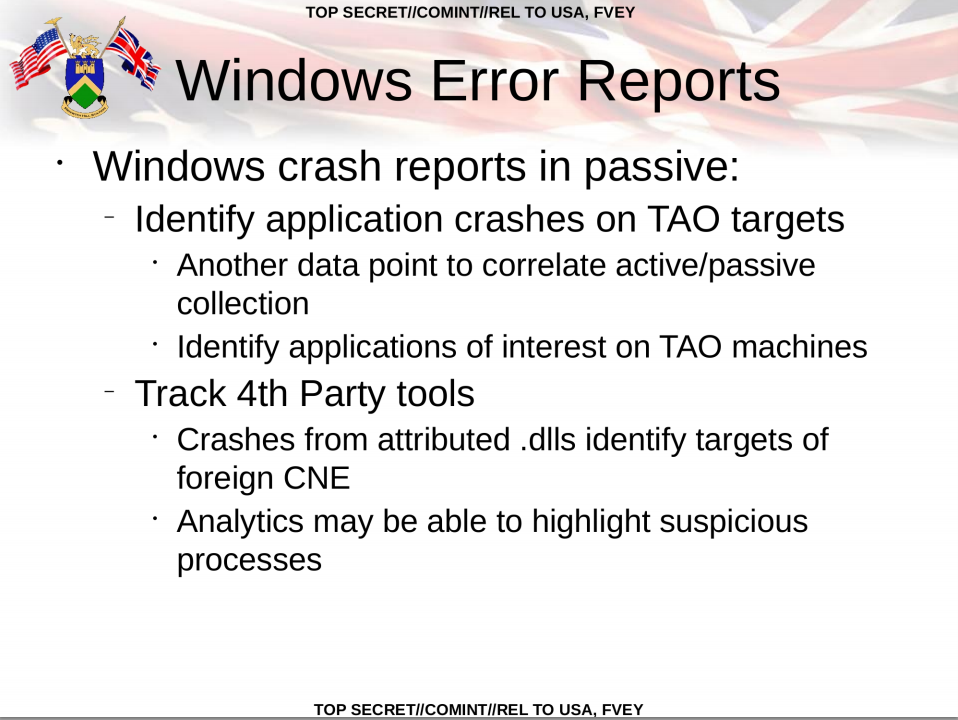 From documents just released by Der Spiegel, via Edward Snowden (click to zoom)
Summary: The world is leaving Microsoft's common carrier (Windows) behind, so Microsoft, which is shrinking, tries to conquer Free software and GNU/Linux
Microsoft Windows has been facilitating/enabling GCHQ (like 'NSA UK') and NSA with back doors, including -- perhaps passively -- so-called 'crash reports', as revealed by new documents (published over the weekend). Microsoft bug reports are now being used against their reporters, selecting "targets" using this 'volunteering' effort. How nice is that? No wonder China is banning Microsoft software while Russia heads down a similar path (abolishing x86 in government).
Recently in the news there was some noise from Microsoft boosters and sympathisers who
spoke about giving
Microsoft control
over GNU/Linux servers
. It is a dangerous and dumb idea as it's more or less like a Linux-to-Windows migration, merely self-serving (to Microsoft) and dangerous to one's freedom. We already responded to this noise last week, but it carried on until the end of the week. It is clear why Microsoft is so eager to take control over GNU/Linux and Apache. Despite the fact that Netcraft is being gamed by Microsoft, Netcraft still shows that Microsoft continues with its losses on the Web (see
January 2015 Web Server Survey
) [
via
], declining to almost single-digit market share. It is also evident that Microsoft as a company is shrinking (people inside Microsoft tell us that) and Gates-funded papers like
this one from Seattle
help spin staff backlash:
A group of workers employed by a Microsoft contractor successfully organized a union — a rare feat in the tech industry — and is now bargaining with its company over a contract.
A reader told us that Microsoft is basically "still doing the permatemp thing" that
helps hide layoffs
. The above article from the Microsoft-friendly press does not tell the full story. Microsoft has basically outsourced a lot of its labour and put it on contract, so there is no termination, no layoffs. There is no long-term obligation to such staff.
"Microsoft has basically outsourced a lot of its labour and put it on contract, so there is no termination, no layoffs."Finally, speaking of Microsoft spin, Adrian Bridgwater calls "Community Service" Microsoft indoctrination of students. We don't know if he is being deliberately thick or just trying to entertain readers. This relates to what we wrote some days ago about Microsoft preying on children. Microsoft is trying to fill GitHub with .NET projects, even at the expense of CodePlex. There is a charm offensive over this and Microsoft's booster Mr. Anderson wrote that "Program Manager Kasey Uhlenhuth explains that the Roslyn team is not only moving the repository, but also switching to git internally."

Just wait until propagandistic firms like the Microsoft-connected Black Duck claim that .NET and Microsoft-centric licences are on the rise, based on some figures from GitHub. That's just a case of Microsoft infiltrating its competition. ⬆