11.03.08
Gemini version available ♊︎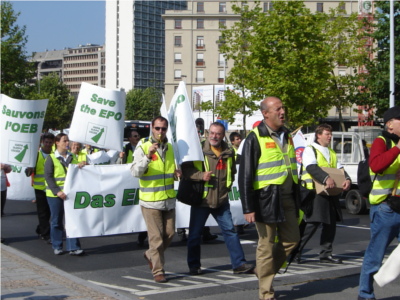 A month or so ago, Richard Stallman wrote: "Staff at the European Patent Office went on strike accusing the organization of corruption: specifically, stretching the standards for patents in order to make more money."
The activists at the Stop Software Patents initiative have just spotted something interesting.
The New York Times has an article about the recent Bilski decision. The USPTO has requested a change in the title of the article.
There is then an implicit mention of software patents, courtesy of the USPTO. Benjamin Henrion inquires:
If Mrs Jennifer Rankin Byrne could point out where she sees the term computer in the Bilski decision, that would help to back her statement.
What is that all about? Remember John McCain's view on the subject.
Another day, another spurious lawsuit.
Mformation, a maker of mobile device management software, said Friday that it has sued Research In Motion for patent infringement.

[...]

This does not, of course, mark the first time RIM has been sued for patent infringement. Most famously, the BlackBerry maker was embroiled in a long-running patent spat with patent-holding company NTP that at one point threatened to shut down BlackBerry sales and service.
Where is the 'innovation' in all this? █
"I think that "innovation" is a four-letter word in the industry. It should never be used in polite company. It's become a PR thing to sell new versions with.
"It was Edison who said "1% inspiration, 99% perspiration". That may have been true a hundred years ago. These days it's "0.01% inspiration, 99.99% perspiration", and the inspiration is the easy part. As a project manager, I have never had trouble finding people with crazy ideas. I have trouble finding people who can execute. IOW, "innovation" is way oversold. And it sure as hell shouldn't be applied to products like MS Word or Open office."
–Linus Torvalds
Permalink
Send this to a friend