08.23.10
Gemini version available ♊︎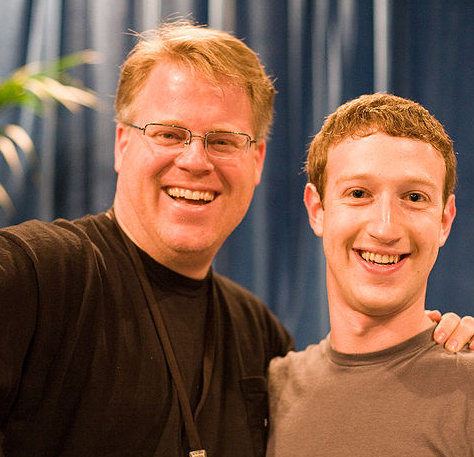 Facebook co-founder Mark Zuckerberg
with a former Microsoft evangelist who more recently joined Rackspace only to see it aligning with Microsoft a year and half later (source: Robert Scoble)
Summary: How Microsoft and Facebook continue to disrespect people following their alliances and partnerships which lead to incredible distrust
IN OUR previous posts about Facebook we showed that Microsoft gets direct access to Facebook data. Well, more data will soon be attainable by Microsoft which links Facebook Chat to Windows Live Messenger for IM.
Microsoft says it will roll out Facebook Chat as part of Windows Live Messenger initially in the U.S., U.K., France, Brazil, Germany and Russia. New countries and geographies will be added over time.
A few years ago Microsoft tried to buy Facebook; instead, they eventually became close partners and Facebook is partly owned by Microsoft now. One person has passed us information about what is potentially Microsoft guerrilla marketing in Facebook. To quote with appropriate redactions that keep the parties safe:
Is Microsoft ghost writing Facebook pages for their partner's employees? I've got a hunch that they are and it will be easy to check up on. [...]

An acquaintance's Facebook page is all about Microsoft these days. He's given himself a middle name of "Mr. [Microsoft product]" and all of his messages are about Microsoft junk. I thought that was strange because the last time I talked to him he was down on Microsoft because someone rooted his NT based ftp server.

I'm going to give the guy a call tonight to find out what's up. It's possible the guy has been converted to a walking Microsoft advertisement after years of work for a Microsoft partner. I'll take a screenshot to share with you if it turns out that he's unaware or if the page is ghostwritten. If it is ghost written, he might not be able to say so and he might not want to be a published example but you should see what I mean even if you should not share it. Chances are that you won't need anything about my friend at all.

You can verify my hunch yourself. Lack of originality is a signature of Microsoft campaigns, so it should be easy to find hundreds of people named after Microsoft junk. If my hunch is right, these ghostwritten accounts will all have the same lame Microsoft copy paste comments and talking points. Have a look and let me know if you find anything.

If my hunch is right, Microsoft has sunk to new lows in Astroturf and another danger of Microsoft controlled social media has been exposed. Exploiting the trust people have in their friends and neighbors is the Facebook business model and it would not be surprising for 15% investor Microsoft to take advantage of Facebook sneaky ways. Microsoft's PR department writes blogs for Microsoft's employees and they were caught sending snail mail on behalf of others, even dead people, to the US Congress. Microsoft has impersonated people like Bruce Perens and Roy Schestowitz on bulletin boards and other social media. We also know Microsoft people promote Microsoft friendly opinion and discourage everything else. Sticking opinions into the mouths of people's friends would be a new low but an entirely predictable one. Free software social networking will avoid this pitfall with public key infrastructure.

If my hunch is wrong, well, shame on my friend for being such a tool.
Facebook is now tracking people too and Microsoft receives a copy of this data:
It should come as no surprise that Facebook is using Microsoft's Bing Maps to pinpoint locations in Places.

Microsoft made a considerable investment in Facebook several years ago, and other Microsoft services such as Bing search and Microsoft Docs are already integrated with Facebook.
Facebook may be using Free software as the underlying stack for its operations, but everything else is proprietary and to make things worse, Facebook violates Free software licences to make proprietary software for proprietary platforms:
Facebook Caught Plagiarizing Open Source Code in the Official iPhone App

[...]

One of the many nifty features present in the official Facebook app for iPhone is the "Pull to Refresh" functionality, which was pioneered by Tweetie. This UI (user interface) element is derived from the open source TTTableHeaderDragRefreshView class created by Enormogo. Unfortunately, it appears that Facebook was using third party open source code without proper attribution.
Microsoft did this too and it got caught several times last year. Bad minds think alike. "Microsoft pulls a 'Facebook' by exposing Windows Live users' names," says the sceptical Microsoft booster:
I have to point out, it's not the fact that a relatively small number of users are vocally complaining across more than a half-dozen help forum strings that caused me to write about this. It's the fact that Microsoft pulled a "Facebook" and exposed users names and other info that was previously not visible to anyone.
How tactless. Is it not hypocritical for Microsoft to accuse Google of privacy violations? █
Permalink
Send this to a friend