08.26.10
Gemini version available ♊︎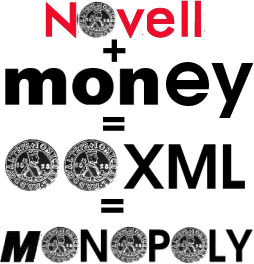 Summary: After Microsoft 'bought' OOXML support from Novell, the company's PR reps suggest that it is bad practice
"True Open Standards Aren't Single Vendor Affairs," says this new bit of Novell PR. It's actually the headline.
3 years ago Novell helped OOXML, which was a single-vendor format Microsoft sought to pretend was backed by many. Novell was one of Microsoft's examples of vendor support for OOXML, which is why we find Novell's spin rather amusing.
Recently, a privately held log management vendor, LogLogic, announced that they were interested in having their proprietary log transportation and storage protocol become an industry standard. This is clearly a self-serving power grab with very little substance behind it. LogLogic is doing nothing more than taking a proprietary protocol they have created and attempting to co-opt industry attention by claiming they are making it an open standard.

Novell welcomes open standards and has a long history of working with other vendors to create and support open standards.
This is amusing because Novell harmed ODF when it did what it did for OOXML. 3 years later Novell can only hope that people have forgotten this embarrassing debacle. Novell's vice president Miguel de Icaza, for example, said that OOXML was "superb". That was before he became a Microsoft MVP. █
Permalink
Send this to a friend