06.11.11
Gemini version available ♊︎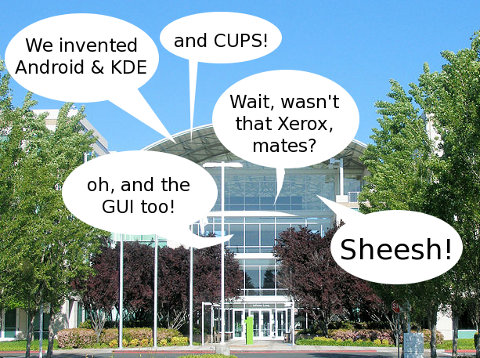 Summary: Apple falls behind Linux (Android) in the phones market, so it is exploiting other people's work a little more, blocking competitors and subsequently it gets reported to the Bundeskartellamt
WHILE IT is true that Microsoft has been trying to give Apple antitrust trouble (we covered examples before), a lot of the complaints against Apple are generally justified because the company is extremely arrogant in a way that is infectious and it drives computing towards prison-like conditions faster than Microsoft ever did. Apple is about restriction that is typically disguised as ease of use or trendiness.
Apple's crowd of fans (some are genuine) would typically whine about critics and shockingly argue that Apple takes computing in a good direction and invents things. But it's utter nonsense. All Apple has done in recent years is exploit Free software projects that truly innovated and then added marketing to them; but the marketed brands are Apple's and Apple was the sole supplier of all products. Nice, eh? That's a nice monopoly you got there. When Apple loses the game — as it often does to Linux these days — then it files petty lawsuits using software patents. That's how distasteful the company can be. The only thing wrong with Apple is that they have no ethics. The company is also copying and them stomping on ISVs, just like Microsoft did many times over the years. This is an observation we mentioned some years ago; Apple is bundling other people's ideas without their permission and without even credit. One critic asks in a new headline, "Apple Stealing From Its Developers?" ("stealing" is the wrong word, but Steve Jobs uses it to describe Apple's own behaviour).
It seems Apple has run out of ideas and has started looking at the apps developed by external developers and started branding them as their own.
Yes, Apple has done this for ages and it can also block competition by banning it from the so-called "app store" (Apple trademark). This too was done, e.g. when someone developed copy-and-paste functionality for the iPhone. Developers and partners who help Apple are basically making a mistake and wasting their time/effort because Apple fed patent trolls and created blockades. Having funded the source of Lodsys's patent, Apple now pretends to care about developers, who are affected by a " Bulls*** Claim". Where is their backlash against Apple?
"Apple is inherently a jail. The walls may be padded, but it's still a jail."Interestingly enough, last week we saw Apple making a step towards taking users' data with the so-called 'cloud' (Fog Computing) and TuneCore's CEO says (probably paraphrased) that "Apple Has Just Monetized Pirated Content" (Steve Jobs famously asked, "why join the navy if you can be a pirate?"). In any event, another company, Simfy, "says that it has filed a letter of complaint with the Bundeskartellamt, the country's antitrust authority, claiming that Apple is abusing its market position by delaying the approval of the company's iPad app. It has been more than three months since Simfy submitted its app for approval."
Yes, all those DRM-laden shops are major trouble. Apple abuses its power and blocks what in theory could be partners. Apple is inherently a jail. The walls may be padded, but it's still a jail. █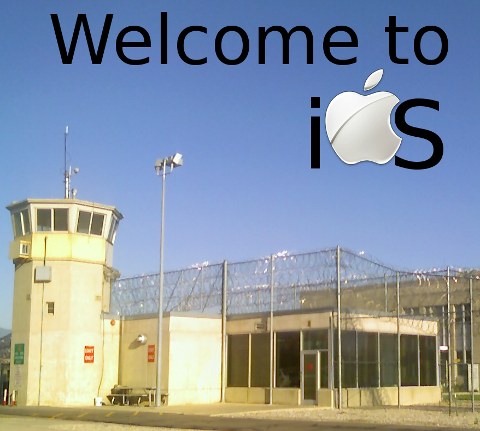 Permalink
Send this to a friend