08.08.11
Gemini version available ♊︎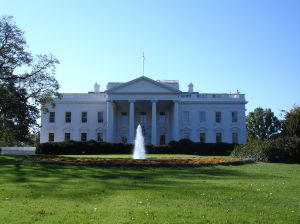 Summary: Microsoft manages to have a mole put in charge as the CIO of the White House
A person previously chosen to head technology for the Obama administration was embracing Google, Drupal (GPL), GNU/Linux etc. But it was too good to last and as we noted last year, there was something mysterious about his departure, almost as though someone was trying to topple him (we wrote about him on many past occasions).
Just like in the FCC, the White House is falling back into Microsoft's hands. Gates and Ballmer are already frequent White House visitors, so the match seems like it was made in Heaven and the connection Microsoft has to the US government is a subject we have an entire wiki page about.
Microsoft must be opening a bottle of champagne right about now. The White House CIO who was a Microsoft-hostile one is out, a mole is in, based on this report:
Steven VanRoekel, a former Microsoft executive, will become the next chief information officer for the federal government — a bigger, more policy-oriented technology job than any he held at the software giant.
This comes from the New York Times. "Here is an article with a bait title" from the New York Times, alerts us a regular reader. This relates to reports like this or even this, but its message is opposite in the sense that it is a bit of a whitewash. "Microsoft needs to concentrate on a different kind of search: finding a buyer for Bing, its online search business," say original claims, but who would be interested in a business that loses billions per year? All Bing brings are big losses without signs of reversal (amid growing debt). It's the same with Windows phones at 1% market share and "abysmal" revenue which is "probably income from Microsoft's Android shake-downs," says one GNU/Linux advocate. Moreover, it is one of those silly articles that call profit — not userbase — "market share". But anyway, that's another story for another post. Going back to the issue at hand, Fernando Cassia tells us that:
Great, after appointing a trojan at Nokia, the Evil Empire of Redmondia now has one at the White House
"Oh no," writes one of our readers, "Steven VanRoekel, who worked at Microsoft from 1994 to 2009, replaces Vivek Kundra, who is stepping down as federal chief information officer to take up a fellowship at Harvard University. As CIO, VanRoekel will direct policy and strategic planning for government information technology and will be responsible for the $80 billion in annual federal technology spending. At Microsoft, VanRoekel was an assistant to Bill Gates…"
"The US Federal Government is totally screwed," he adds, and "NYT is stupid."
It says that: "The federal government spends about $80 billion a year on information technology, more than any corporation. But the government, analysts agree, has not achieved the kind of productivity gains from its technology investment that is evident in the private sector."
"That would be the "productivity gain" had by firing lots of workers in the private sector," says our reader. "It would be good if the Feds don't get "productive" like that but Republicans want to fire everyone but DHS subcontractors.
"Great, after appointing a trojan at Nokia, the Evil Empire of Redmondia now has one at the White House"
–Fernando Cassia"Government work does not pay well but it's one of the few places left that a person might hope to work a 40 hour week, have vacations and a pension.
"Wow, Roy has a lot of excellent research on the man. [..] and what happened at the FCC."
Concluding the above, he quotes: "While VanRoekel worked with the FCC, one of his primary jobs was to redesign their basic website and primary web-based face. Below you'll be able to see before and after screenshots of the site improved by VanRoekel. He furthermore added a vastly improved commenting system to the new site as well."
Further, he adds: "So, that's his primary FCC achievement according to Slashgear. Roy documented a few other accomplishments, like the FCC going after Apple.
"Kundra's IT dashboard had a lot of Microsoft contracts on the cutting block. This guy will probably push OOXML on everyone instead."
The problem with VanRoekel's appointment is now just that he is likely to make IT more expensive (at burden to taxpayers). He is also putting national security at risk considering cyberattacks from China, which based on Wikileaks/Cablegate are due to Windows and Microsoft's collaboration with Chinese crackers. Look what we have in the news now…
IDG: China Denies Any Involvement in 'Shady RAT'
Slashdot: Black Hat Talk Demonstrates New Document Exploits
To quote: "Remember the days of the viruses embedded in email attachments? They're coming back, according to a pair of researcher talking at Black Hat this week: '"If you have installed all Microsoft Office patches and there are no 0 day vulnerabilities, will it be safe to open a Word or Excel document?" TT asked the audience. "The answer is no."'"
Remember what Microsoft's E-mail management previously did in the White House.
A Microsoft mole in the White House is bad for the same two reasons we explained yesterday in relation to European procurement. It makes everything more expensive to the public and also provides an inferior service to the public. The American citizenry deserves better than that. █
Permalink
Send this to a friend