10.23.11
Gemini version available ♊︎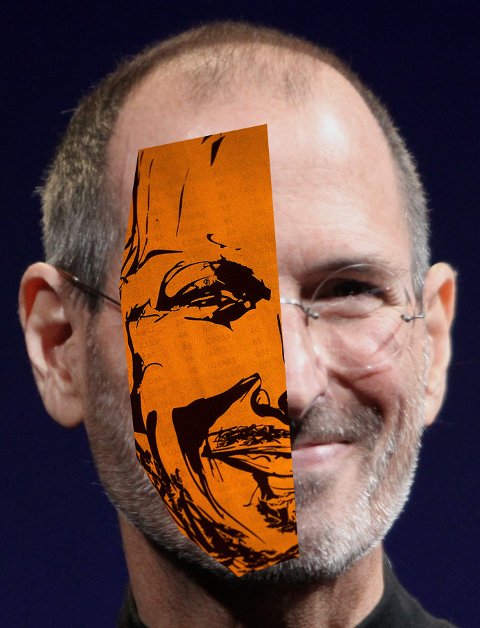 Jobs image licensed under the GNU Free Documentation License (version 1.2 or any later versions); Ellison patch By Thomas Hawk
Summary: A mishmash of stories about software patents in the United States
THE agency known as the US International Trade Commission [1, 2, 3] has got far too much power that it does not deserve. It can be seen as a US-based office for the interests of any US-based company that wants to ban its competition and Apple misuses those powers to block competition just as Steve Jobs once hoped (more on that later, in a separate post).
The news is still abuzz with software patents, but only in the United States (Microsoft is trying to lobby for software patents in other countries, but that too will be a separate post).
Some companies are in fact basing themselves on a patent monopolies. To quote this new example:
…a new patent covering aspects of its mobile video and mobile personalization technologies.
The intent here is to exclude or to sue rivals. Is this really a valid business model? And as for Oracle, it too has turned to patents, having made statements against patents in the past. But it is being reported that Oracle's case, which has already gone on for over a year, gets postponed:
A judge postponed an Oct. 31 trial over Oracle Corp.'s claims that Google Inc.'s Android software infringed patents on the Java programming language.

U.S. District Judge William Alsup in San Francisco vacated the scheduled trial date, saying it conflicts with a criminal gang case in his courtroom that will continue through January. He asked lawyers for Oracle and Google to consent to a trial before a magistrate judge. If they don't agree, Alsup said he's considering 'swapping the case to another federal judge," and the companies will have no right to object.

'I have not been so overworked in 37 years of professional life," Alsup said. The hearing concluded today with no new trial date scheduled.
The British press has more information about it:
Google over alleged Android patent infringements of Oracle-owned Java software has been postponed again, due to a criminal trial that will start the week before the two tech giants were due to meet.
Groklaw's take is as follows:
The two motions for summary judgment Oracle wants to file are, first, regarding "the copyrightability of the selection and arrangement of names in the API design specifications at issue". Second, it wants to file a motion for summary judgment regarding "Google's four equitable defenses — laches, equitable estoppel, implied license and waiver" and Google agrees that it can be decided as a matter of law. This has to do with Google's arguments that nobody on Sun objected and in fact praised Android.
It did indeed and there is denial of evidence that can support Google according to other reports that call patents "intellectual property". Funnily enough we found this new article titled "RIM's operating system BBX in patent trouble". It says that "A New Mexico firm claims the 'BBX" name is protected by trademarks it holds and is threatening to take legal action against RIM unless it stops using the moniker." Watch the headline that speaks of patents. The article is about trademarks, not patents. It is just more evidence of how poor journalism can be when it comes to these topics, with the term "IP" thrown around spuriously as well. █
Permalink
Send this to a friend