11.10.11
Gemini version available ♊︎
Letting Apple jump the shark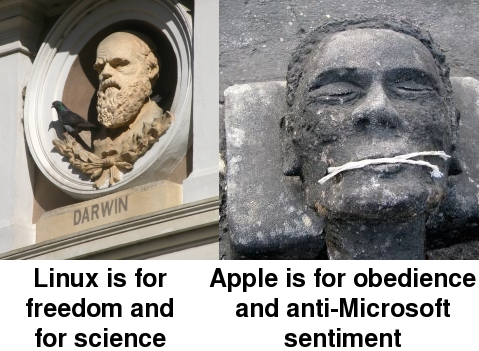 Summary: Latest news about Apple's embargo wars on Linux/Android and some of the causes for Apple's panic
APPLE increasingly became a threat to freedom not because it is "successful" but because it is aggressive. It's Apple that started it.
Apple has been banning Android devices in Australia, but there are those who defy the injunction, notably (from the latest news):
AN AUSTRALIAN RETAILER is continuing to sell the Samsung Galaxy Tab 10.1 despite an injunction obtained by Apple in the land down under.

According to the Sydney Morning Herald, retailer Dmavo is restructuring its business in the hope of overcoming Apple's legal threats.

Apple won a temporary injunction against Samsung last month stopping the company from selling the Galaxy Tab 10.1 in Australia until a full hearing in the Australian Federal Court that's scheduled for 25 November.
Apple has made a real mess in Australia where it opted for litigation rather than fair competition. There is generally a lobby there for software patents (led by proprietary software companies) and the Australian Pirate Party spoke about the dangers recently (how revolutionary! A party that speaks out for people's interests, not corporations), further to amplify its message in an imminent event.
Over at ZDNet, the Pirate Party did not really name the culprits but it addressed the issues. This was mentioned by a pro-Free software journalist, who in his post about it, "Kill software patents, says Pirate Party", said that "[c]riticising the Australian Government, David Campbell, President-elect of Pirate Party Australia, said in a statement that the current patent system sabotaged local innovation and creation of jobs. "There will come a time when innovation is no longer possible due to innovation itself being patented. Patents are intended to recompense inventors for their efforts in developing products and methods that will benefit society. This is clearly not being achieved when patents for everything and anything are being granted," Campbell said."
This is all very important because Apple's patents are weak and soft. They should be easily abolishable in a sane system and perhaps disregarded altogether. Failing systemic answers, there is also the weakness of Apple's claims in general. Google's Schmidt says that Android "started before the iPhone effort" — a point that we saw earlier and elsewhere before. '"Our lawsuit is saying, 'Google you f***ing ripped off the iPhone, wholesale ripped us off," Jobs told his biographer, Walter Isaacson, about the lawsuits that Apple is engaged in with Android vendors Samsung, HTC, and others. "I will spend my last dying breath if I need to, and I will spend every penny of Apple's $40 billion in the bank, to right this wrong. I'm going to destroy Android, because it's a stolen product.'"
What a charming gentleman, eh?
In the EU, unlike in Australia, is it Apple that faces a ban now, not Android. It's Apple that started it. [via "Apple Banned in Germany!"]
Sales of iPhones and iPads are on the brink of being banned in Germany as a result of a court battle over Apple's alleged infringement of Motorola patents – but the fruity fondleslab maker reckons it can get the injunction suspended even though it failed to turn up.

The German hearing on Friday was brought about by Motorola Mobility, which is seeking an injunction to ban sales and thus prevent Apple gaining customers while the patent hearings continue. Quite why Apple didn't attend remains a mystery – suggestions range from a lawyer stuck in traffic to a ploy designed to consolidate cases – but it did result in a German court rendering a default judgement which will see Apple products removed from sale in Germany, unless the company gets it suspended.
For more on the same theme, also see "The UGLY Side of Software Patents and Apple".
Steve's Job included sheer aggression against Linux/Android. We know this for sure now and a Microsoft booster has published the article "New Yorker on Steve Jobs: More tweaker than inventor". To quote:
In a column for the magazine's new issue, the New Yorker's Malcolm Gladwell relates several stories from Walter Isaacson's bio as evidence that Jobs' real contribution was zeroing in on an existing item, no matter how minute, and refining it until it fit his vision of perfection.
Here is what the LA Times published a few days ago:
Steve Jobs' legal war on Google, Android rages on

Steve Jobs' legacy at Apple Inc. goes well beyond cool gadgets, a thriving retail chain and a music empire.

He also launched the company's all-out legal war on Google Inc.

In the last months of Jobs' life, Apple unleashed a patent-suit blitzkrieg on its Silicon Valley rival, filing 10 lawsuits in six countries that accuse the Internet search giant of stealing its smartphone and tablet computer technology.
Apple — like Microsoft — pretends to be a victim by using words like "steal" and pointing to cases like this new one. But Apple is not a victim, Apple started the war on Android not because it felt unfairly treated by the patent system.
Apple's problem is that Google stole its thunder. Google did not steal anything real from Apple and Android development predates iPhone. Watch what goes on with the iPhone now:
Apple's IOS has suffered from a bug that leaves some Iphone users with devices that do not update their time to take account of daylight savings time changes. Over the weekend, while the US changed back to standard time, some Iphones did not.

Miller announced the news on Twitter this afternoon, saying "OMG, Apple just kicked me out of the iOS Developer program. That's so rude!"

Earlier today Forbes' Andy Greenberg published a story featuring Miller, who is a well-known security researcher who targets Apple's products and services. Miller's latest discovery was a security hole in iOS that let applications grab unsigned code from third-party servers that could be added to an app even after it has been approved and is live on Apple's App Store.

FRUIT THEMED TOYMAKER Apple has proposed a settlement in the class-action lawsuit against it over faulty Magsafe power adaptors, offering users a replacement unit.
Apple was presented with a class-action lawsuit claiming that its T-shaped Magsafe connector was faulty. Users complained that parts of the cable would melt or fray exposing the underlying wire and, in typical Apple fashion, it chose to ignore the problem – that is, until now.
Users are furious about other issues:
FLOGGER OF SHINY TOYS Apple's Iphone 4S has yet another problem, this time with an irritating static sound being heard by users while making calls.
Apple has gone aggressive and angry (with a PR toll), which is just another indication of the real problems it is having. Microsoft is the same and the next post will deal with it in isolation. █
Permalink
Send this to a friend