01.13.12
Gemini version available ♊︎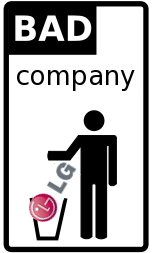 Summary: Microsoft is once again claiming to have extorted the competition, making money from products that it does not make and never contributed to
AS patent battles rage on (because some companies are unable to compete without suing) we find that Microsoft and Apple are prominent behind the attack on Linux/Android. Even when the lawsuits are not direct there are some clear links to be seen which tie the duopoly to Android smears in particular.
While Apple fan sites keep worshipping more ridiculous patents from Apple we keep finding more "patently absurd" Microsoft patents whose aim is just to increase the patent count and thus establish weapons of extortion (quantity over quality, overwhelming the defendant/victim with cruft). Barnes and Noble has been fighting back against those extortions and Microsoft chickens out for reasons that Groklaw explains in one of its most recent posts about Android:
Barnes & Noble has responded to Microsoft's Motion for Leave to Reply to a Barnes & Noble document titled "Barnes & Noble's Statement of Additional Material Facts". It was under seal, as was Microsoft's motion, but Barnes & Noble's Opposition [PDF] isn't, so finally we get to find out a few more clues on what is going on.

Also, the parties have stipulated [PDF] to Microsoft dropping from the ITC investigation some of its patent infringement claims, which they say Microsoft is doing "to simplify" the investigation, "streamline the hearing", and conserve resources "in consideration of the amount of time allotted for the hearing". And maybe because they were stupid patents to begin with.

Like *that* could ever be acknowledged by Microsoft in the open air. Quite the contrary. They state that this stipulation "is also not an admission as to the merits of any claim". It just *looks* like that is what it is.

Actually, it's more likely strategic. I was reading up on patent misuse last night, and the Federal Circuit has narrowed what kinds of horrible behavior can be called patent misuse, and one requirement now is that the misuse must be associated with a particular patent. Part of the stipulation says that Barnes & Noble isn't to use the fact that Microsoft dropped these claims "as evidence in support of their affirmative defense of patent misuse" before the ITC, but they can otherwise use them. So that's what that convoluted language is probably about.
A company that has already sold out to Microsoft over Linux is now selling Android out (Android was a matter of time) and the elaborate Slashdot discussion says a little more (it is a secret deal, as usual).
A Microsoft booster echoes the Microsoft propaganda in this post which we criticised earlier (this booster hangs out in our IRC channels) and to quote one article:
LG has become the latest in a long line of Android handset vendors to sign a patent licensing agreement with Microsoft. The agreement allows the South Korean conglomerate to use Microsoft patented technology in phones, tablets, and other consumer electronics running both Android and Chrome OS.
Microsoft tried to trap GNU/Linux there too (Chrome OS) as according to the British press:
Chrome is included in the deal but LG doesn't have any products using the Google operating system to date. This could signal that the firm is planning on making a Chromebook or similar device.
Here is a report from another British site:
Microsoft has been seeking royalty payments from handset manufacturers for its patents used in the Google operating system. LG is the 11th Android phone manufacturer to do such a deal.
Groklaw explains that Oracle too is still trying to tax Android and some sources say that the case might be dragged on until 2013 (another SCO).
How many times will Oracle get to submit a proper damages report before the court says enough is enough? Apparently, more than two. The court, having now substantially rejected Oracle's (Prof. Cockburn's) second attempt, is asking both parties whether Oracle should be permitted a third attempt. Let's guess how both the parties will respond.

But a third (or fourth or fifth) response by Oracle may be a two-edged sword. Each successive response is almost certain to have an impact on the trial date and will also extend the time available to the U.S. Patent and Trademark Office to continue invalidating the asserted patents. Oracle could end up doing a revised damages report only to find there has been no damage. Maybe Google should tell the court to allow Oracle all the attempts it needs to accomplish what the court asked Oracle (and Prof. Cockburn) to do last July.
Delays again, eh? That serves Larry Ellison's best friend very well. He may be dead, but his "thermonuclear" war on Android carries on. █
Permalink
Send this to a friend