06.02.12
Gemini version available ♊︎
Warning: this is a rant
"I'm going to f—ing bury that guy, I have done it before, and I will do it again. I'm going to f—ing kill Google."
–Steve Ballmer, Microsoft CEO
Summary: The patent attacks on Android are coordinated and are a legal violation, alleges Google
ORACLE'S case is getting crushed "like a bug", leaving CPTN allies Microsoft and Apple with no choice but to fight against Android directly, almost void of any weapon such as copyrights applying to or covering Java. They are trying to use patents, but unless they bribe, use NDAs, extort or use proxy entities, they do not quite succeed. Apple fake 'evidence', Microsoft fabricated claims, and the whole strategy seems borderline illegal, if not simply grey.
In Europe, the copyrights on Java would be useless in this context and now in the US too it turns out that APIs cannot be copyrighted, so Google wins big time in one of the most important cases it is fighting. Here is press coverage about it:
Oracle's high-profile lawsuit against Google, in which it claimed that the search giant's Android mobile software infringed both copyrights and patents obtained from Sun Microsystems, is in tatters after the judge in the case ruled that key elements of Sun's software cannot be copyrighted, and so were not infringed.
Too bad for Ellison and his best friend Jobs.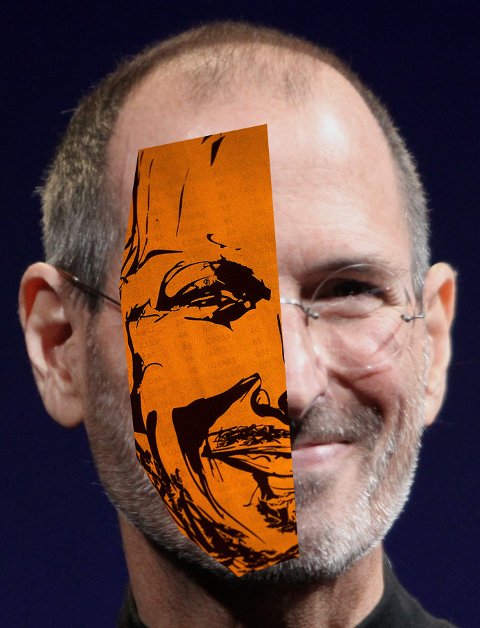 Jobs image licensed under the GNU Free Documentation License (version 1.2 or any later versions); Ellison patch By Thomas Hawk
Microsoft, being Microsoft, must be concerned about this. A source of FUD against Android has run dry, so the convicted monopolist resorts to more white-collar crime, waged between rich people to whom the notion of justice and jail never applies (it's only for poor people — those who do not control society). Well, who knew the criminals from Redmond would use the pride of Finland to attack Linux? Linux was, after all, created in Finland. One Finnish reader said: "They got their mole in, that was the surprise. From then on out its standard practice for them."
What's it all about? It is about this news, which the reader let us know about:
Reuters reports that Google just filed a formal complaint with the European Commission stating that Microsoft and Nokia have conspired to use their patents against smartphone industry rivals.

According to Google's complaint, Microsoft and Nokia are using proxy companies to brandish patents and hurt the future of Android. Currently Google's mobile OS commands the smartphone sector, as it's provided free to manufacturers. The OS can also be used on tablets and other form factors.
Among other headlines we have "Google accuses Microsoft, Nokia of mobile collusion" and "Google blasts Microsoft, Nokia for hiding behind patent trolls". To quote another source:
In documents sent to regulators in the United States and Europe, Google accuses the companies of funding patent wars through proxy companies.
It's not just about MOSAID. Microsoft makes the conspiracy more obscure by spreading the patents among several proxies. This proxy strategy ought to be familiar because of IV and some Microsoft attacks against IBM, e.g. TurboHercules. The state of operation in the industry has truly become sickening when criminals are rewarded and portrayed as "successful" while victims simply vanish or perish. Here ends the rant. █
Permalink
Send this to a friend