11.12.13
Gemini version available ♊︎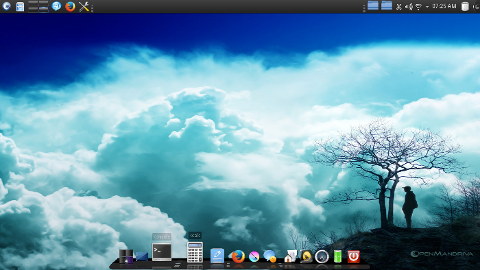 OpenMandriva Lx 2013 (Credit: Mandriva Linux Chronicles)
Summary: Some new or upcoming releases of GNU/Linux distributions, including OpenMandriva and a Mac OS X clone
AS we pointed out the other day, Mandriva is very much alive, especially thanks to derivatives. OpenMandriva is not as idle as some believe and a dedicated pro-Mandriva (and derivatives) blog called Mandriva Linux Chronicles says that OpenMandriva Lx 2013 is almost ready for release [1,2]. It is being tested [3], but this comes at the expense of Mandriva [4].
For people who like the theming styles of Apple there is a new release of Pear OS (not Apple OS), which is basically another derivative with not-so-unique looks [5,6]. It was already reviewed by a leading distro reviews site [7].
In less significant news, people can now see the new release of Alpine [8], OS4 OpenLinux 14.1 [9], and SuperX 2.1 [10]. There is no lack of decent new releases, only lack of coverage in the corporate press. There's no money in promoting something which promotes freedom and won't buy ads from corporate press (or buy the corporate press itself). █
Related/contextual items from the news:
According to this post, OpenMandriva Lx will be seeing the light of day pretty soon: on November 22!

As promised, I took my OpenMandriva Lx 2013 RC1 home to install it to my desktop computer. A while ago, I installed the beta –after a tenacious fight, I must admit–, so it was time to upgrade it.

With my recent installation of OpenMandriva Lx RC1, Mandriva is no longer present in any of my computers. I had to wipe Mandriva 2011 on both my desktop and laptop to make room for the new comer.

Pear OS 8, a distribution based on Ubuntu and Debian that aims to make it easier for Mac OS users to switch to Linux, was released only one day ago, and now it's time to take a closer look at it.

Pear OS 8 is host to a number of unique applications developed specifically for this Linux distribution, and Mac OS users will easily recognize the designed used by Apple.

Pear OS 8 does a very good job of copying the look and feel of Apple's operating system. And it comes about the closest I've ever seen to providing a Mac-like experience in Linux (it even offers its own version of Apple's iCloud service). It stumbles a bit though when it comes to software accessibility and organization, and that clearly needs to be fixed in an update or future release.

At the beginning of the review I mentioned the old saying that imitation is the most since form of flattery. But something else popped into my mind as I was using Pear OS 8. In the Lord of the Rings there is a description of Isengard – the fortress of the wizard Saruman – that seemed oddly appropriate to Pear OS 8.

In this case Linux is Isengard, and Saruman is the developer of Pear OS 8. Apple, of course, is Barad-dur, the Dark Tower in Mordor.

Here is the quote from the Lord of the Rings:

"A strong place and wonderful was Isengard, and long it had been beautiful [...]. But Saruman had slowly shaped it to his shifting purposes, and made it better, as he thought, being deceived – for all those arts and subtle devices, for which he forsook his former wisdom, and which fondly he imagined were his own, came but from Mordor; so that what he made was naught, only a little copy, a child's model or a slave's flattery, of that vast fortress, armoury, prison, furnace of great power, Barad-dûr, the Dark Tower, which suffered no rival, and laughed at flattery, biding its time, secure in its pride and its immeasurable strength."

Pear OS 8 is suitable for beginner, intermediate and advanced Linux users.

On November 8, Natanael Copa has announced the immediate availability for download of the Alpine Linux 2.7.0 operating system for servers.

Alpine Linux 2.7.0 is a major release that includes some of the latest Linux technologies, as well as the newly released OpenSSH 6.4 software, a SSH protocol suite of network connectivity tools.
Permalink
Send this to a friend