02.23.17
Gemini version available ♊︎
Toxic cocktail (or "dangerous mix")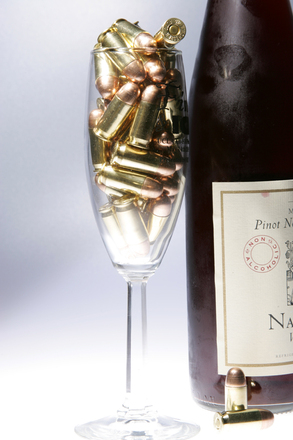 Summary: An explanation of what drives a lot of EPO veterans to depression and sometimes even suicide
THE mistreatment of EPO workers who go through a temporary (not even permanent) illness is a widely known problem. We keep hearing about it from more and more people who if not themselves got subjected to this kind of abuse know someone (or someones) who did. This series, by itself, has already managed to unearth more suppressed facts and taboos — observations that would get one sacked if publicly aired/expressed. People do not wish to speak about these things without strict assurance of anonymity.
The other day we received some interesting statistics.
"Each time they get mail from the EPO, they feel even worse."
–Anonymous"More than 250 persons are receiving an invalidity pension," one person told us. "I don't have (yet) figures about the persons under house arrest due to their illness. I'll try to find them. Invalids are systematically bullied. Their benefits are changed without, or at a short, notice. Each time they get mail from the EPO, they feel even worse. "What is coming next?""
Two years ago we wrote about them, as did the media which merely alluded to them. Some end up committing suicide, which isn't too shocking given the way they are treated (some allege that they cannot even help refugees in their spare time).
"The Office succeeded in deteriorating the health condition of some of them," the above person told us, "by introducing without notice and without any kind of explanation a reform of the invalidity benefits as from January 2008 (changed again in 2015, effective as from January 2016). With that change many invalids had problems with the local tax authorities. The Office declared the benefits to be exempted from the local tax (they changed from a pension to an allowance). Of course without consulting the respective tax authorities in each country. The moron-in-chief Battistelli was at the time head of the French delegation at the AC and shouted (to be actual: trumpeted) that his country would NEVER recognise the newly introduced invalidity pension as being tax-free.
"No wonder that some of them commit suicide. Because the worse is yet to come…"
–Anonymous"Do you understand what all this means to a person receiving invalidity benefits? No wonder that some of them commit suicide. Because the worse is yet to come: as some countries didn't accept the tax-free nature of the invalidity pension they had to pay taxes. Pretty normal every does [sic]. Except that they paid twice… Very "generously" again the Office proposed to reimburse the paid taxes…. at a cost. The condition was to sign a contract to go to their tax consultant, to disclose every penny of your income (your partner may work as well), to spend hours if not days, months discussing with them. And on the top of that once you were reimbursed the local tax office considered the reimbursement as an additional income. The obviously unqualified managers of the Office never heard of exponential progression. According to my calculations with such a system one would have to declare an income of about 10.000.000 € a year in 15 years from now for a real income being 7% of that amount, the rest are the accumulated reimbursements. Not bad! But what if the office says "FU"? They then abolished the system and replaced it with another fully incomprehensible system; inquiries for explanations remained unanswered."
In future parts of this series we are going to dive a little deeper and expose some documents which help illuminate how bad things have become. As was repeatedly noted, by more than one source in fact, these policy changes are directly responsible to quite a few suicides, not that tragedies only count when a person's tragedy culminates in death. There is a lot of suffering associated with what the EPO is doing and since there is no proper justice system, there is no hope, either. █
Permalink
Send this to a friend