03.18.20
Gemini version available ♊︎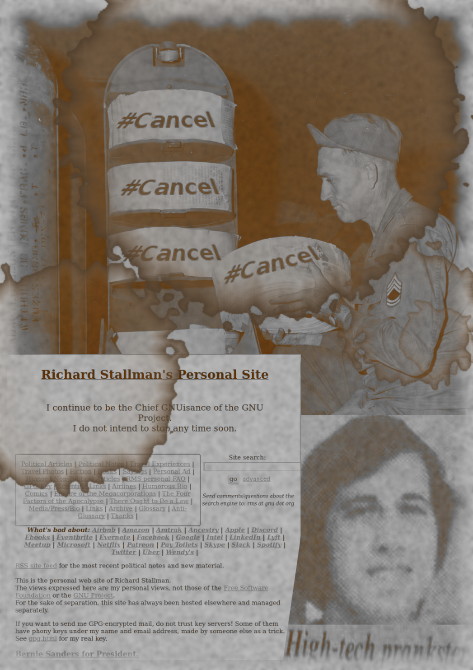 Summary: The media shifts back its attention to Bill Gates, who benefited from the media turning on Richard Stallman at MIT (just when Gates had a massive MIT scandal); Gates escaped Microsoft's board a few days ago (strategic timing) and the Covid-19 chaos in Seattle makes it less likely that the police there will send the records it promised to us
IN THE previous part we spoke about false characterisations designed to demonise Stallman, painting him as a threat to the FSF because corporate media had twisted his words, likely as means of distracting from real scandals, including an MIT scandal that had nothing to do with Stallman (MIT had been raising money from Epstein and it was Bill Gates behind these payments).
Techrights has been working extra hard if not 'overtime' trying to get to the bottom of these things. 10 days ago there was supposed to be delivery of hundreds of pages of a police report about arrest for pedophilia at Bill Gates' own home (the total number of pages is almost 3,000, but the police department (PD) said it had split it into a dozen installments).
Was anything sent?
Take a while and take wild guess.
Did the PD send anything on the said date? A date which it itself had chosen and promised?
Nope.
Now they can use Covid-19 chaos to not even reply. It has hit Seattle quite badly.
Nevertheless, in the news we now see articles like "Bill Gates's Charity Paradox" — basically blasting him just days after he escaped, announcing his departure from Microsoft at 5PM on a "national emergency" Friday when nobody would pay attention. So he left Microsoft on Friday amid chaos and he had also left another board (of a close friend). What is going on?
An associate of ours took note, as recently as hours ago, of longtime Microsoft spinners suddenly showing up in the press again, seemingly resurrected just to whitewash Gates and distract from actual reports about him (with actual substance).
Seeing what the PD has on Gates is important because the attacks on Stallman began one day after the request was made for police records. That does not mean there's necessarily a connection, but no doubt the Stallman "MIT" stories helped distract from the Gates "MIT" bombshell (directly related to Epstein).
"It won't be sent," an associate hypothesised about the police record/report. "Seattle will use the chaos to cover for him. So it would be good to know just how much has Bill's software been integrated into the PD and what level of access and control over the contained data Microsoft has granted itself through EULAs and other licensing."
Regarding the arrest for pedophilia in Bill's house (that's a fact, there are court documents proving it), the media mostly ignores this and has not touched this in years.
"It'd be interesting if any of the mainstream "news" sources have the guts to point out to the public that he is responsible for the sad state of their computers," the associate added. "Indirectly, he has made bad engineering acceptable in general and that will be his main legacy. This "Microsoft" way of thinking has resulted in a general acceptance and expectation of technical failure, even in non-Microsoft products." █
Permalink
Send this to a friend