05.23.21
Gemini version available ♊︎
Summary: There's growing awareness of the catastrophic setup, allegedly designed to rule in favour of unlawful procedures; we expect the EPO to bombard the media in the coming days (to blind people or lead them away from the controversy)
A DAY after we had covered here the removal of the BoA President from G 1/21 (ViCo referral) Rose Hughes (AstraZeneca) expectedly followed up. She wrote: "I. Beckedorf has therefore also been replaced on the panel."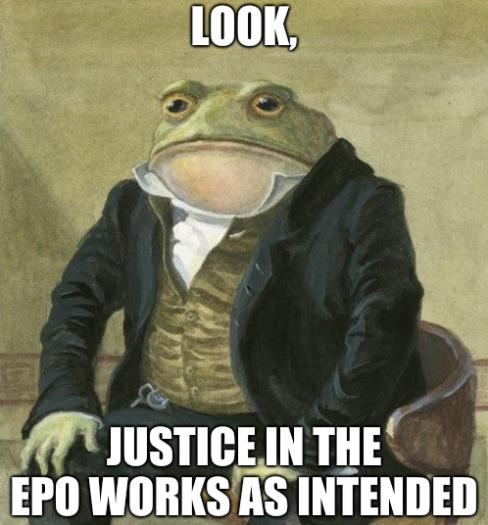 This more or less confirms that it's Beckedorf who was removed along with his 'boss'. We'll discuss both of them later in our ongoing series and show them in tandem.
There's a certain irony about G 1/21. That hearing itself has been outsourced to the US. To quote: "The rapidly scheduled public hearing will take place via Zoom next week (28 May 2021)."
An outsourced hearing about the legality of outsourced hearings. Classic!
More from Dr. Hughes:
The referral to the Enlarged Board of Appeal (EBA) in G1/21 relates to the legality of conducting Board of Appeal oral proceedings by Video Conferencing (ViCo) without the consent of all parties (IPKat). The rapidly scheduled public hearing will take place via Zoom next week (28 May 2021). The EPO has now opened registration to watch the livestream.

The new rule of procedure of the Boards of Appeal (RPBA), Article 15a, was introduced earlier this year. Article 15a RPBA permits a Board of Appeal to hold oral proceedings by ViCo whenever "the Board considers it appropriate to do so".

The referral in G1/21 asks the question whether Article 15a RPBA is compatible with the right to oral proceedings as enshrined in Article 116(1) EPC. The referral itself stems from appeal of the opposition decision to maintain EP1609239 in amended form (T1807/15). The Opponent originally requested the referral to the EBA as an auxiliary request in the appeal hearing. The Opponent subsequently withdrew the request. The Board of Appeal none-the-less decided to continue with the referral (IPKat). The Opponent has since changed representatives, and has submitted a request that the referred question should be answered in the negative, i.e. that ViCo oral proceedings without the consent of all parties are not compatible with Article 116(1) EPC. The patentee will not be participating in the oral proceedings.

In testament to the controversy surrounding ViCo oral proceedings, the referral has attracted almost 50 amicus curiae. These include submissions from epi, CIPA, multinational companies (BASF, Philip Morris, Siemens) and patent attorney firms. Aside from the substantive question of the legality or otherwise of Article 15a RPBA, considerable concern has been raised by multiple parties over the risk of perceived partiality by the EBA members themselves.
"It's about "AI-generated IP" and other nonsense with misnomers."We don't suppose that EPO officials will mention this case much; instead, as was the case under Benoît Battistelli and under António Campinos during G 2/19 (another Enlarged Board of Appeal case), there will likely be bombardment against the media with pure noise, misleading or misdirecting the public, legal observers in particular. We couldn't help but notice that days ago (warning: epo.org link) Campinos added a pair of jeans to his beloved sneakers, pretending he's cool and casual while in fact abetting corruption in Europe's second-largest institution. It's about "AI-generated IP" and other nonsense with misnomers. No substance at all, but two — not just one — Campinos photo ops. █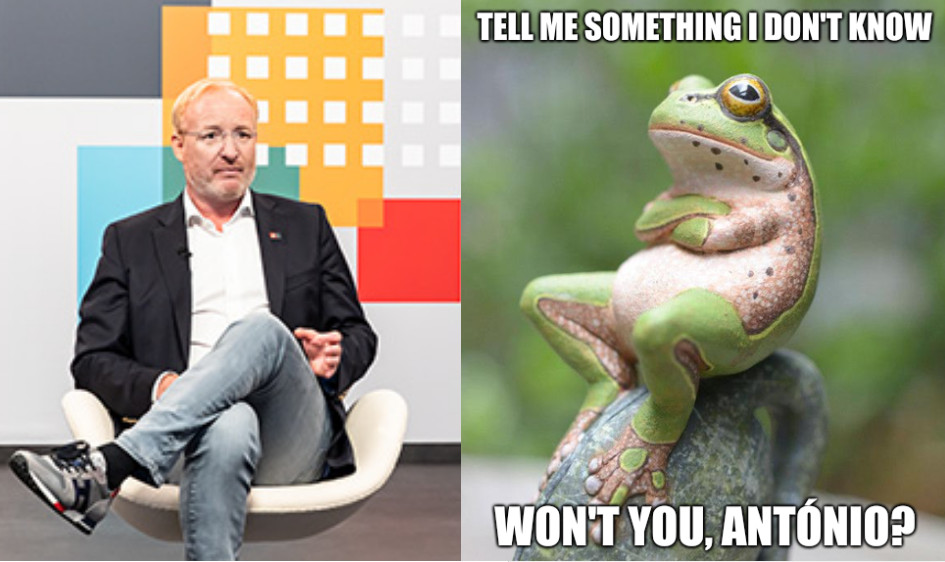 Man of his people…
Permalink
Send this to a friend