False Reports to Webhost Using Impersonations is Illegal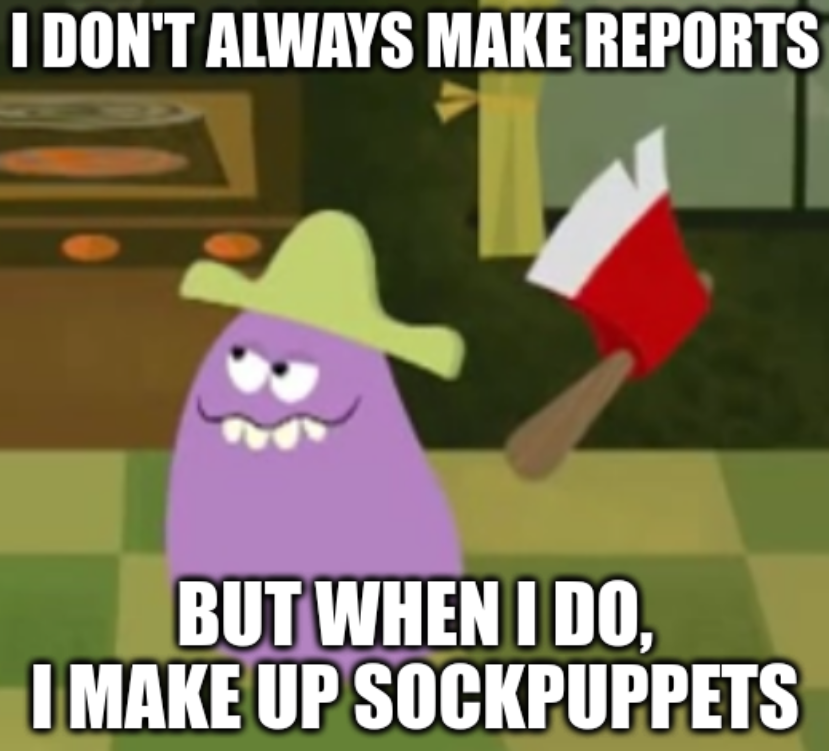 THOSE who are following this series closely enough should already be aware that online militants have impersonate journalists and, as shown in the last part, contact people associated with me, pretending to be me. That was about a year after a longstanding campaign of harassment, which was hidden behind lots of sockpuppets with Tor and/or VPNs. That was before those same militants made violent allusions and engaged in very serious hate crimes, which several of us reported to the relevant authorities. My wife and I reported this to the police. The 2 prior parts are just the edge of an iceberg that we'll show later this year and next year.
Today we focus on how the sockpuppet (impersonation account too) which was shown in those 2 prior parts was then "repurposed" to harass us via the webhost, attempting a Denial of Service (DoS) by social engineering or trickery.
As someone put it at the same period of time, the hosting provider will need to be notified to slap it down and the police will need to be notified about the continued harassment and attempt at DoS via social engineering - three crimes if described correctly.
I guess this might even qualify as sexual harassment, which could be a fourth crime, as the perpetrator is directing these attacks at Rianne because of her gender.
The webhost is not gullible enough. Instead, fortunately, the webhost shows the reports, revealing the source as the same people who are sending me abusive E-mails, falsely identifying as a journalist (shown before), and even sent one message that is clearly illegal in their home jurisdiction (possibly actionable with prosecution sans extradition).
To be clear, what we deal with here is a frivolously-filed, spurious, time-wasting report from a sockpuppet account that also impersonates somebody else. It speaks of an author external to the site and we're leaving things intact, a clickable link (clearly factual and not even remotely transphobic). A guest post is being targeted here.
What happens here is not just unethical; this is illegal; it's not a "joke" or "for the lols" when you resort to legal procedures or when you resort to using false names, false pretences, and patently untrue claims.
Thankfully, the webhost understands the context and can judge what really goes on:
Dear Customer,

Many thanks for resolving the issue(s) related to this abuse complaint and letting us know.

Abuse report #26073 has now been closed successfully.

Kind regards,
We have evidence connecting the actions of one person and a Microsoft-linked defamation mill, but that will be covered in the future.
Notice how the sockpuppet account that engages in impersonation and harasses our contributors wrote to the webhost:
Fri, 06 Oct 2023 03:55:58 +0100
cade.foster117@proton.me
Transphobic Abuse


Hi,

Roy Schestowitz has published an article that is a hate crime in the UK.

https://techrights.org/n/2023/10/06/Reddit_Misapplies_NSFW_Tags_r_stallmanwasright_Too_Hot_to_Handl.shtml

It attacks and demonizes trans men.

Sent with [Proton Mail](https://proton.me/) secure email.
Hiding behind Proton Mail, pretending to be somebody else and using false associations so as to attempt to seem like a journalist. Nothing could be further from the truth.
Just to remove any doubts, cade.foster117@proton.me is not a real person. It is a sockpuppet account already used to abuse and harass many people (we have evidence of this, several of our writers around the world were also abused by this account).
It's moreover one of the persons who had already misused the same webform system for frivolous claims, to no avail.
Using sockpuppets to do this is wrong and we updated the police records with new reports, accordingly.
The person behind this sockpuppet account broke a number of laws and now engages in harassment against a webhosting company. This is a case of DoS by social engineering, not only a correct analogy but a correct legal distinction too.
I spoke to 4 police people that week (we are the reporters of the crimes, going back to August; the criminals attempted to reverse the narrative - possibly yet another crime) and we spoke for a number of hours to update the files. They also expedited their cases. They recognise that the abuse won't stop unless they cooperate with authorities overseas, which is where the abusers are confirmed to reside. We'll say more on that in the future.
I clarified to the webhost that it should not take requests from people who abuse innocent people online, especially women and gays, telling them "gas the Jews" and "kill the Jews" while having an ambitious go at trying to trick the webhost into thinking the antisemites are the victims and death threats are merely "jokes". █