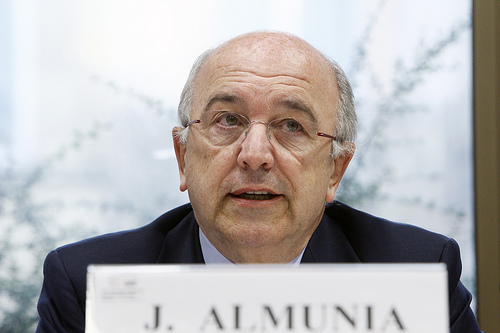 EU Competition Commissioner Joaquin Almunia. Credit: EU OPEN DAYS 2012
Summary: Reminder to defeatists who believe that we should all ride Microsoft's coattails rather than challenge unjust behaviour that may also be illegal
THERE are people out there who want us to believe that to play along with Microsoft on schemes like UEFI restricted boot is a necessary evil and maybe just necessary, not even evil. These people are serving Microsoft's interests because they weaken antitrust complaints which exist rather than bolster these complaints. Here is a recent tale, as covered by Mike Masnick, of how regulatory intervention did help justice.
The United States' highest court,
SCOTUS
, recently shocked a few people by
ruling against large corporations' interests
(patents on genes). It later said that
patents (referring to pharmaceutical patents) can violate antitrust law
. Now that
very ridiculous patents get granted
and sometimes get
ISO
endorsement, as in the case of
MPEG-LA
patents, FOSS is facing anticompetitive practices from the likes of Nokia, Microsoft, and Apple. Google, for instance, is
being almost prevented from giving codecs for free
, even though it has copyrights on all the code, which is Free/open source software. To quote one recent piece about this subject:
A couple of years back, Techdirt wrote about Google's laudable attempt to open source its VP8 video codec, based around technologies it had acquired with the On2 company in 2009. That was not simply a matter of releasing the code, though, because of claims by some that VP8 infringed on their patents. MPEG-LA, the private company that manages the H.264 patent pool, even went so far as to put out a call for patents that might cover VP8, which in turn led to the US Justice Department investigating whether the move violated anti-trust law.
Remember that
Nero had filed an antitrust complaint
. That was before other complaints.
This is what led to a deal that makes YouTube videos, for example, mostly accessible (soon entirely accessible) using
Free/libre software acquired at zero cost (and GPL-compatible)
.
Nokia
, led by Microsoft, is
still trying to interfere with this
.
When people insist that there is no point to antitrust complaints tell them that many things including sexual and racial (e.g. slavery) discrimination did not end by passive action and hardly even by civil disobedience. People do need to take action. It's not "whining", it's just not complicit with the abuser.
⬆