Watch out and be prepared for the massive Unitary Patent PR campaign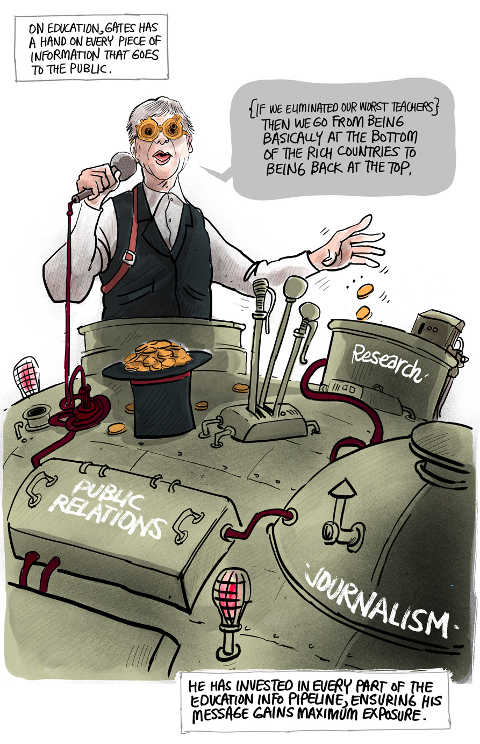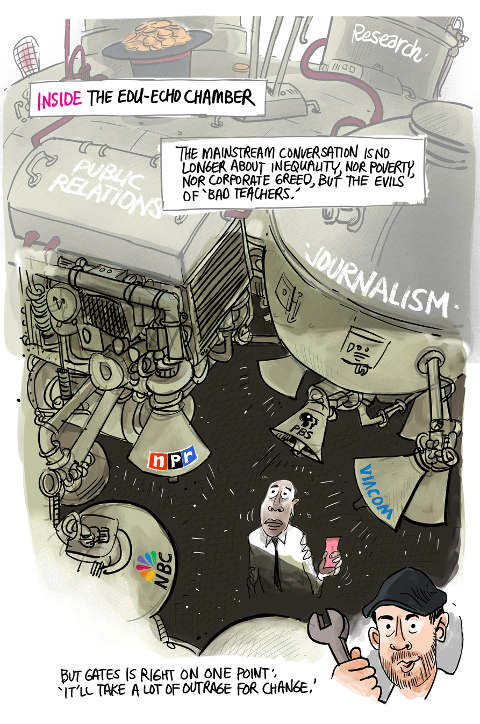 Summary: A look at highly expensive lobbying for personal gain by Bill Gates in just one area (among many) and how this relates to EPO lobbying for the UPC, which basically helps make the rich even richer
BASED on the EPO's spendings of nearly a million dollars for a US company to promote the Unitary Patent in the US, there is definitely something going on and we cannot help thinking of Gates' promotion of Common Core, which he profits from (we no longer cover this, having written hundreds of articles on the subject). It's all about Big Business, which is already treated more favourably than others at the EPO.
A few days ago
we found this promotional EPO article
that says: "Reflecting in statistics, the European Union is the second-largest overseas filer with the SIPO, accounting for 28% of foreign filings in 2014. In the same year, Chinese filers contributed more than 9% filed with EPO, mainly clustering around the sectors of digital communication, computer technology and telecommunications."
"It's all about Big Business, which is already treated more favourably than others at the EPO."Well, actually, many of the filers are big businesses from China (some are government-connected and enjoy a fast lane at the EPO). Battistelli has been visiting China and posing a lot with Chinese officials recently, not because they have so much in common in terms of human rights but because Battistelli serves globalists, not Europeans. He serves the world's billionaires, people like Bill Gates.

Incidentally, last night as we reorganised some old feeds we found alarming headlines from the past 2 years. In them, Bill Gates' push of Common Core came under fire. Like the Unitary Patent in Europe, there's a big PR campaign behind it. See articles (written by teachers) such as "An Audit of Bill Gates' Common Core Spending" or "Bill Gates: An infographic".


"It's an information war."Having essentially bribed the Seattle Times for favourable coverage before [1, 2] (like Adelson does right now in Las Vegas, despite getting caught), Bill Gates is doing it again. To quote some headlines, "Bill Gates funded the Seattle Times "Education Lab"", "Bill Gates funds the media then secretly meets with them" and "Bill Gates funds the media, including the Seattle Times' Education Lab, then secretly meets with them". He gives them marching orders like he did in the New York Times with his occasional visits. Gates also pays notable British press like the BBC and The Guardian in exchange for favourable coverage. It's an information war. He is buying out the media and the front groups, making them incapable of resisting and rendering them just puppets catering for his agenda, masquerading as lots of interest groups of various different stakeholders. Here are some headlines from the aforementioned teachers' blog:


A lot of the above reminds us of Battistelli and his precious Unitary Patents. He has an agenda to sell and obscene amounts of money are now being (mis)used for an unacceptable PR campaign. Who benefits? Certainly not the public.
Don't believe anything that EPO management says, including whatever it may say about the Unitary Patent. Sadly, the EPO is now poisoning also the media and it sets up events that serve as Unitary Patent propaganda.
⬆