Would you believe these people and wish to work for them?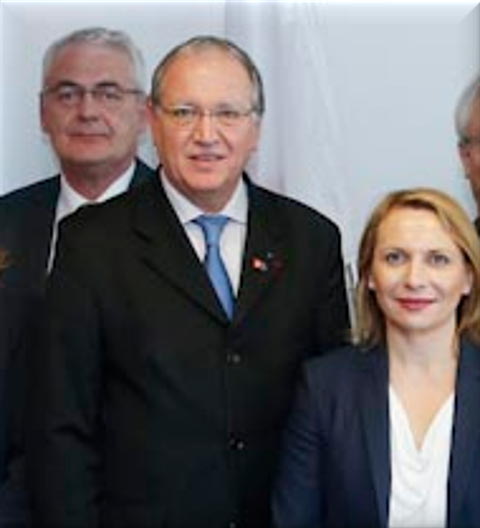 A conspiracy of lies and mutual cover-up
Summary: In an effort to hide the brain drain and the struggle to attract and recruit talent to fill the vacuum, Elodie Bergot (shown above next to Željko Topić and Benoît Battistelli) lies to the staff she's supposed to look over at Human Resources (HR)
THE EPO is losing a lot of technical talent [1, 2, 3, 4] and even senior management. This has already developed into a crisis and earlier today the EPO's Twitter account publicly appealed for job applications.
The EPO's
PR people
asked: "Are you an engineer or scientist interested in joining an international team at the forefront of technology?" Maybe they should have added that
recruitment of Brits is down by 80%
, required skills have reportedly declined (in order to encourage more applications), and working conditions have been massively eroded to the point where accepting a job at the EPO can leave one unemployed for
years
thereafter (after a short probational period with no ordinary work benefits). SUEPO has already remarked on the subject and said in its public site that the EPO should be more frank/honest/transparent with potential/prospective recruits, telling them upfront about the traps, the caveats and all sorts of
secret rules
which turn examiners into slaves with no basic rights, very few safeguards, and no
genuine
resort to justice (e.g. appeals). Earlier today, sites for patent lawyers were repeating what the EPO had said [
1
,
2
] (puff pieces) but not actually investigating the
real
news, which requires actual work. Distracting the journalists much these days? FTI Consulting
at work
? According to
this tweet from the EPO
(also posted earlier today), Battistelli keeps flushing money down the toilet in a desperate effort to drown out real reporting about the EPO. Well, after half a dozen tweets about EIA17 (
Battistelli's lobbying/PR
), the EPO says "We've already started receiving nominations for the #EIA17! Thanks for helping us to reward great inventors!" The PR team neglects to mention
the hidden cost
. Better start raising up to 7,000,000 Euros in budget for this next stunt, right? Maybe start paying the next "media partners" upfront, in order to keep them silent or complicit (
like the Financial Times this year
)?
"Reality check reveals that Bergot is about as reliable as her husband's friend, Battistelli, i.e. not at all."Last year Battistelli paid French media, which as a result censored itself (for him). A new French press report, published last week in "Libération", criticises Battistelli, so apparently he didn't spread money from the EPO's coffers widely enough. One person explained that "Libération" is a French newspaper founded by Jean-Paul Sartre in 1973. "Since 2005 Edouard de Rothschild has been a major stakeholder," this person added, which may be rather interesting because of alleged Rothschild-Battistelli connections.

Speaking of the French, consider Battistelli's EPO circle which is largely French and now includes the oddly-appointed Bergot [1, 2, 3, 4] with her bodyguards* (more than one person). According to some sources, Bergot (widely viewed as Battistelli's HR 'plant') said that "The EPO's ranking in 28th place shows the Office's positive image as an employer of choice for scientists," demonstrating ignorance if not dishonesty (the latter would be worse). Bergot wrote this in the EPO's intranet on the 31st of May of this year, i.e. just over a month ago. Reality check reveals that Bergot is about as reliable as her husband's friend, Battistelli, i.e. not at all. "Looking at the broader picture and not to just a single number (out of the context)," one person remarked, "[i]n Germany in 2012 the EPO ranked 24 amongst natural science students, now rank 28; amongst engineering students (making up a considerable part of potential candidates), the EPO does not rank amongst the top 50 (69); amongst young professionals the EPO dropped out of the statistics "top 100" in 2015 and 2016" (very far from 28th place then).


"EPO management is again misinforming (nicer term for "lying") to EPO staff.""In the Netherlands," we've learned, things are even worse. "The EPO disappeared completely from the top 100 ranks from engineering and natural science students," sources demonstrate with hard evidence.

So there it is again. EPO management is again misinforming (nicer term for "lying") to EPO staff. It's easier to lie in the intranet for various reasons. Nice employer to work for, is it not? One that can be trusted and believed at the recruitment stages? ⬆ _____ * "Maximum security at the EPO," as some people call it, has made this place tremendously less attractive to work in. In the EPO's own words: "Visitors to the EPO are advised that, as from now, their bags and luggage will be subject to a visual inspection by security. This measure will be applied in all EPO buildings at all sites. Thank you for your co-operation."