11.01.08
Gemini version available ♊︎
"Every time you use Google, you're using a machine running the Linux kernel."
Google and Junk/Software Patents
A LOT OF PEOPLE think of Google as a Free software (or open source) company. It is almost nonsensical because Google is mostly a proprietary software company. Its main product is the distribution of services. Some of its recent big products, such as the Android platform and the Chrome browser, are claimed to be "open source", but there are some snags to that too.
Perhaps more troubling than Google's cloud-ifaction of Free software (exploiting a loophole that AGPL closes) is the fact that Google is filing for software patents without much regret or hesitation. Matt Asay mentioned this the other day.
Google has been a fairly benevolent steward of its intellectual property thus far, and let's hope that continues. But if Google has the opportunity to squash Microsoft's cloud efforts even as Microsoft seeks to head off threats from Google's forays into "desktop" applications, I'm not sure I'd be betting on benevolence.
Watch this video.
The gentleman who speaks for Google offers a rather poor answer. That's because he seems to describe patents as desired barriers and monetisation avenues, as opposed to something defensive. Others at Google might wish to claim that all those software patents they're obtaining (even in countries where these are not legal, with two recent examples in India) are needed for defence, but patent trolls are not deterred by it. In fact, the trolls keep getting their way. Here is some news about The Ariba case, which marks a victory for the notorious patent on electronic auctions.
The case in U.S. District Court for the Eastern District of Texas revolved around an Ariba patent covering key functions for electronic auctions and found infringement and a second patent also pertaining to electronic auctions.
Is this the type of world Google envisions? A world where every trivial idea (usually unoriginal) is assigned ownership? Google is already exploiting a lot of knowledge that was shared and built upon.
Bilski
The Bilski ruling was wonderful news and we've put the full text right here. As expected, there are heaps of coverage about this — coverage which we ought to include here for future reference. Here's the Wall Street Journal.
In a closely watched case, a federal appeals court in Washington D.C., today made it much harder for companies and individuals to get patent protection on abstract processes developed for businesses, such as tax strategies and investment methods.
BusinessWeek outlined the story with some concise background.
The business strategy at issue in Bilski was developed by two individual inventors, Bernard Bilski and Rand Warsaw. But the case drew interest and court filings from dozens of large corporations. Some, like IBM Corp., argued for tightened standards that would sharply limit what IBM in-house patent counsel David Kappos described as "runaway issuance of nontechnological process patents." Others, such as technology services and consulting giant Accenture, defended patents stemming from such areas as financial services and organizational behavior as central to innovation in a 21st century economy.
The effect on software patents was mentioned in Reuters.
A U.S. patent appeals court ruled on Thursday that business methods, such as Amazon.com Inc's one-click to buy goods on the Internet, cannot be patented.

The case was closely watched by software makers, Internet companies, investment houses and other businesses.
Patently-O wrote:
For software and business methods, the question will remain as to whether a general purpose computer is sufficiently particular to qualify as a "particular machine." "We leave to future cases the elaboration of the precise contours of machine implementation, as well as the answers to particular questions, such as whether or when recitation of a computer suffices to tie a process claim to a particular machine." As Professor Duffy noted in an earlier Patently-O article, the PTO Board of Patent Appeals (BPAI) has already answered this question: "A general purpose computer is not a particular machine, and thus innovative software processes are unpatentable if they are tied only to a general purpose computer." See Ex parte Langemyr (May 28, 2008) and Ex parte Wasynczuk (June 2, 2008). More commonly, the claim may tie the software to computer memory or a processor – is that sufficiently particular? I suspect this fact pattern will arise shortly.
More coverage can be found in: [credit to Digital Majority]
EPO
Reduction of patenting scope is possible in Europe as well, but it may take some time before answers arrive.
The ongoing row related to software patenting has finally reached the European Patent Office (EPO) Enlarged body of Appeal which incidentally is the highest appeals body in the EPO.

[...]

An statement issued by the EPO explained the move by mentioning "It is hoped that the answers to these questions will lead to greater clarity concerning the limits of patentability, thereby facilitating application of the EPC by patent examiners and enabling both applicants and the wider public to understand the law regarding the patentability of programs for computers"
Additional coverage in:
The staff of the EPO will certainlu like such issues to be resolved. Their complaint was that focus on quality patents was lost. █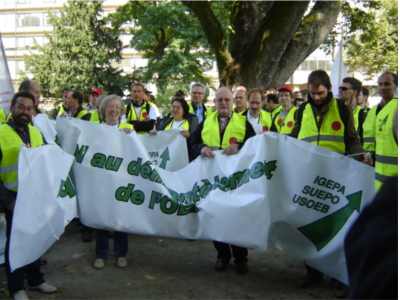 "Staff at the European Patent Office went on strike accusing the organization of corruption: specifically, stretching the standards for patents in order to make more money."
"One of the ways that the EPO has done this is by issuing software patents in defiance of the treaty that set it up."
Permalink

Send this to a friend