11.18.12
Gemini version available ♊︎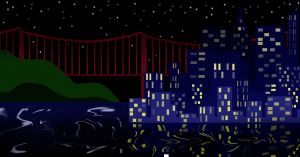 Summary: A Silicon Valley patent office and some Silicon Valley-themed propaganda for software patent are explained
AS readers of this site may already know, I am active in the fight against patents on algorithms; Not as a politician or anything legally-oriented but as a software developer who is affected by them. Software developers do not want these patents, but lawyers run the political system. The other day I noticed someone struggling to rebut common propaganda for software patents. To quote the original message:
We're putting together notes, talking points, and a media package to begin tackling the software patents side of the unitary patent issue here in Estonia.

However we've come across a very valid argument, which has left us stumped. Maybe someone can help?

Basically the argument goes along the lines of: "if the US has software patents and software patents are so bloody bad, then how come so many tech startups are founded in the US?" Or alternatively worded as: "Why is Silicon Valley in the US and not in Germany, France, or the UK?"

Any help in tackling this argument would be much appreciated!
Former Google lawyer Michelle K. Lee is to lead a Silicon Valley patent office, according to this new article:
In what could be a big shake-up for America's much maligned patent system, the United States Patent and Trademark Office has reportedly named lawyer Michelle K. Lee as the first head of its new Silicon Valley patent office.
Kappos, from IBM, is the head of the USPTO. Those companies are not small players. They do not represent the interests of people; they are massive corporations. Here is Masnick poking fun at the USPTO:
USPTO: "If you think our examiners are not competent, please come and offer to train our examiners."
This is hilarious because they are totally oblivious to the problem.
My reply the query above was as follows: Silicon Valley has flourished despite of — not because of — software patents. People whom you speak of can be shown several venture capitalists who openly complain about software patents. Some even took activist-type action against US patent laws. In fact, software patents are why they won't invest.
What in my humble opinion motivated growth in Silicon Valley is the influx of bright individuals from all across the world. They didn't come because of patents but because of the quality of universities and a great deal of VC that shrank in more recent years (another bubble). Another factor that played a role in Silicon Valley's growth is the vast market which is the US. They just have a broader reach.
Ask yourself how many British and French companies can honestly argue that they struggle in the market because the government does not grant them software patents. As Stallman said, it's actually an advantage for them (over US counterparts) to not have the burden, distraction, and cost overhead of software patents.
So anyway, the correlation here is not causal as a patents booster would wish to make it. Gun crime in the US, for example, is the not the result of having no national healthcare coverage, although one could try to portray it as such. You're up against a bunk argument, and it's trivial to show it.
Thomas Warwaris, another software person from Austria, quoted a famous saying from Bill Gates: "If people had understood how patents would be granted when most of today's ideas were invented, and had taken out patents, the industry would be at a complete standstill today.… The solution to this is patent exchanges with large companies and patenting as much as we can." Source: "Challenges and Strategy" (16 May 1991).
"By the way," he adds, "For arguments with patent bullies, they will very often challenge your competence. Patent offices are a valuable source for good and entertaining arguments to overcome this: Their own patents.
"Getting hands on their Patents, so that they can be full text searched – can require some tricks – but can put you in a huge advantage, because you should find a *lot* of granted Patents, that are ridiculous, in a very entertaining way:
"In Austria they range from "the invention of applying a whinch" (no kidding!) to "relaxation of esoteric energy in house building material" (no kidding either, I've seen a patent on sort of a voodoo-machine!). It's not that they are stupid: It is the system: They have to grant.
"With these patent numbers ready, you can easily thank your patent office for promoting the rediscovery of ancient mechanics and tell them that you have your tarot cards with you, to match their level of science.
"Don't forget to love patent offices: They are so funny!" █
Permalink

Send this to a friend