05.26.13
Gemini version available ♊︎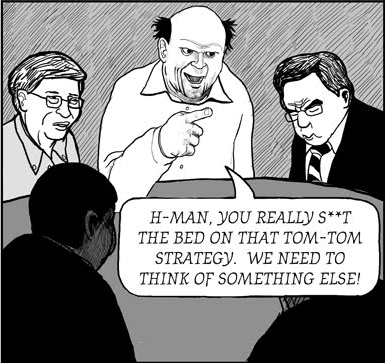 Summary: Disgraceful spin in the corporate media compares Microsoft's villainous and most likely criminal activities to Google asking Microsoft to obey YouTube's terms of use
In Microsoft's lobbying blog, Microsoft's patent terrorist, Horacio Gutierrez, pretends that revealing identities sometimes makes extortion and racketeering any more acceptable. It is not hilarious because criminal activities are nothing to joke about.
"If it's a patent, call it that. If it's copyright, call it that."
–iophkMicrosoft has attacked many Linux distributors, if not using litigation then using threats of costly litigation. This was always done behind closed doors, like most criminal activities, impeding investigation and subsequent arrests. What Google got when it bought a part of Motorola was deterrence from Motorola/Google against Microsoft racketeering — an extortion tactic which used the loophole of secrecy and bribes [1, 2, 3]. This has not been successful so far.
It is funny that amid these Microsoft crimes (RICO Act violations, going by the definition of the Racketeer Influenced and Corrupt Organizations Act) the media is trying to paint Google as the bad player because it obeys and upholds copyright law or sticks to its terms of service.
Here is one report which makes Google sound like a bully. "Like Microsoft doesn't know this isn't conformant with what Google told them," Pamela Jones remarked. The truth is, this is a collaborative effort to obey copyright law. Watch this ugly piece which iophk says is "spinning license violations as a pissing contest"
"When I read "IPR", I still think "bullshitter". If it's a patent, call it that. If it's copyright, call it that. Don't bullshit." █
Permalink

Send this to a friend