11.21.17
Gemini version available ♊︎
Reexaminations (akin to but not identical to IPRs) can help weed out "stupid patents" like the one below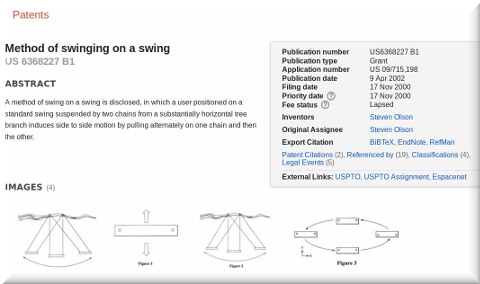 USPTO patent 'quality' (US 6368227 B1)
Summary: The battle over the right to criticise particular patents has gotten very real and the Electronic Frontier Foundation (EFF) fought it until the end; this is why we need granted patents to be criticised upon petitions too (and often invalidated as a result)
THE USPTO, prior to some recent reforms, had been granting a lot of dubious patents on software — patents which were later invalidated by PTAB, the appeal board which is half a decade old (US patents typically last two decades).
"GEMSA wrote to EFF accusing us of "false and malicious slander." It subsequently filed a lawsuit and obtained an injunction from a South Australia court purporting to require EFF to censor itself."
–EFFWe are very gratified to see PTAB's growth and the crackdown on software patents. Earlier today I saw this press release about a new software patent on brain segmentation (my field of research). Do examiners seriously think that computer vision is anything but software and reducible to mathematics? Did words like "brain" and fancy jargon like "dynamic atlas" make them think that this is not an algorithm? This is where PTAB comes handy and such "stupid patents" (as the EFF calls them) get invalidated as though they were never granted.
Yesterday we saw this press release about Axon potentially losing its patent lawsuit (patent aggression against a practising rival [1, 2) after intervention by PTAB. To quote: "The U.S. Patent Office previously had rejected Axon's attempts to invalidate Digital's Patent No. 9,253,452 (the "'452 Patent") through two separate petitions for inter partes review ("IPR"). This was Axon's final attempt to invalidate the '452 Patent before the Patent Office. Despite its loss before the Patent Office, Axon desperately sought to convince the Court to maintain the stay of the litigation to avoid answering to Digital and a jury for its willful infringement of Digital's '452 Patent. On Friday, November 17, 2017, the Court rejected Axon's request and lifted the stay of the litigation. In ruling on the motion regarding the stay, the Court found that the evidence submitted by Digital "weigh heavily against continuing the stay of the '452 patent" and that "the Court denies Defendant's [Axon's] request to continue the stay of this case with respect to the '452 patent." The Court has set a hearing for December 14, 2017, to discuss a schedule for moving the case forward to trial."
"We declined and filed a suit in the U.S. District Court for the Northern District of California seeking a declaration that EFF's post is protected speech."
–EFFThis is not about software, but still, it's interesting to see if PTAB can defuse and disarm the aggressor. It's no secret that many of the millions of US patents (a total which exceeds 10 million) are of questionable quality, especially those that have not yet expired (because the patent bar was lowered).
PTAB is very scary to patent trolls and other aggressors, whose apologist Dennis Crouch tries hard to help. This week, as usual, he travels almost 150 years back in time to scrape something which looks like an argument against PTAB. As a reminder, Crouch spent a great deal of time trying to discredit and/or slow down PTAB (his PTAB-bashing posts were almost a daily occurrence some months back) ahead of a Supreme Court's decision on it. Shortly before this, Crouch wrote about these ridiculous design patents that we mentioned a month ago and said:
I previously wrote about Columbia Sportswear design patent verdict and damages award against Serius. The patent – D657,093 – covers a wavy-pattern as part of a heat reflective material. Post trial, the court has now issued an emergency Temporary Restraining Order (TRO) enjoining Serious from initiating a reexamination of the design patent — finding that the reexamination could improperly "avoid the jury's verdict in this case."
Just look at that design. It's outrageous that a patent would be granted on that and any sane reexamination would immediately invalidate the patent.
"Just look at that design. It's outrageous that a patent would be granted on that and any sane reexamination would immediately invalidate the patent."The worrying thing is, if one is big and wealthy enough (like the EFF) and decides to criticise ridiculous patents, there's a risk of getting sued. It happened several times to the EFF and, as we've covered before, the EFF eventually won the case (albeit at a great expense, namely legal fees). To quote TechDirt, which is itself subjected to a SLAPP lawsuit: "GEMSA, perhaps not surprisingly, declined to show up in the California court, leading EFF to move for default. A magistrate judge initially recommended against this, arguing that the court did not have personal jurisdiction over GEMSA. EFF asked the court to try again, and in a extraordinarily detailed and careful ruling, Judge Jon Tigar rejects the magistrate's recommendation and gives EFF the default judgment it sought. We've complained in the past that often the problem with default judgments is that courts are only too willing to just grant them if one party declines to show up for the case. This is not one of those situations. Tigar goes out of his way to explore pretty much every possible argument that GEMSA might have for why the court shouldn't have jurisdiction, for why the SPEECH Act should not apply and for why EFF's post may have been defamatory. And one by one by one, he points out why GEMSA is wrong and EFF is right. I won't repeat all the reasoning here, in part because there are so many different elements, though it's a fun and quick read in the filing."
The EFF has just written about it as well: "A federal judge has ruled that EFF need not obey an Australian injunction ordering EFF to take down a "Stupid Patent of the Month" blog post and never speak of the patent owner's intellectual property again.
"It should be OK to criticise patents that should not have been granted, but in a country as litigious as this (the US is notorious for litigiousness) the above legal action can cause "chilling effect"; it would lead organisations such as the EFF to fear of "slander" (defamation/libel) lawsuit when stating the simple truth.""It all started when Global Equity Management (SA) Pty Ltd (GEMSA)'s patent was featured as the June 2016 entry in our Stupid Patent of the Month blog series. GEMSA wrote to EFF accusing us of "false and malicious slander." It subsequently filed a lawsuit and obtained an injunction from a South Australia court purporting to require EFF to censor itself. We declined and filed a suit in the U.S. District Court for the Northern District of California seeking a declaration that EFF's post is protected speech."
It should be OK to criticise patents that should not have been granted, but in a country as litigious as this (the US is notorious for litigiousness) the above legal action can cause "chilling effect"; it would lead organisations such as the EFF to fear of "slander" (defamation/libel) lawsuit when stating the simple truth. █
Permalink

Send this to a friend