06.02.20
Gemini version available ♊︎
Judge people by who they choose to hang around with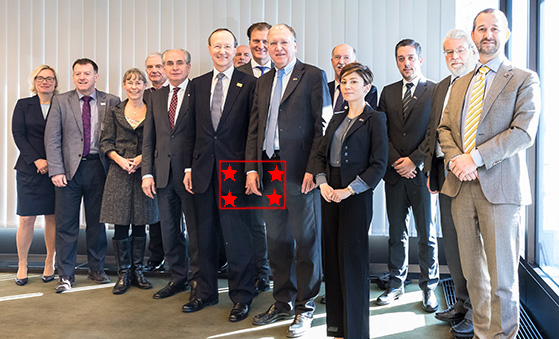 Stephen Jones and Chartered Institute of Patent Attorneys (CIPA) posing with Benoît Battistelli in an appeal for UPC
Summary: It's getting difficult to ignore or to overlook the fact that the 'litigation lobby' (the likes of Team UPC and today's EPO management, guided by groups like the Licensing Executives Society International) doesn't care about innovation and is in fact looking to profit by crushing innovation
TEAM UPC and the management of the European Patent Office (EPO) just keep giving away their toxic agenda. It has nothing to do with innovation and everything to do with litigation. Hours ago a blog of the patent maximalists posted this promotion of a CIPA event (CIPA supports criminals like Battistelli, provided those criminals serve their agenda) as they not only advocate software patents in Europe but also want computer-generated patents for more lawsuits.
"Patrick Breyer is obviously no friend of the UPC. Definitely not of patent maximalists in general…"At around the same time "Kluwer Patent blogger" wrote about abandoning something that is already dead… the UPC. The German Pirate Party's Patrick Breyer, who tabled a question last month, is cited as follows and spoken to (by "Kluwer IP Law"):
The March ruling of the Federal Constitutional Court (FCC) in Germany that the German ratification of the Unified Patent Court Agreement (UPCA) was void because it didn't get the required two-thirds majority, increased the uncertainty about the viability of the project. But the debate is far from over. Patrick Breyer, member of the European Parliament for the German Pirate Party, asked the European Commission earlier this month to confirm that, due to the Brexit, Germany no longer has the right to ratify the UPCA. In the meantime Thierry Breton, commissioner for the Internal Market, urged the EU last week to speed up plans for the single patent system. Kluwer IP Law spoke to Patrick Breyer.

[...]

Patents should never be granted for 'inventions' that are trivial, non-substantial, computer programs, business models or works of nature. These types of patent impede the development of an information society and result in the privatisation of the commons. Small and medium IT companies throughout Europe prove that patents on software are no prerequisite to economic success. Innovation must be fairly rewarded, but this does not necessarily require the granting of monopolistic privileges that stifle innovation and negatively affect the access to essential goods.
Patrick Breyer is obviously no friend of the UPC. Definitely not of patent maximalists in general…
Not too long ago Bristows attempted to spin what he had asked (we rebutted that) and what we're generally seeing is a number of spin angles being crafted by Team UPC to make it seem like UPC/A is still alive and viable contingencies exist.
We're still watching and will report on any further UPC spin as the lobbyists rely on such spin (lies) to manipulate politicians and lawmakers. All they want is lawsuits; lots and lots of them… █
Permalink

Send this to a friend