11.11.20
Gemini version available ♊︎
Summary: "I hope this video piece inspires others to demand freedom," Marcia K. Wilbur said about this video she made two decades ago and has just belatedly published
Marcia K. Wilbur recently published her old footage of Dr. Richard Stallman (RMS) and Prof. Larry Lessig.
"Well," she has told us, "the videos are posted and my site is holding up (so far so good)."
"I hope this video piece inspires others to demand freedom!"
–Marcia WilburWilbur is technical and she has spent a lot of time on this lately. "While there [were] a lot of videos of RMS interviews in the past available to view online," she said, "the rally interview the night before the San Francisco march [see context regarding the Dmitry Sklyarov situation] where RMS discusses open source and demanding freedom is not only historically significant, but inspirational."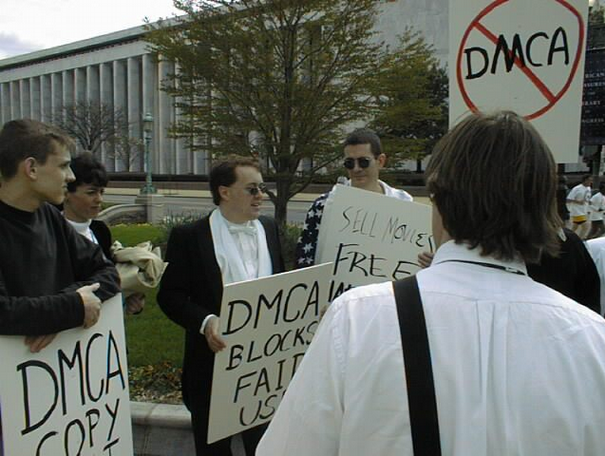 This video isn't long. There are much longer videos.
She said, "I hope this video piece inspires others to demand freedom!"
"Those issues are very much relevant right now because of DMCA takedowns at Microsoft's GitHub, demanded by allies of President-elect Biden.""I'm glad to place this content in the public domain," she added. "Video editing was done with vlc, ffmpeg and some kdenlive. Video editing does take some time. What day is it again? My first attempt to convert the analog video in 2001 was using xawtv with ffmpeg. The video and audio did not sync too well then. A little better now, but the camera was a sony hi-8 and the person behind the camera… was a novice without a tripod! Enjoy."
The overall/total set seems to contain 7 new videos in total (thus far), including the one we linked/embedded already. Maybe can do one post about each pair of related videos, giving the necessary context and exposure to each. Better a release two decades late… than never. Those issues are very much relevant right now because of DMCA takedowns at Microsoft's GitHub, demanded by allies of President-elect Biden. DMCA was correctly foreseen back then as a massive threat to Free/libre software. █
Permalink

Send this to a friend