10.27.22
Gemini version available ♊︎
Video download link | md5sum 2905be7b0686697c888bc869935fee7c
Protected From Scrutiny
Creative Commons Attribution-No Derivative Works 4.0
Summary: x86 stronghold (rather weak lately due to the inflation and Windows failing users) is pushing DRM into kernel space, typically along with Microsoft and Google; Phoronix, which is funded or bossed by the x86 giants, is being far too weak or too "soft" (like it is on Microsoft), insisting that corporations treating clients like they're criminals is in fact "protected content" (that isn't independent, honest and courageous journalism, its's docile cowardice)
THE comments (Forums) in Phoronix sadly remain a lot more informative than the 'articles' because Phoronix self-censors (based on a sixth sense of who pays the bills and/or will pay them in the future).
So the video above dives straight into the comments on the article after a quick introduction. The short story is that Intel is promoting DRM in Linux, once again (not the first time), even though (to quote one comment) "4k streaming works just fine on sites that don't insist on using DRM. "piracy" is always the technically and morally superior option over complying with corporate copyright bullshit."
There are many other comments to that effect. The readers aren't tolerating DRM.
Shown below is now Phoronix fancies describing DRM (the term "DRM" is not even mentioned in the page, just the euphemisms). █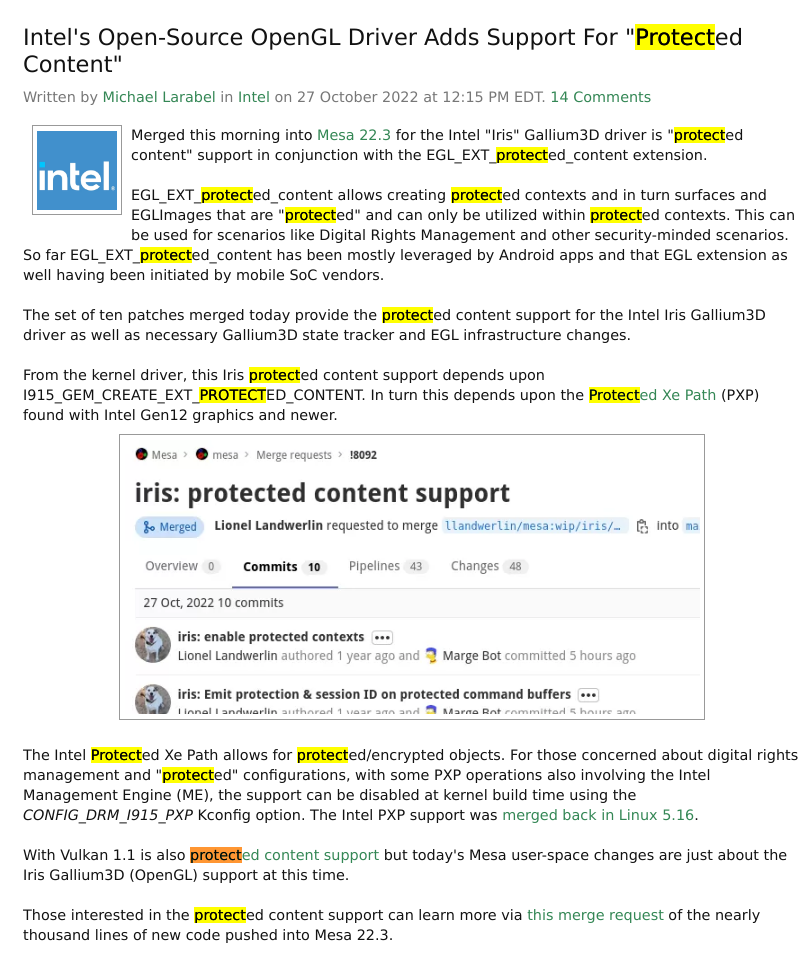 Permalink

Send this to a friend