Purge of Software Freedom and Its Voices
Reprinted with permission from Ryan Farmer.
Almost Everyone Involved With GNOME/GTK is Part of the Troll Farm.
I haven't come across anyone in the KDE/Qt world that is as difficult, arrogant, and politically toxic as the GNOME/GTK crowd.
I was having a discussion with someone on IRC today about how the FSF let loose a monster (GNOME) on the world because they didn't like how Qt was licensed ~25 years ago and now that monster has not only gotten away from them and been taken over, functionally at least, as a wholly-owned subsidiary of IBM (through Red Hat, which basically owned GNOME prior to the sale).
With a bunch of dirty corporate money, this troll farm full of bad software continues, due to being a subsidy blackhole, and it gets shoved into a lot of distributions as the default desktop, even though it's far from the best.
IBM also gets to dictate things like, putting in screens that tell you your computer is not "secure" if you disable Microsoft firmware garbage, and in the mean time, they drop practically all support for things you are going to have to use in that desktop, and its toolkits and APIs, and, going further, anyone who complains about it is canceled from the "Free Software" public square.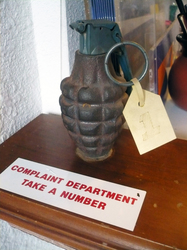 This has had some ramifications for me, due to a troll mob on Libera Chat consisting mainly of one mentally deranged person in another country pulling the strings of a operator who is "in on it", as well as one of the relatively few remaining "Fedora Community" members who lets IBM dictate the terms under which free work is performed.
And since the operator is the "Chair" of Libera Chat, there's nobody to complain to.
It has made it somewhat more of a bother to deal with the projects I am involved with, but thanks to their own incompetence and the fact that a lot of the same people are on other networks (and NNTP and through E-Mail) anyway, where the furry and the nutcase don't seem to have any real sway, the Libera Chat situation is not that much of a nuisance.
The "we can use collectivism to push people around" (Molly de Blanc) idea is very much a product of the left.
One person who ought to be in a rubber room, can run the entire show by proxy, and stop you from talking on an entire community because of their own mental problems.
When the particular member of the troll mob who is fit for the rubber room gets banned, they just create sockpuppets. They've done a bunch of nasty shit and have been k-lined at least once.
When I let "moonmoon", the operator, know about this, and specifically what the actions were that led to the ban that this person was evading were, they did nothing.
Some bad people get wise to the fact that everyone is onto them and they do things like posing as a member of a "marginalized group", to shield themselves from criticism and to use it as a "do whatever and get away with it" permit.
There is no "community" around GNOME, and certainly not on Libera Chat, which is dying.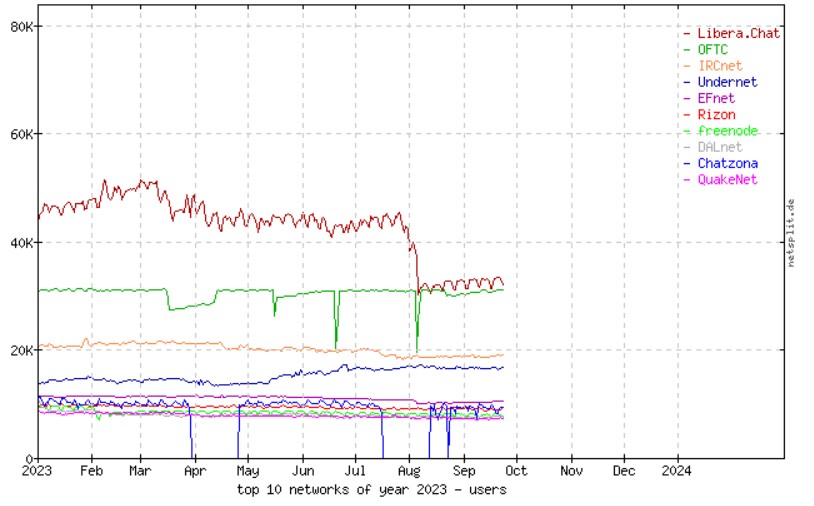 As you can see, "moonmoon" "he/him/awoo" (yeah…) has done such a "good job" with Libera Chat that it has only a quarter of the users it had when they took over from Freenode a few years back, and in this year alone has gone from nearly 50,000 active daily users in January to only 31,000 now.
Even before disconnecting from Matrix.org, leaving both networks crippled and barely more than a ghost town, Libera Chat was trending downward.
Some people don't care if they knock it all down as long as they get to preside over the rubble and cockroaches.
The major problem I have encountered in these fake-FOSS communities are homophobes who are very, VERY open about it, but it's fine because whatever they say as a "trans person" flies.
For a long time I just sort of grit my teeth and said nothing about the open (and welcome) homophobia on Libera Chat because I didn't want to be "that guy".
"moonmoon" has sat and watched people say things like how "gross" gay sex is, and has taken no action.
I am told that "moonmoon" allowed the abuser who got me banned to tell someone they should commit suicide, and took no action against the offender.
"moonmoon" also was present for at least several mentions of illegal content by others in the anime channel, on multiple occasions, and didn't ban any of them.
This is "moderation"?
This is what they allow on their network.
But they devote a lot of time and energy viciously trying to mob and cancel me. I, who have not done anything untoward. █