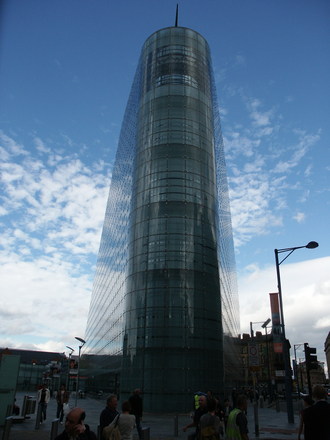 Summary: The arrival of Vista 10 heralds the continuation of a trend that Vista 8 cemented, namely an inevitable demise of Microsoft's common carrier (and formerly cash cow), Windows
T
HE PAST WEEK has been rather informative as I
personally
came to discover that Microsoft had shrunk (whilst obviously hiding this from the public and the media). Dedicated "Microsoft" buildings have been 'folded' into shared buildings, personal offices became shared offices, and there is generally great fear of Google, with operating systems like ChromeOS and Android (Chromebooks now outsell Windows laptops). Recognition of the end of Microsoft is now acceptable even within Microsoft itself (the staff).
Microsoft is very upset when the media speaks about numbers regarding Vista 10, based on what I have learned. Microsoft is nervous because these are lies, perpetuated at times by overzealous boosters. The numbers that are out there put greater pressure on Microsoft to meet expectations because the true numbers are vastly lower than stated in the media. Low-cost 'upgrades' and (almost) forced 'upgrades' just aren't enough. People from Microsoft say to me that Microsoft, for a change, does not want to share Windows numbers.
Vista 10
is seemingly the exception. Suddenly the company wants secrecy and silence. There is nothing to brag about.
People who work for Microsoft tell me that Vista 10 has had serious stability issues (hence the frequent mega-patches) and even
Microsoft boosters speak about these issues right now
. Mary Jo Foley makes it look like a negative story (especially the headline), but it ends up coming across more like a bait/advertisement. Robert Pogson says this is
"Why Everyone Should Hate M$ And Their Desktop OS"
. In another
very recent rant
, Ken Starks says: "And as far as them having the right not to install the uploaded file if they have automatic updates turned off, then Microsoft is nothing less than a burglar, jimmying a back door to gain entrance. In my world, even according to current law, Microsoft is committing a criminal act."
This rant from Mr. Starks is about Microsoft force-feeding users of Windows the Vista 10 'upgrade'. This happened (based on timing of reports) just over a month after the release, probably because Microsoft realised people were massively rejecting Vista 10. Breaking the law probably seems like the lesser risk to Microsoft given these harsh circumstances. Nobody wants the common carrier. If Windows dies, Microsoft will collapse very quickly.
Over the past week I saw some people ranting about Windows RT, which is destined to be abandoned by Microsoft very soon. This
possibly last update of the system
disappoints users, who have already been ranting to me about performance issues, among other, far more severe issues. It's a disaster.
Windows is in a state of crisis and the empire of Windows collapses pretty fast, largely due to counterparts with their growing development environments, including those which target the Web/browser and mobile devices (only iOS and Android).
Ask people who actually work on Windows (developing it) what they think about the future of Windows -- or
lack
thereof -- to better understand where the world is heading. It's sunset for Windows and, consequently, for Microsoft too. All they have is momentum/inertia and this too is running out.
⬆