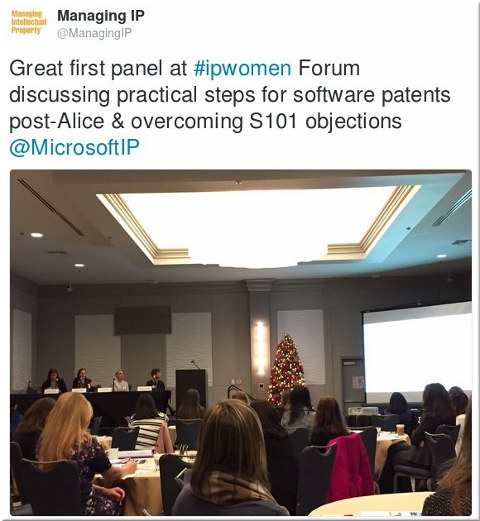 Summary: Microsoft's continued fascination with and participation in the effort to undermine Alice so as to make software patents, which the company uses to blackmail GNU/Linux vendors, widely acceptable and applicable again
OUR longest article yesterday focused on poor advice -- either deliberately bad advice or simply influenced by the echo chamber -- regarding software patents. The patent microcosm is in growing denial over US courts invalidating software patents granted by the USPTO using Alice, or even patents invalided by PTAB (in much larger numbers).

Some days ago we saw this report from the 2016 International Women's Leadership Forum, courtesy of patent maximalists. As can be expected, it was somewhat of an echo chamber not in the gender sense but in the agenda sense. Microsoft was there too and here is the relevant part:


The first practical step, said Julie Kane Akhter of Microsoft, is to learn from cases where the patent has been upheld, such as Enfish, Bascom and Planet Blue.

"In the Enfish patent, for example, they were actually improving the operation of the computer itself," she stressed. Lessons from the Enfish decision included: the specification was really important; consider identifying the technical problem in the specification; and avoid being too high level in the claims.

She said Enfish provides several practical strategies for applicants: utilise the interview; talk about the technical improvement; and cite Enfish! Lessons from Bascom are: consider discussing prior solutions and their drawbacks; highlight lack of preemption; and keep drafting software applications! And tips from Planet Blue are: argue the examiner has determined the idea in the claims at too high a level; argue the claim is specific enough and improves the technology; and draft claims with realistic scope and technical effect.
For those who forgot or have not been paying attention,
Enfish
ended up as a
pro
-software patents caselaw and
Microsoft pays David Kappos
, former Director of the USPTO, to lobby along those lines. He keeps trying to eliminate
Alice
(a
Supreme Court
case) as caselaw. Various patent law firms too still lick their lips over software patents and try to undermine
Alice
, hoping to 'rewrite' it with lower-level cases such as
Enfish
or
Bascom
.
On November 30
th
Dennis Crouch
wrote about Microsoft v Enfish
(not the other way around), nothing that it "Turns Out the Claims Are Obvious". This is a PTAB case:
After instituting review, the Patent Trial and Appeal Board found some of the patent claims invalid as anticipated/obvious. On appeal, PTAB factual findings are generally given deference but legal conclusions are reviewed without deference. After reviewing the claim construction and rejections, the Federal Circuit affirmed in a non-precedential decision.
It's no secret that Microsoft's software patents are rubbish; their low quality was the subject of many old articles here. Moreover, the company's selective and hypocritical views on software patents were
noted here way back in the i4i days
. In
another new article by Dennis Crouch
he says that "PTAB judges are so well trained in the complexity of technology and patent law," which is probably something that most patent courts lack.
"It's no secret that Microsoft's software patents are rubbish; their low quality was the subject of many old articles here."Microsoft is still promoting software patents and in the words of MIP: "Great first panel at #ipwomen Forum discussing practical steps for software patents post-Alice & overcoming S101 objections @MicrosoftIP pic.twitter.com/cGWe9qrGPh" (Microsoft hates Linux too, except when it taxes it with patents, in which case it's more tolerable to "MicrosoftIP", the troll entity of the corporation). The people who covertly extort and blackmail Linux on behalf of Microsoft -- all this while shaping patent law for the company's bottom line -- are also mentioned here. To quote: "It's the @MicrosoftIP networking break at the #ipwomen Forum. Time to make some new contacts! pic.twitter.com/YwajQuWadV"

To be fair, Microsoft is part of a broader movement here. But it's role is notable. Microsoft is a key player in this.

The following crossposted article [1, 2], for instance, tries to leave Alice behind. Another crossposted article [1, 2], this one titled "No Abstract Idea Where Invention Cannot be "Practiced in the Abstract"," is also composed by the patent microcosm and the aim is similar. All the above entities generally wish to restore the patentability of software in the US. Also see the new article titled "The Current State of Computer Software Patentability" (behind paywall). What they all have in common is dissatisfaction with the new status quo -- one wherein software is barely patent-eligible, or at least barely defensible in the patent sense in the courts. Patent lawyers pretend to care for inventors, but they just want to undermine Alice to patent software without barriers. See this article of one law firm; what they mean by "weather" does not take into account the risk of one getting sued but the chance of one to obtain a patent. Very one-sided a take, as usual. Software developers should stop patenting software as it's a waste of time/money, even if such patents can sometimes be granted (only to be lost after a long and expensive legal battles). New PTAB cases on patents, such as this one [1, 2] (on reasonable diligence), remind us that sometimes patents will be invalidated even before they reach the court, i.e. even without the patent holders choosing to assert these offensively. Is is worth the risk? Patent lawyers can brag about "privilege" all they want (see new examples [1, 2]), but all they are after is a universal tax on software, extracted from patents nobody needs or wants. In the case of Free software such as Linux, this tax prevents redistribution, so it is inherently incompatible and antithetical.


"Has CCIA flipped sides again, as it previously did after Microsoft had paid it millions of dollars?"Much to our surprise, Matt Levy (CCIA) has decided to give articles to pro-software patents sites -- a departure from his usual tune. He gives false hope to software patents hopefuls like Watchtroll readers and also IAM readers. Has CCIA flipped sides again, as it previously did after Microsoft had paid it millions of dollars? ⬆