IBM and the Bomb - Part IV: IBM's Watson Came Under Fire for Representing the U.S. in U.S.S.R./Russia With No Qualifications or Any Relevant Experience
Dr. Roy Schestowitz

2020-08-01 22:03:59 UTC
Modified: 2020-08-01 22:13:20 UTC
Some did warn about Watson Jr.

United States Ambassador Malcolm Toon. Image in the Public Domain. "At our critical posts, especially this one, we should ideally have a professional running the embassy," Toon said about Watson Jr. "I'm not speaking ad hominem, I'm not speaking about Watson's qualifications."
Summary: There was certainly resistance to "Mr. rich man" Watson Jr. becoming a US diplomat owing to privilege (born into the 'right' family) rather than experience and/or political track record, symbolising a sort of "revolving doors" phenomenon -- namely overlap between business and politics, or money and power, respectively
WHEN bad things are plotted there's sometimes dissent from the inside (insiders); how many inside IBM ever dissented or protested against the company's role in all sorts of racist things? Not many. Not comparable to today's standards (against "GAFAM"). In part 3 (see also introduction; part 1; part 2) we wrote about business people meddling directly in politics. IBM is a good example of this.

Toon's opposition was a matter of public record and he wasn't alone. The press talked about it back then. But noted in passing before was the view of Ambassador Malcolm Toon, who was less than impressed to see the appointment of Mr. Watson, whose brother had also propelled himself into political offices using his money and connections (thank you, corrupt Nixon). As Wikipedia puts it, "Malcolm Toon (July 4, 1916 – February 12, 2009)[1] was an American diplomat who served as a Foreign Service Officer in Moscow in the 1950s, 1960s, and 1970s, during the Cold War, ultimately becoming the ambassador to the Soviet Union."

Watson was in that position for a couple of years, whereas Toon had decades of experience. He was "the ambassador to Czechoslovakia from 1969 to 1971, Yugoslavia from 1971 to 1975, Israel from 1975 to 1976, and the Soviet Union from 1977 to 1979."

Here's one among several items that highlight the position of Toon as well as the seriousness of the nuclear 'cold' conflict at that time.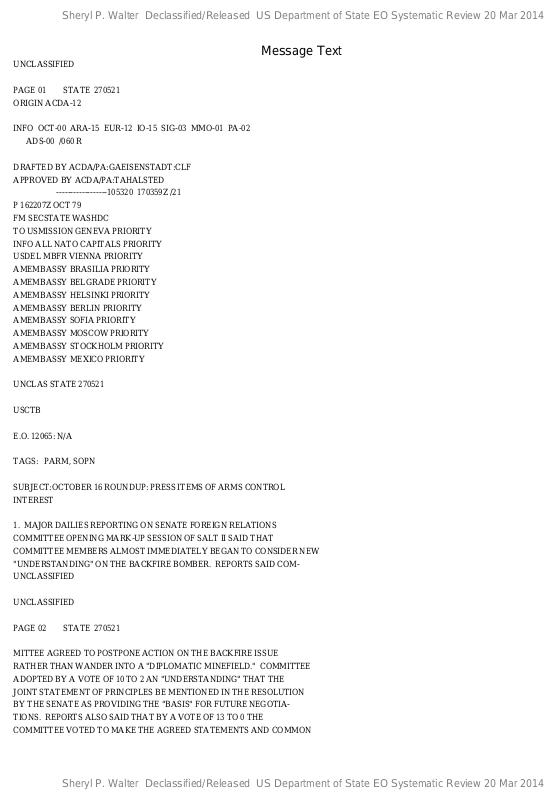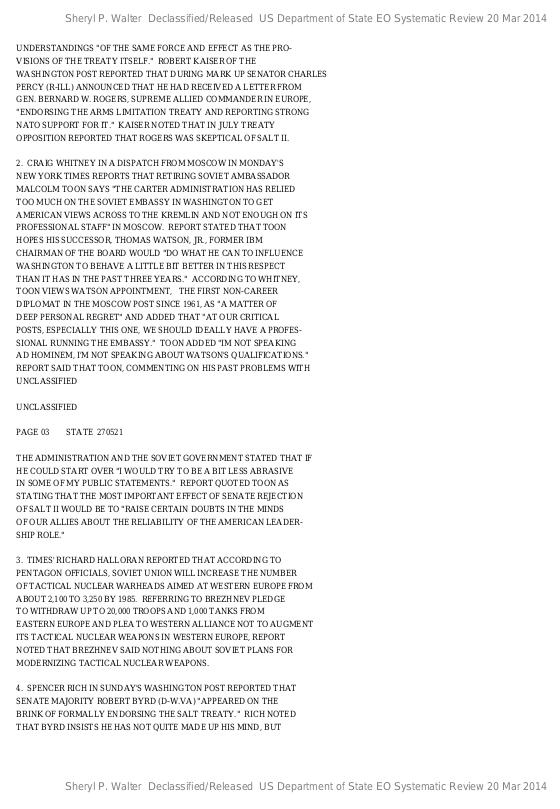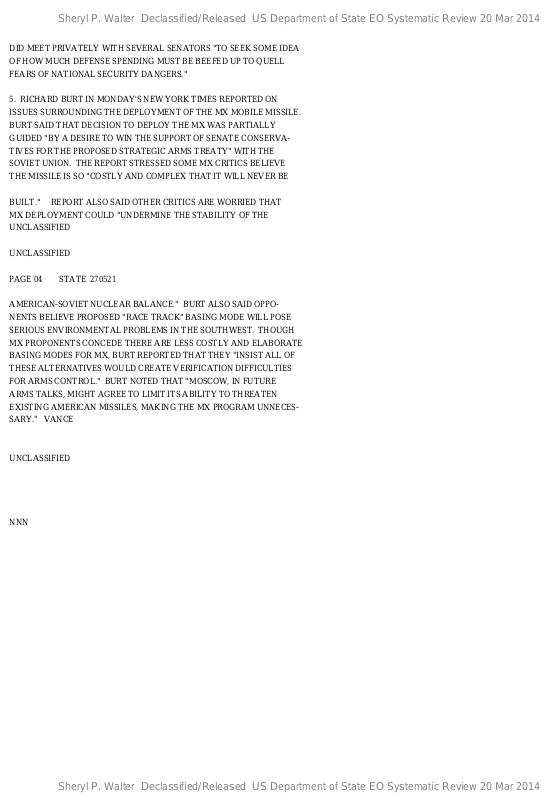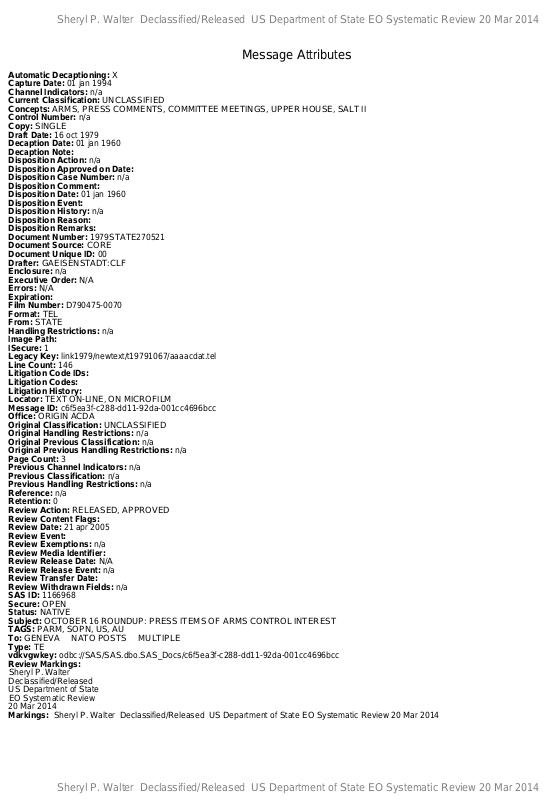 Here we go with "ARMS CONTROL INTEREST" (as text), declassified after review 6 years ago:


1. MAJOR DAILIES REPORTING ON SENATE FOREIGN RELATIONS COMMITTEE OPENING MARK-UP SESSION OF SALT II SAID THAT COMMITTEE MEMBERS ALMOST IMMEDIATELY BEGAN TO CONSIDER NEW "UNDERSTANDING" ON THE BACKFIRE BOMBER. REPORTS SAID COMUNCLASSIFIED UNCLASSIFIEDSTATE 270521

MITTEE AGREED TO POSTPONE ACTION ON THE BACKFIRE ISSUE RATHER THAN WANDER INTO A "DIPLOMATIC MINEFIELD." COMMITTEE ADOPTED BY A VOTE OF 10 TO 2 AN "UNDERSTANDING" THAT THE JOINT STATEMENT OF PRINCIPLES BE MENTIONED IN THE RESOLUTION BY THE SENATE AS PROVIDING THE "BASIS" FOR FUTURE NEGOTIATIONS. REPORTS ALSO SAID THAT BY A VOTE OF 13 TO 0 THE COMMITTEE VOTED TO MAKE THE AGREED STATEMENTS AND COMMON

Sheryl P. Walter Declassified/Released US Department of State EO Systematic Review 20 Mar 2014

Sheryl P. Walter Declassified/Released US Department of State EO Systematic Review 20 Mar 2014

UNDERSTANDINGS "OF THE SAME FORCE AND EFFECT AS THE PROVISIONS OF THE TREATY ITSELF." ROBERT KAISER OF THE WASHINGTON POST REPORTED THAT DURING MARK UP SENATOR CHARLES PERCY (R-ILL) ANNOUNCED THAT HE HAD RECEIVED A LETTER FROM GEN. BERNARD W. ROGERS, SUPREME ALLIED COMMANDER IN EUROPE, "ENDORSING THE ARMS LIMITATION TREATY AND REPORTING STRONG NATO SUPPORT FOR IT." KAISER NOTED THAT IN JULY TREATY OPPOSITION REPORTED THAT ROGERS WAS SKEPTICAL OF SALT II. 2. CRAIG WHITNEY IN A DISPATCH FROM MOSCOW IN MONDAY'S NEW YORK TIMES REPORTS THAT RETIRING SOVIET AMBASSADOR MALCOLM TOON SAYS "THE CARTER ADMINISTRATION HAS RELIED TOO MUCH ON THE SOVIET EMBASSY IN WASHINGTON TO GET AMERICAN VIEWS ACROSS TO THE KREMLIN AND NOT ENOUGH ON ITS PROFESSIONAL STAFF" IN MOSCOW. REPORT STATED THAT TOON HOPES HIS SUCCESSOR, THOMAS WATSON, JR., FORMER IBM CHAIRMAN OF THE BOARD WOULD "DO WHAT HE CAN TO INFLUENCE WASHINGTON TO BEHAVE A LITTLE BIT BETTER IN THIS RESPECT THAN IT HAS IN THE PAST THREE YEARS." ACCORDING TO WHITNEY, TOON VIEWS WATSON APPOINTMENT, THE FIRST NON-CAREER DIPLOMAT IN THE MOSCOW POST SINCE 1961, AS "A MATTER OF DEEP PERSONAL REGRET" AND ADDED THAT "AT OUR CRITICAL POSTS, ESPECIALLY THIS ONE, WE SHOULD IDEALLY HAVE A PROFESSIONAL RUNNING THE EMBASSY." TOON ADDED "IM NOT SPEAKING AD HOMINEM, I'M NOT SPEAKING ABOUT WATSON'S QUALIFICATIONS." REPORT SAID THAT TOON, COMMENTING ON HIS PAST PROBLEMS WITH UNCLASSIFIED UNCLASSIFIED PAGE 03

STATE 270521

THE ADMINISTRATION AND THE SOVIET GOVERNMENT STATED THAT IF HE COULD START OVER "I WOULD TRY TO BE A BIT LESS ABRASIVE IN SOME OF MY PUBLIC STATEMENTS." REPORT QUOTED TOON AS STATING THAT THE MOST IMPORTANT EFFECT OF SENATE REJECTION OF SALT II WOULD BE TO "RAISE CERTAIN DOUBTS IN THE MINDS OF OUR ALLIES ABOUT THE RELIABILITY OF THE AMERICAN LEADERSHIP ROLE." 3. TIMES' RICHARD HALLORAN REPORTED THAT ACCORDING TO PENTAGON OFFICIALS, SOVIET UNION WILL INCREASE THE NUMBER OF TACTICAL NUCLEAR WARHEADS AIMED AT WESTERN EUROPE FROM ABOUT 2,100 TO 3,250 BY 1985. REFERRING TO BREZHNEV PLEDGE TO WITHDRAW UP TO 20,000 TROOPS AND 1,000 TANKS FROM EASTERN EUROPE AND PLEA TO WESTERN ALLIANCE NOT TO AUGMENT ITS TACTICAL NUCLEAR WEAPONS IN WESTERN EUROPE, REPORT NOTED THAT BREZHNEV SAID NOTHING ABOUT SOVIET PLANS FOR MODERNIZING TACTICAL NUCLEAR WEAPONS. 4. SPENCER RICH IN SUNDAY'S WASHINGTON POST REPORTED THAT SENATE MAJORITY ROBERT BYRD (D-W.VA) "APPEARED ON THE BRINK OF FORMALLY ENDORSING THE SALT TREATY." RICH NOTED THAT BYRD INSISTS HE HAS NOT QUITE MADE UP HIS MIND, BUT

Sheryl P. Walter Declassified/Released US Department of State EO Systematic Review 20 Mar 2014

Sheryl P. Walter Declassified/Released US Department of State EO Systematic Review 20 Mar 2014

DID MEET PRIVATELY WITH SEVERAL SENATORS "TO SEEK SOME IDEA OF HOW MUCH DEFENSE SPENDING MUST BE BEEFED UP TO QUELL FEARS OF NATIONAL SECURITY DANGERS." 5. RICHARD BURT IN MONDAY'S NEW YORK TIMES REPORTED ON ISSUES SURROUNDING THE DEPLOYMENT OF THE MX MOBILE MISSILE. BURT SAID THAT DECISION TO DEPLOY THE MX WAS PARTIALLY GUIDED "BY A DESIRE TO WIN THE SUPPORT OF SENATE CONSERVATIVES FOR THE PROPOSED STRATEGIC ARMS TREATY" WITH THE SOVIET UNION. THE REPORT STRESSED SOME MX CRITICS BELIEVE THE MISSILE IS SO "COSTLY AND COMPLEX THAT IT WILL NEVER BE BUILT." REPORT ALSO SAID OTHER CRITICS ARE WORRIED THAT MX DEPLOYMENT COULD "UNDERMINE THE STABILITY OF THE UNCLASSIFIED UNCLASSIFIED PAGE 04

STATE 270521

AMERICAN-SOVIET NUCLEAR BALANCE." BURT ALSO SAID OPPONENTS BELIEVE PROPOSED "RACE TRACK" BASING MODE WILL POSE SERIOUS ENVIRONMENTAL PROBLEMS IN THE SOUTHWEST. THOUGH MX PROPONENTS CONCEDE THERE ARE LESS COSTLY AND ELABORATE BASING MODES FOR MX, BURT REPORTED THAT THEY "INSIST ALL OF THESE ALTERNATIVES WOULD CREATE VERIFICATION DIFFICULTIES FOR ARMS CONTROL." BURT NOTED THAT "MOSCOW, IN FUTURE ARMS TALKS, MIGHT AGREE TO LIMIT ITS ABILITY TO THREATEN EXISTING AMERICAN MISSILES, MAKING THE MX PROGRAM UNNECESSARY." VANCE

UNCLASSIFIED

NNN

Sheryl P. Walter Declassified/Released US Department of State EO Systematic Review 20 Mar 2014

Sheryl P. Walter Declassified/Released US Department of State EO Systematic Review 20 Mar 2014
We've noted before that other business oligarchs, born into super-affluent and highly-connected families, can buy themselves positions of power in the political sphere. Bill Gates is one example of this, a more notorious one being Donald Trump. Both born extremely wealthy and naturally reliant on wealth to accumulate more of it. Mr. Gates
got his big breakthrough with IBM because of his mom, a banking scion
, who had pressured IBM to help her failing son.
⬆