Earlier this month the following photo was taken (all male); Original in LWN (months ago LWN also became all male as ris had stepped down)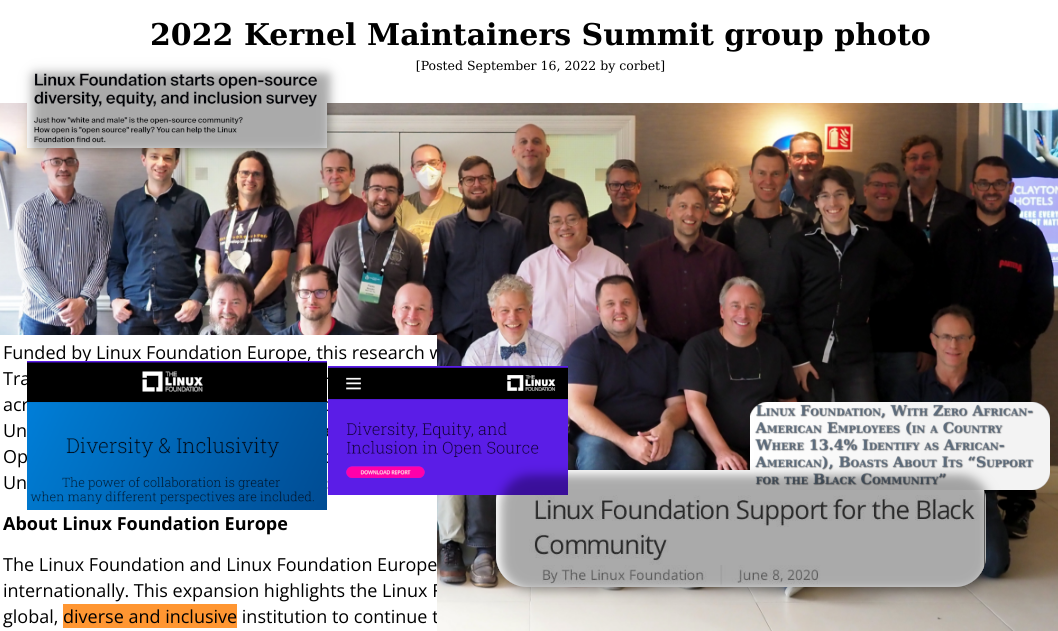 Summary: The Linux Foundation cannot define support and cannot understand how to support women so instead it trolls people; it also hires no black people and just like IBM it then accuses the community of being an impediment to diversity (community projects actually have more such diversity)
A
couple of years ago we said that
"IBM (Red Hat) Lectured FSF That It Needed More Diversity, But Was It Looking at the Mirror? IBM and Red Hat Are Even Less Diverse."
The new photo (above) shows that the so-called 'Linux' Foundation fails to demonstrate to us how
corporations
are taking the lead (these men are employees) or will tackle diversity woes.
We've been writing about this subject for years because destructive people in Debian
brought the same disruptive ideology to Debian
, resulting in almost zero women developers (they're used as political props, which in turn puts them off). So the 'Linux' Foundation's psyche spreads and it's not helping. It's a straw man. Identity politics distract from key issues like
Software Freedom
and
threats such as corporate takeovers
. Corporations do not have genders and races, they just have shareholders and they want to dominate everyone.
In a recent press release, the
boasting about diversity was prominent
. Many of these LF pages keep boasting about diversity, but usually they assign women to do clerical and low-paid work. It's the same at Red Hat and IBM. They want us to at least
feel
like they have lots of girls on tje payroll.
What is it that makes this relevant? We need to talk about it because IBM/Red Hat and LF (the front group) keep weaponising this as a smear against communities (
for 3 years already
), i.e. projects not controlled by corporations. In the case of Linux (the kernel), if all those salaried coders are not female, what does that tell us about corporations as the 'solution'?
As an associate explains, "many (most) don't understand the weaponisation, especially of the CoC. It's "mean" to criticize a
corporation
for illegal, unethical, and anti-competitive behavior especially if the corporation hurts the kernel and the FOSS world in general."
Jim Zemlin, who
seems to idolise Bill Gates
, kept insinuating that criticising Microsoft is
like kicking puppies
. Criticising a company that attacks you is "hatred" (
we did a video about this less than a day ago
) and
very
irrational, apparently... and it's akin to brutality against animals. He moreover
insisted that "Open Source loves Microsoft"
... (i.e. Microsoft loves what it is attacking!)
As an associate puts it, "Microsoft has worked hard to earn and stay the object of any hate it receives."
Not only does the LF hijack the narrative on diversity with so-called
'studies' (marketing)
[
1
,
2
] and
paid-for puff pieces
to promote that narrative [
1
,
2
]; GPL violators and Linux haters
join in as well
.
It's more of a siege than a genuine,
sincere
attempt to introduce more people to Linux. See the photo above; it's like playing
"Where's Waldo?"
but in this case don't bother looking for a Waldo; there's a total of zero women.
⬆