05.12.10
Gemini version available ♊︎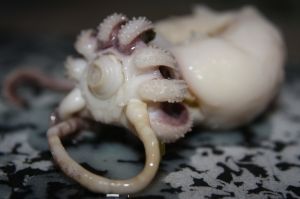 Summary: The software squid on the face of the Earth expands its perimeter of negative influence and subjugation
LAST week we wrote about belittling of Google, courtesy of a highly paid de facto Microsoft 'insider', groomed to replace Yang (currently mentioned in this new article) and wed with Ballmer. It turns out that a lot of other sources covered this too and mocked her for hypocrisy, with the exception of Microsoft partners like Ziff Davis and MSBBC [1, 2]:
Microsoft bloggers are raving about Microsoft's use of Yahoo! as a de facto subsidiary [1, 2, 3] (the only other example of coverage comes from WebProNews), which is either hilarious or sickening. It probably depends on one's mood. What Microsoft did to Yahoo! ought to teach everyone in the industry why Microsoft staff is corporate poison and why Microsoft is a bully without boundaries. It should be treated like a dangerous cult, which is exactly what a government delegate compared this company to.
Joe Wilcox, a former Microsoft watcher, says that "Microsoft cannibalizes Yahoo search share"
Microsoft sure is gaining search share fast. Too bad it's cannibalizing Yahoo rather than gaining on Google.
Microsoft merely arranged the passing of traffic from Yahoo! to Microsoft. The tragic thing here is that a search option has been removed by Microsoft. Anyone who wishes to avoid Google might as well be stuck with Microsoft. This is another fine example of how Microsoft ruins the market, kills products, harms innovation, and puts people out of work.
Indeed, according to other articles too [1, 2], the only firm which gauges US search market share and is not receiving payments from Microsoft* says that Bong [sic] lost market share in April, despite losing ('investing') billions of dollars per year by paying companies to drop Google [1, 2]. It couldn't get much worse for Microsoft. Or maybe it could [1, 2].
Anyway, as Search Engine Journal points out, Microsoft also uses its search/advertising business to exclude competition in the Web browsers and operating systems space:
Here are some things I've seen change and LOVE:

* AdCenter Desktop Editor – My only qualm here is that this is only for PC (come ON Microsoft, stop it, we are computer users too, and no this is not making me want to buy a PC).

[...]

* Support Your Competitors Products – They aren't your competitors when it comes to your advertising. Get over it, k?
o Mac Support for Excel Plugin and Desktop Editor (while you're at it can you tell the Excel people to make Excel Mac like Excel PC? Thanx.)
o Google Chrome Support (it works, but can we remove the warning?)
Typical.
Now that Yahoo! is hijacked by Microsoft, we are not surprised to see Microsoft's bedfellow Samsung putting Yahoo! on Linux phones to not only make money for Microsoft (patent racket) but send users to Microsoft's datacentres too.
Yahoo and Samsung are expanding their partnership so that mobile services such as Yahoo Mail and Yahoo Search will be preloaded on Samsung phones running the proprietary Bada and Google Android operating systems.
We will say more about what Microsoft is doing to Linux/Android phones in the next post. Samsung makes it a Ballnux and just like Xandros, it is paying Microsoft for Android. Those new Samsung phones are therefore not a victory and the same goes for LG's new Android-powered phones, which are 'taxed' by Microsoft. How about HTC, which also became a victim?
Two Android ROMs crammed onto HTC Hero

If you'd like to give it a go, you'll need at least some knowledge of the rooting process, and a computer running a flavour of Linux. Be aware also that the process takes some time to complete – around 15 minutes to "dualize" the handset, and slow boot-ups the first few times that you start your dual-booting handset.
HTC is also paying Microsoft for Android. HTC is based in Taiwan, whereas LG and Samsung are based on Korea. They all pay Microsoft for Android and we can't quite see the Taiwanese government stepping in to stop this abuse because Microsoft has just become a partner of the government there (smells like corruption).
The Taiwan branch of U.S. software giant Microsoft Corp. showcased cloud computing applications created by local companies on Microsoft platforms, at a summit Tuesday in Taipei, with the aim of forging closer partnerships in a country known for its technology strength.
Why on Earth is the government assisting the very same company that it found guilty of breaking the law (about twice last year and even before that)? This 'news' from MSN (we knew about it months ago) makes no sense and it takes us back to yesterday's news about what Microsoft does in Panama and some other countries whose sovereignty it takes away. Governments should by all means avoid everything that's classified as 'cloud' that's managed by another party.
"Governments should by all means avoid everything that's classified as 'cloud' that's managed by another party."Microsoft's relationship with Taiwan's government is all about taking people's data using the so-called 'cloud' which it makes a lot of noise about [1, 2, 3, 4] because it's viewed as an opportunity for further lock-in, with both proprietary software and users' loss of data possession. They are using buzz terms like "private cloud" to insinuate that the user has privacy or ownership. If it's proprietary, however, then it's not private, it's rented. Free software is required for privacy in a so-called "private cloud".
Watch how Microsoft is painting everything as "cloud", even Exchange. In the same way, Microsoft is painting everything that's Windows with the "seven" brush these days. It's all just branding and marketing.
Here is a former Microsoft intern who says that "UC Davis scraps Gmail pilot: Privacy levels 'unacceptable'" (not that Live@Edu is any better).
E-mail should only belong to or be seen by routers and maybe ISPs, not so-called 'cloud' providers. Nobody needs to have a mail account on a service whose storage capacity costs just a cent and a half and is given in exchange for spying and advertising. Hotmail is just as bad as Gmail, but the former Microsoft intern from ZDNet is more concerned about Google (where the FUD is better placed). Microsoft's booster Ina Fried (from a sister Web site of ZDNet) has a new Microsoft boosting piece which shows how Microsoft was changing Hotmail (along with screenshots), but it's important to remember that Microsoft ruined Hotmail ever since it took over, turning it from a leader into a follower that causes problems to the Internet as a whole. Microsoft also turned Hotmail into a spying trap, just like Google. These boosters/employees of Microsoft are being hypocrites and they know it. █
____
* Two of the other meters, namely comScore and Nielsen, receive money from Microsoft and they all just measure something in the United States, with perhaps one exception (that's rarely cited by the English-speaking press).
Permalink
Send this to a friend