05.19.10
Gemini version available ♊︎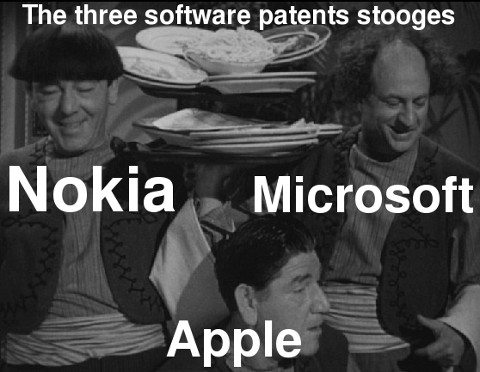 Summary: The harms of software patents are everywhere in mobile and those who are to blame for them are named, ramifications explained
NOW that Microsoft is suing like crazy, it's really time to abolish software patents. About 85% of Microsoft's patents are software patents and they are being used to bully and extort servers companies such as Amazon and Salesforce (both use GNU/Linux).
What does Google do? Google's support of software patents is not acceptable and the company takes a similar approach to IBM's when it comes to them. Google just makes promises and concessions about its software patents, which might not be as effective as just working to abolish software patents for good (not that Google would necessarily want that).
Here is a senseless rave about yet another software patent from Google, in this case relating to a Linux-based product of theirs:
Mobileblab is reporting that something very interesting has been found regarding Google's Smart TV project while searching the Google Patent data base. What exactly could be so interesting? Well, according to the database, the new Smart TV will be Android powered, and come with a special Android app store with its own TV applications. This patent application was filled by Google and Sony for a "network media player with user-generated playback control." That name sounds a little similar to their latest Android powered TV that should be announced soon.
What is Google thinking? Why spend so much effort assigning patents to the company at the expense of engineers' time?
Later on, when Apple obtains software patents and sues with them (even targeting the Linux-based Android) Google declines to comment as that would make Google a hypocrite. Here is one of the Apple 'fan' sites bragging about software patents from Apple.
A New Social Workflow Patent from Apple Highlights Facebook

[...]

The target device may receive the user selection and transmit data 266 corresponding to the selection to the initiator device 10A. For example, the Facebook script may include instructions directing the target device to transmit the confirmation or rejection to the initiator device as the confirmation data. The initiator device may then receive the confirmation data and display the screen 232 indicating that the friend has been successfully added and that the workflow is complete. Although the specific screens displayed on the devices 10A and 10B may vary, the interaction between the initiator device and the target device may occur in a similar manner for each action within a workflow.
Katonda.com has some good insights on Apple's use of software patents against Linux/Android, including:
It is widely believed that Apple's target is Google's Linux-based Android which is making inroads into Apple's smart phone territory. But Google might be too big for Apple to fight with. HTC, one of the core partners of Google, seemed to be an easy target for Apple.
Let's not forget Apple's attacks on Theora:
Apple's disparaging (at times terrorising) remarks about Theora are a promotion of H.264 and just look at the consequences. A few days ago we wrote about Wild Fox and explained why Apple was harming Mozilla Firefox (Apple has the proprietary Safari), which has essentially just been forked [1, 2, 3, 4]. OStatic writes:
Most of us users of Mozilla's Firefox browser are used to getting new versions of Firefox from Mozilla, but, like many open source projects, Firefox has already been forked into other versions. Now, as OSnews reports, a new fork of the browser is taking shape. Dubbed Wild Fox, one of the more interesting new aspect of it is that it supports the H.264 coded for video. However, the way the new fork treats patents could cause trouble.
Had Apple (and Google or even Microsoft) actually helped promote Theora, none of this would be necessary. But being the software patents proponents that they are, they seem resistant to free/libre codecs. Google has made some commitments, but it still offers nothing but H.264 (or other patent-encumbered codecs) in its huge number of videos.
Situation in Europe
Formally, software patents are not legal in Europe but in practice they seem to be. In order to resolve this bizarre situation once and for all, the EPO consulted the EBoA, whose decision finally came some days ago [1, 2, 3, 4, 5], pretty much to say that they could make no decision.
Isn't that grand? They only increase this state of vagueness and the EPO has opposers of software patents hanging on and relying on nothing substantial. It's like a delaying tactic and the head of the EPO meanwhile escapes her position on a higher note.
André Rebentisch disagrees with the EBoA assessment from Marks & Clerk and he is clearly dissatisfied with the EPO's embellishment/spin.
The spin machine of the European Patent Office in Munich in full motion. Its Enlarged Board of Appeal declared the referred questions of EPO-President Alison Brimelow inadmissible. A court would stop here but the EBoA is no Court but just an administrative appeals chamber and not bound by judicial standards, so they also discuss the substance.
"Over time, more and more companies would have to join the DPL, but the big patent holders would continue to just pay a lot of money to trolls rather than joining such a defensive alliance."
–Florian MüllerFlorian Müller, one of the leaders of the move to abolish an EU software patents directive in 2005, elaborates on his previous/latest post. He has more to say about "the Defensive Patent License and the 'Fair Troll' business model" and on the basis described in his previous post, he now argues: "I do believe the Defensive Patent License, due to be published soon, could become amazingly effective. The basic idea would be for the software developer community (especially but not only the open source community) to feed "fair" patent trolls — who would have to commit to the terms of the DPL or else the community wouldn't support them — with patentable ideas and those would then go after companies who don't want to support the DPL. Over time, more and more companies would have to join the DPL, but the big patent holders would continue to just pay a lot of money to trolls rather than joining such a defensive alliance. It would be a way for the open source community to beat the supporters of software patents at their own game. So there's money to be made while contributing to the good cause of making more and more companies join the DPL alliance and reduce the threat patents pose to the members of the alliance."
Florian has told us that he is now working with some of the parties involved to ensure that DPL won't harm some of the innocent players, including some of those which FOSSBazaar mentioned earlier this week:
In one recent deal we were left with the thorny problem of Indemnity and who pays for it. Typically, if you are using proprietary code you are buying a pig in a poke (buying something in a black sack that the vendor says will do the job). The case of indemnity arises if a patent troll claims ownership and then sues the user for a multi-million dollar sum.
Does anyone still think that patents have anything to offer to small businesses? Patent trolls don't qualify as "small businesses" because they have no products and they don't do business; they do lawsuits and they engage in intimidation (for settlements), just like Microsoft. Rui Seabra has just passed on Glyn Moody's words on the Salesforce case and wrote about Microsoft: "new business model: Patent troll?" █
Permalink
Send this to a friend