07.20.10
Gemini version available ♊︎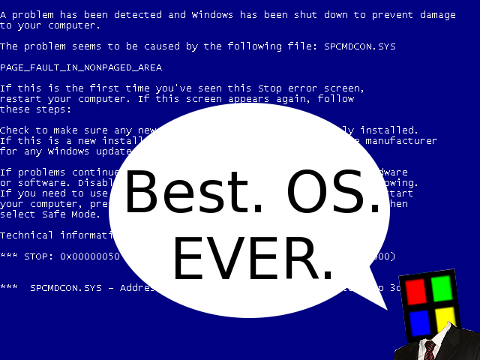 Summary: "Dead OS walking" is indication that people refuse to use new Windows, they are just using what's already stuck inside their PC (not chosen)
Windows XP was released when I was a teenager, but since Microsoft cannot make Windows any better (Vista 7 does not cut it for businesses), all that Microsoft puts its dumping effort in is XP.
"Microsoft extends Windows XP downgrade rights until 2020," says IDG.
With 74% of business PCs running XP, the move is more proof that it's the OS that won't die

Just a day before Microsoft drops support for Windows XP Service Pack 2 (SP2), the company announced on Monday that people running some versions of Windows 7 can "downgrade" to the aged operating system for up to 10 years.

The move is highly unusual. In the past, Microsoft has terminated downgrade rights — which let customers replace a newer version of Windows with an older edition without paying for two copies — within months of introducing a new OS.
Pogson shows that Microsoft is trying to sell computers like Apple does (selling hardware, not software) and even Microsoft boosters are unable to counter. The fact that XP is still around is a bad sign for the Windows franchise [1, 2]. Steven J. Vaughan-Nichols goes with the headline "XP lives! Windows 7 dies?"
Okay, color me surprised. The last thing I expected from Microsoft was for the company to extend Windows XP's life for an unbelievable ten years. I thought Microsoft might extend XP Home's life for a while to try to keep Linux-powered netbooks at bay, especially those with Google's forthcoming Chrome operating system under the hood — but the business XP line? Until 2020!? I never saw that coming.

I'd thought Microsoft was selling a lot of copies of Windows 7. That's certainly what Microsoft has been saying. Last January, Microsoft CEO and chief cheerleader Steve Ballmer claimed, "U.S. retail data shows that Windows PC sales jumped almost 50% the week it launched. On Black Friday, [NPD] reported that retailers sold 33% more Windows PCs than the year before. And for the 2009 holiday season a 50% increase in Windows PC sales from last year. Last year was a tough year, but these are still phenomenal numbers."
Microsoft has pulled the plug on Windows XP SP2, but IDG offers advice to those who still run it. Had people done the same thing with GNU/Linux, then pre-releases of Firefox 1.0 would still be used (or maybe just the Mozilla browser) on top of Linux 2.4. Microsoft managed to make Windows worse in many ways over the years. █
"Booming Steve Ballmer, Gates's number two, said the company had received an outpouring of mail from customers, much of it saying that the company was too arrogant."
–Barbarians Led by Bill Gates, a book composed
by the daughter of Microsoft's PR mogul
Permalink
Send this to a friend