10.02.10
Gemini version available ♊︎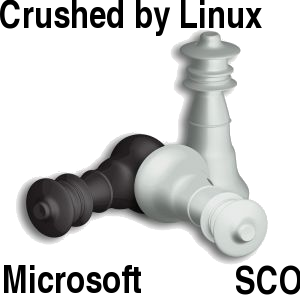 Summary: SCO and Microsoft bear many similarities right now, with layoffs, dead software assets, and lawsuits against Linux (demanding royalties) as an area of strategic focus which replaces actually producing real, competitive products
SCO/Caldera was once a UNIX force, but Linux blew its socks off and Linux is now doing the same thing to Microsoft, which suffers many layoffs and resorts only to a lot of litigation against users/distributors of Linux.
Likewise, SCO is getting rid of software assets [1, 2, 3, 4, 5]; so does Microsoft, in a very major way. Here is our timeline of the SCO case (we stated 3 years late) and here is a fragment from the latest Groklaw post:
Ocean Park Advisors has filed its 11th monthly bill in the SCO bankruptcy, for $15,831, 80% of the bill for August, plus $196.13 in expenses. That's for 68.6 hours. According to the bill, they spent most of their time in August working on: "Analysis, Preparation and Execution of Restructuring Plan", 19.5 hours, $6,157.50.
This post also discusses this year's layoffs at SCO. We keep hearing that Microsoft too is about to announce more layoffs (not the first such announcement this year).
Groklaw has also just published the older trial proceedings as text (March 16th 2010). As Jones puts it:
I can't believe SCO wants a do over. But we find out why some might want it. Darl admits on this day that he stands to make millions if SCO were to prevail, thanks to him owning millions of options and shares. He began buying shares in Caldera in 2000, as he mentioned in a July 2002 "Dear Shareholder" letter [PDF]: "I became a shareholder of Caldera, along with many of you, at the time of their IPO in March 2000. My goal over the next few years is to make a profit on my initial investment in Caldera." Indeed.
Litigation is all that SCO has left because its products cannot compete against GNU/Linux. Sounds familiar? That seems exactly like Microsoft's trajectory right now, especially in mobile/mobility which is a huge growth area. █
"Pamela Jones [...] has told Infoworld that Microsoft will be the next SCO Group"
Permalink
Send this to a friend