10.20.11
Gemini version available ♊︎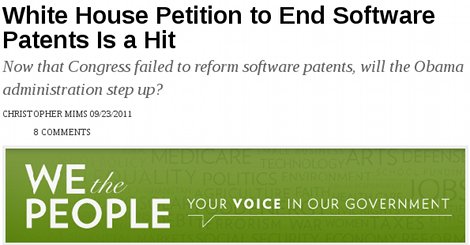 Summary: A leftover of news about software patents and their impact on society, competition, and 99% of the population
Apple is afraid of Linux. It will not say this out loud, but Linux-based platforms such as Android are hurting hypePhone sales and it is not looking too good for Apple in the long term (it has already lost the "Jobs" brand, which does not help either). Apple is so nervous that it has been pushing for embargoes since last year and the US agents support the US company, obviously (can it get any more biased than that?). Apple has been having a harder time against Samsung. To quote this new article:
Software patents are one of the most egregious misuses of patent protection that exist. There was a time when the patent office would reject patents for 3rd Grade math or simple sorting algorithms, but no longer. For the last couple of decades, anyone could code an obvious calculation method for a spreadsheet program and then patent that code. With that patent in hand, you could not only sell a crappy spreadsheet program, but you could also sue all the other spreadsheet program developers who used your patented code for a simple, obvious calculation. Yay, more litigation!
Bloomberg's latest IP brainwashing (bundling patent monopolies with "IP") mentioned both the HTC and Samsung cases. Any shallow report that we find, like this new report for example, does not really delve into the heart of the situation and the legality/ethics of what Apple is doing. The SCOTUS too is quite a lost cause (we already explained why [1, 2]) when it comes to business method and software-implemented idea as "patents". To quote Law.com:
Following the Supreme Court's rejection of the U.S. Court of Appeals for the Federal Circuit's "machine-or-transformation" test as the sole test for determining patent eligibility in Bilski v. Kappos, the Federal Circuit has crafted a standard for determining the patentability of business method inventions. Two recent Federal Circuit decisions — Research Corporation Technologies Inc. v. Microsoft and Cybersource Corporation v. Retail Decisions — provide guidance as to the evolving contours of this standard.
Here is some more shallow coverage which names patents as "intellectual property" and something about Microsoft partners in a software patents case. In the midst of all those monopolies small companies are hurt and OpenSim scrambles to find ways of protecting against litigation. From this one new report:
OpenSim developers are discussing ways to combat damaging patent litigation, including changing the OpenSim license to deter potential patent trolls.

The Overte Foundation, which holds the OpenSim licenses, recently released a contributors' license agreement for its developers. One possible anti-troll protection measure would be to change the agreement so that if someone sues an OpenSim developer for a patent violation, they will lose the right to use the OpenSim code.

OpenSim core developer Crista Lopes, inventor of the hypergrid and treasurer of the Overte Foundation, said that the foundation's legal counsel will be looking over the suggestion.

"We all share the loathing for patent trolls," she told Hypergrid Business, adding that the foundation has been studying what other open source projects are doing in this area.
Who benefits from software patents and how can their existence ever be defended by the 99% of the population? It's time to throw them all out. Only corruption keeps them in tact given the will of voters. Just because ~1% of the population (patent lawyers and CEOs) want them does not mean they should exist. █
Permalink
Send this to a friend