04.20.12
Gemini version available ♊︎
The scam which is OOXML lives on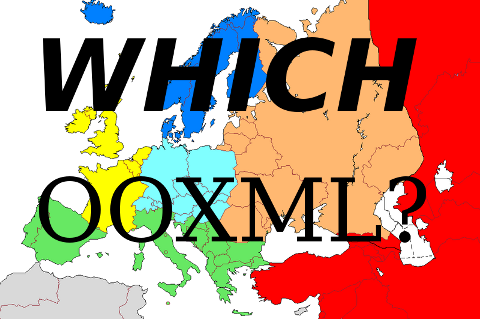 Summary: What some newly-leaked letters and analyses help teach us about Microsoft's wrongdoing and corruption in the public arena
A FEW days ago, Dr. Moody exposed yet more dirty tricks from Microsoft, this time right here in the UK.
Francis Maude MP sought advice from the British public, but will other Brits (other than Microsoft lobbyists) submit consultation letters? "Our approach will enable the Government to work collectively together but effective open standards for software and systems are required to ensure interoperability between software systems, applications and data," writes Maude. "Within the Government Digital Service we are already demonstrating how collaboration between departments, along with a clear focus on the user, delivers better public services for less. Open Standards are crucial for sharing information across government boundaries and to deliver a common platform and systems that more easily interconnect."
"Open standards are vital for progressing this work and I encourage you to share your views in this consultation."
How can Microsoft subvert this logical plan? Simple: redefine "open". Mark Ballard followed Moody's lead for a change, reporting that the Microsoft-subsidised "lobby triumphs in first open standards showdown":
Software patent heavyweights piled into the first public meeting of the Cabinet Office consultation on open standards on 4 April, conquering the meeting ballot with a resounding call to scrap the government's policy on open standards.

Open source and open standards campaigners complained they hadn't been invited to the Round Table event, the proceedings of which Cabinet Office will use to decide the fate of its beleaguered open standards policy.

Government supporters felt a growing sense of urgency over the consultation. Scattered and underfunded, they looked incapable of standing up to the big business interests that induced the consultation with backroom lobbying and have stepped forward now the debate has been brought out into the open.

Computer Weekly understands Cabinet Office officials regretted they hadn't got the meeting call out to a wider audience. Open standards supporters who attended complained it was stacked with opponents who easily dominated a meeting motion against the government's open standards policy.

Linda Humphries, Cabinet Office open standards official, said yesterday in a blogged report of the meeting: "The consensus was that the… proposed policy would be detrimental to competition and innovation."

Graham Taylor, chief executive of Open Forum Europe, which has worked closely with Cabinet Office IT policy makers, said he was "disappointed" the meeting hadn't been "representative".
Glyn Moody published the second part of the dirty Microsoft laundry he had gotten hold of. "In yesterday's post about Microsoft's lobbying of the Cabinet Office against truly open standards based on RF licensing," he writes, "I spent some time examining the first part of a letter sent by the company on 20 May last year. The second part concentrates on the issue of open standards for document exchange. This touches on one of the most brutal episodes in recent computing history – the submission of Microsoft's OOXML file format to ISO for approval."
Further down he says: "In other words, as a result of a decision by single city in the US to adopt open standards for documents (also mentioned in Microsoft's letter of May 20), Microsoft set in train an immense sequence of events that culminated in the accelerated adoption of OOXML as an ISO standard."
"That, in a nutshell, is the power of truly open standards, especially when implemented by open source, because everything is driven by a desire for openness and interoperability. This sets a very high bar that other companies must then match if they wish to remain competitive, as Microsoft's hurried actions demonstrate.
"A few months later, on 31 August, Microsoft sent an email to the Cabinet Office that included a policy paper "compiled by Microsoft Corp" as it says in the footer, on the same subject, entitled "The Importance of Neutral of Multiple-Standards Policy in Document Format Standards" [.pdf]."
Glyn Moody did some further research to show that the cost of this sort of corruption from Microsoft may be close to a billion dollars (of British taxpayers' money). That may be about $70 per family, due to Microsoft's dirty tricks in government alone (putting aside the cost to businesses and homes). To quote:
As far as I can tell, the CEDI research is something to do with this, which points to this Danish government page with links to two studies. They're all in Danish, not unreasonably, but even with the help of Google Translate I can't find any figures about the savings of "moving to a flexible two standard" as claimed by the Microsoft email. But I assume it is backed up somewhere, so let's take it, and the £500 million figure for the UK, on trust.

One of the interesting developments over the last few years is how the debate about TCO – Total Cost of Ownership – has died down. In the early years of this millennium, there were various studies, from both Microsoft and companies based around open source, that purported to show that their solution had a lower TCO than the rival's. Of course, much of this depended on the details, but it was striking that there was no clear winner in any of these comparisons. I think the reason that the TCO argument has disappeared today is simply that it wasn't possible to use it to decide between offerings because there wasn't any big difference between the two alternatives from that point of view.

What that means in practice is that the total cost of Microsoft-only or open source only solutions is broadly the same – the real differentiation comes in terms of other aspects, such as the companies offering support, ecosystems, freedom from lock-in etc.

So if the UK government could save £500 million by moving from an open-source only office suite provision to a mixed one, as Microsoft claims, then, broadly speaking, it could similarly save £500 million by moving from a Microsoft-only approach to the same mixed environment, if the calculation is carried out on a fair basis.

Microsoft's recent email implies that the current lock-in to Microsoft Office is costing the UK government something like half a billion pounds, give or take a few quid. Surely a powerful argument for moving to that two-standard solution based on Microsoft Office and ODF office suites as quickly as possible?
Over Finland we have learned that Microsoft is also attacking the attempts to move to FOSS. This is said to cost millions of dollars even though the population is considerably smaller (extrapolated to the US it would almost exceed the aforementioned numbers):
A report on the City of Helsinki's pilot project for the use of OpenOffice in the public administrations leaves the public with more questions than answers. The city trialled the Free Software productivity suite on the laptops of council members for ten months in 2011. The suite enjoyed high approval rates among its users. When the pilot was finished, the City produced a report stating that the costs of migrating the entire administration to OpenOffice would be very high.

"The City's report claims that it would cost EUR 3.4 million per year to run OpenOffice. This figure appears surprisingly high, and the report does not say how it was calculated," says Otto Kekäläinen", Finland coordinator of the Free Software Foundation Europe. "Without details, this figure seems baseless." Apparently, Helsinki's administration did not even contact major OpenOffice service providers to ask for their prices when preparing the report.
Over in Korea, the "world's most wired country," the cost of Microsoft lock-in is immeasurable. To quote a new article:
Nine years ago when Kim Kee-chang came back to his native country of South Korea, he had no idea he was coming back to start a tech war. But when he booted up Linux on his computer something strange happened: he couldn't use Korean Web sites.

"Basically I couldn't do anything," said Kim, the founder of OpenWeb, an organization dedicated to expanding web accessibility in Korea. "Pages were not adequately displayed on the screen, links didn't work, menus didn't work. Nothing worked."

Kim had discovered a glitch in an otherwise perfect system: for all intents and purposes, South Korea had become a slave to Internet Explorer and, by extension, Microsoft. It's a problem that Kim believes is rooted in pride; pride that has had damaging effects to Korea's Internet culture.

At the end of the 1990s, Korea developed its own encryption technology, SEED, with the aim of securing e-commerce. Users must supply a digital certificate, protected by a personal password, for any online transaction in order to prove their identity. For Web sites to be able to verify the certificates, the technology requires users to install a Microsoft ActiveX plug-in.

"The Korean government took a great deal of pride in that breakthrough security technology," Kim said. "They wanted it to be widely used in Korea." But ActiveX drew a lot of criticism in the international community.

Park Hun-myoung, a professor of public management and policy analysis at the International University of Japan, says that ActiveX plug-ins consume computing resources, often conflict with each other and contribute to bad computing practices by teaching users to always click "OK" on command prompts.
Using bribery, lobbying, distortion of public processes — and at times retaliation, intimidation and bullying — Microsoft has been able to depress and suppress attempts to do what citizens actually want their government to do. And some people still wonder what makes Microsoft so unusually malicious…
Watch Microsoft taking more positions of power in Africa. From the Microsoft press:
Cheick Modibo Diarra, Microsoft Corp's chairman for Africa, has been appointed interim prime minister charged with helping to restore civilian rule to the Saharan state of Mali after a coup last month, it was reported Tuesday.
The appointment of Diarra, a former NASA astrophysicist who was born in the country, was announced on in a statement read out on state television, Reuters reported.
Entryism that money cannot buy (or need not even buy). █
Permalink
Send this to a friend