12.22.16
Gemini version available ♊︎
Just doin' his Joff…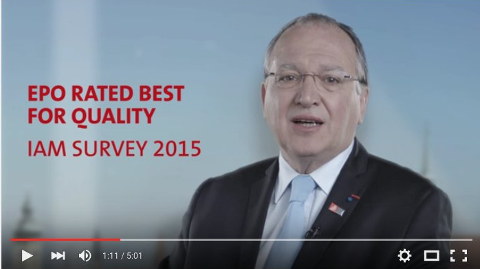 Summary: Criticism of the continued, ever-accelerating erosion of patent quality at the European Patent Office (EPO) and shameless attempts by Battistelli to cover it up using money (EPO budget thrown at the media)
THE very few times that IAM merely took note of EPO scandals these mentions became top stories, according to figures published today by IAM's editor. Shouldn't IAM take that as a clue and actually engage in journalism, instead of persisting in propaganda for Battistelli? (see above)
"Shouldn't IAM take that as a clue and actually engage in journalism, instead of persisting in propaganda for Battistelli?"The EPO, as even insiders tell us, continues to grant patents it should never have granted at all. This includes software patents. Even examiners who are against software patents eventually grant them (under pressure) and this new article should make furious anyone who has EPs. Values of EPs erode because patent quality ceased to exist under Battistelli. As the article puts it: "The European Patent Office (EPO) continues to grant many patents relating to antibodies, and in doing so applies the same patentability criteria as to other inventions. However, some commentators have suggested that antibodies are regarded as a special case by the EPO when evaluating inventive step / obviousness."
For those who are not familiar with this domain, antibodies are (based on Wikipedia) "Y-shaped protein produced mainly by plasma cells that is used by the immune system to identify and neutralize pathogens such as bacteria and viruses."
"The EPO, as even insiders tell us, continues to grant patents it should never have granted at all."File this under another case of "patents on life" — a subject which even the USPTO has not been all that gullible about. Does Europe want to privatise or monopolise even fuctionalities associated with biology or the human body (naturally-recurring and found in nature)? Where does this end?
Brian Cronin, a Patent Attorney from the UK (who works in Switzerland now), has just published this article about "European inventive step" and having read the whole thing from Watchtroll (the rudest element of the patent microcosm) we are left unconvinced; nowhere does it mention the erosion of patent quality; instead if repeats the empty claims (from EPO management) of leadership on quality grounds, citing IAM of course. It concludes with this paragraph:
The EPO proudly boasts that it is consistently rated number one for patent quality among the world's largest patent offices based on user surveys. Patent quality is also a major objective for the USPTO, who are striving to improve their lower user ratings. This article suggests that a contributing factor to the EPO's perceived high quality is the coherent way inventive step is handled, this involving the institution of examining divisions and use of the problem-and- solution approach by the examiners and by EQE-qualified practitioners. As opposed to this, the USPTO's lower rating can in part be explained by its piecemeal handling of obviousness and less coherent input. Improving patent quality is a mantra of the USPTO management. If they could take steps to improve the coherence in handling obviousness, improved quality would follow.
At the moment what we are seeing is that the USPTO actually does improve patent quality, resulting in less litigation and abuses, whereas under Battistelli the EPO goes in the opposite direction. Weeks ago an international patent law firm publicly stated that it's now easier to get software patents in Europe than in the US, in spite of Europe's ban on such patents. Lawfulness is long gone from the EPO.
When will IAM stop producing lies (whilst receiving payments from the EPO's PR firm) and when will EPO management stop citing IAM as 'proof'? We have already given examples where the EPO also bribes mainstream European media for puff pieces, which Battistelli later cites to support his dubious claims. Such is the corrupting influence of the Battistelli-led regime. It corrupts the media as a whole at the (very high) expense of people who apply for and maintain EPs (renewal). █
Permalink
Send this to a friend