01.09.18
Gemini version available ♊︎
Retirement money is not enough to keep Michel from intervening as an outsider with powerful connections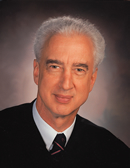 Summary: As the new year begins (and people return from holiday) outlines of Federal Circuit cases are published (3 of them yesterday) and Paul Michel rears his head again (he still meddles by public criticism, wielding influence to impact the court's direction in absentia)
THE Court of Appeals for the Federal Circuit (CAFC) improved a lot last year. We are very pleased with its work under the new lead (after Rader left in disgrace). Last year it consistently rejected software patents. It's pretty incredible because only a few years prior to that the opposite was true (under Rader and before Alice).
A very detailed breakdown by Ropes & Gray LLP's Scott A. McKeown has just been published. He calls it "2017 CAFC Guidance"; it's fairly objective and reasonably OK. But watch this advice (how to trick examiners);
Patent prosecutors navigate complex USPTO rules and seemingly esoteric examinational requirements to procure patent rights. In doing so, it is easy to lose sight of the fact that the Manual of Patent Examining Procedure (MPEP) does not have the full force and effect of law. Nevertheless, patent examiners (rarely trained lawyers) adhere to their interpretation of the Manual requirements. To budge examiners off of entrenched, legal positions, savvy prosecutors will keep a trained eye on the Federal Circuit for help.
Patent examiners who read this will hopefully take note; this is how legal firms view you…
A similar breakdown was posted by Dan Bagatell at Law 360. It's titled "Fed. Circ.'s 2017 Patent Decisions: A Statistical Analysis". Much of it is behind paywall, except this: "After each fiscal year end, the Federal Circuit publishes statistics summarizing where its cases came from, the court's throughput over the year, and its median times to disposition in cases from different sources.[1] The court even tantalizes court watchers (a bit) by providing reversal rates for each agency and for district courts as a whole.[2] But the court does not explain how it calculates its statistics, and the high level at which the court presents the data obscures the juicy details."
Are they trying to 'scandalise' CAFC too now? Not just PTAB? We'll write about PTAB-bashing bias in our next post…
Last but not least, IAM has just said: "Former CAFC Chief Judge Michel runs through his top #patent cases to watch in 2018″ (linking to this article from yesterday).
It is extremely disturbing that IAM is connected to and keeps amplifying corrupt judges like Rader and now also Paul Michel. He keeps showing up everywhere (e.g. [1, 2, 3]) even though he retired. He typically sides with the patent maximalists and lobbyists of patent trolls.
This is IAM's introduction:
As with any news platform focused on the patent world, we keep a close eye on the major court cases in the US, particularly those that have a direct impact on IP value creation. Key decisions from district courts, the Court of Appeals for the Federal Circuit (CAFC) and the Supreme Court, ripple throughout the IP world and so it's important to know the cases that are coming which are likely to have repercussions for our readers. With all that in mind, we asked former CAFC Chief Judge Paul Michel to cast his eye over the Federal Circuit's docket to identify what he believes we're likely to be talking (and writing) about in 2018. Here are his top five.
What compels Michel to indirectly compose articles for IAM now? As a reminder, IAM tried to intervene in the appointment of USPTO Director in order to put a disgraced CAFC judge (Rader) in place of Michelle Lee. Rader is a friend of trolls and it's not exactly a secret who pays IAM's bills. █
Permalink
Send this to a friend