02.09.18
Gemini version available ♊︎
The 'enforcers' are Finjan et al.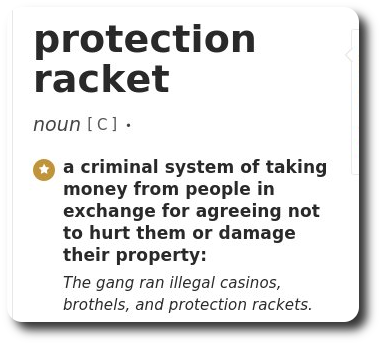 Summary: An outline of patent activities which are connected to Microsoft, including the protection racket known as Azure IP Advantage
THE patent strategy which revolves around taxing GNU/Linux carries on at Microsoft. It's alive and well, it's just 'dressed up' or marketed differently.
Erich Andersen (Corporate Vice President and Chief IP Counsel at Microsoft, based in Redmond) will never say that Microsoft is running a racket. Maybe he'll even convince himself otherwise. Having recently driven that crazy "AI" hype, Microsoft's Andersen now says: "During this time when customers are rapidly adopting #AI solutions across industries to solve important problems, Microsoft is helping to protect those investments by offering #AI patents as part of #AzureIPAdvantage…"
"The patent strategy which revolves around taxing GNU/Linux carries on at Microsoft."Also, linking to IAM, he wrote: "One year after the launch of #AzureIPAdvantage, our commitment to protecting @Azure customers from IP claims remains strong and unmatched in the industry…"
What he does not say, however, is that Azure IP Advantage is a misnomer; it's actually a protection racket. This week, for example, he also promoted software patents by citing the EPO's latest stunt, which frames such patents as "Fourth Industrial Revolution".
"What he does not say, however, is that Azure IP Advantage is a misnomer; it's actually a protection racket.""No surprise here," he wrote, as "patent filings up at the EPO in "Fourth Industrial Revolution technologies"" (that's software patents, by IAM's own admission). Those sorts of buzzwords, "AI" included (EPO prefers "ICT" and "CII"), are nowadays routinely used to dodge the negative publicity of software patenting. Suffice to say, software patents are at the very heart of the racket (Azure just runs code), but after Alice their value is questionable at best.
The other day, piggybacking the gender slant, this event promoted software patents, relying on a Microsoft-sponsored patent troll called Finjan for lobbying. Coreena Brinck said that the USPTO "recently handed down a decision where software was found eligible for patentable: Finjan v Blue Coat Systems Inc."
We wrote several articles about that and it's not what they claim it to be. This same case was also mentioned on February 5th by Peter Keros. He focused on patents as corporate welfare (what Microsoft is pursuing) when they're not just a loophole/instrument of tax evasion (very common). To quote:
Damages for patent infringement must be apportioned to the infringing features of an accused product and supported by substantial evidence. Finjan, Inc., v. Blue Coat Systems Inc., No. 2016-2520 (January 10, 2018) (precedential). After considering subject matter eligibility and infringement of the asserted patents, the Federal Circuit reviewed the damages awarded by the jury, reversing awards unsupported by substantial evidence and affirming awards properly apportioned.
Finjan, Inc. v Cisco Systems has also just been brought up in the following context:
The court denied defendant's motion to dismiss plaintiff's willful patent infringement claims for failing to sufficiently allege egregious behavior.
Microsoft-sponsored patent trolls keep harassing Microsoft's competitors in court, fueling the above-mentioned protection racket. They want companies to either enter Azure or enter exclusive 'clubs' like AST. "AST members including IBM, Microsoft and Google," IAM said the other day, "spend $2.5 million in latest IP3 patent buying programme," noting:
AST has announced the results of its latest IP3 initiative which saw 15 of the defensive patent platform's members participate, including Google, IBM, Microsoft and Ford.

In total they spent almost $2.5 million to buy 70 active assets in 19 portfolios with prices per lot ranging from $25,000 to $390,000; and an average selling price per family of $128,000. There was an average of 3.6 assets per family (up from 1.84 last year) with the largest lot that was acquired including 21 US patent filings (a lot could comprise multiple families).
IBM, Microsoft and other patent villains are basically at peace with each other because they all have a lot of patents; but what about smaller companies? Those are the companies that IBM and Microsoft go after, but not always directly. Several years ago Microsoft passed many of Nokia's patents to this patent troll (MOSAID) and based on this new press release (via) Microsoft and Nokia keep feeding other patent trolls using key patents (like they did MOSAID). To quote:
This offering follows on the heels of the Telecommunications Portfolio I offering made in August of 2017 via AQUA Licensing. The previous portfolio consisted of 4,260 patent families. To date, buyers have been identified for a significant portion of the initial offering.

The new Telecommunications Portfolio II offering comprises 557 patent families, developed by Alcatel-Lucent / Bell Labs, Nokia Technologies and Nokia Networks.
These patents can thus be used to go after AWS clients or Microsoft rivals in the device space. Not everyone can afford membership in AST or RPX or whatever new pools they keep setting up. To avoid the perception that IBM is going to attack GNU/Linux with patents, the Open Invention Network (OIN) was set up more than a decade ago. Never mind if IBM sells patents to trolls like Finjan and OIN, by its own admission, cannot do anything against trolls.
The latest OIN addition is Hitachi, as announced in this press release a few days ago.
Open Invention Network (OIN), the largest patent non-aggression community in history, and Hitachi, Ltd. (TSE:6501) (Hitachi) announced today that Hitachi has joined as a community member. As an innovation partner for the IoT era through the advanced Social Innovation Business that leverage OT (operational technology) and IT, Hitachi is demonstrating its commitment to open source software as an enabler of innovation across a wide spectrum of industries.

"Hitachi was an early and enthusiastic supporter of open source. It helps businesses modernize their industrial applications with technologies that rely heavily on Linux and embedded Linux, like the Internet of Things (IoT)," said Keith Bergelt, CEO of OIN. "Given its substantial patent holdings, we are pleased that Hitachi has recognized the importance of participating in OIN as part of its IP strategy."
They (OIN) may sound Linux-friendly, but they don't fight software patents. It's like an IBM (amongst others') instrument/tool/front group. Here is what Linux Journal wrote about this:
Hitachi has joined the Open Invention Network, "the largest patent non-aggression community in history". According to Norihiro Suzuki, Vice President and Executive Officer, CTO of Hitachi, "Open source technology, especially Linux, drives innovation in areas that are critical to the customers that we serve, including technologies such as servers, storage, cloud, converged applications, big data and IoT. By joining Open Invention Network, we are demonstrating our continued commitment to open source technology, and supporting it with patent non-aggression in Linux." See the press release for more information.
"Microsoft does not love Linux. In fact, Microsoft hates Linux. It just doesn't want people to see it, so attacks on GNU/Linux typically come through consultancies such as Accenture and patent trolls like Finjan."OIN will not be able to protect clients of Microsoft's rivals (or Microsoft's rivals themselves) when some troll like Finjan or MOSAID (now known as Conversant) runs after them, so it's a pretty toothless defender. Generally speaking, we expect many more lawsuits like the above. As Microsoft rarely sues directly (anymore) we're left to analyse the passage of patents, passage of staff (like in Acacia) and the overall strategy.
Microsoft does not love Linux. In fact, Microsoft hates Linux. It just doesn't want people to see it, so attacks on GNU/Linux typically come through consultancies such as Accenture and patent trolls like Finjan. █
Permalink
Send this to a friend