08.05.22
Gemini version available ♊︎
Video download link | md5sum e2ffabfabd4df1ef1e24d53d93f177e4
EPO HR Failed and Recruitment is Defunct
Creative Commons Attribution-No Derivative Works 4.0
Summary: The tyrants who have taken the reins at the EPO want obedient robots, not human beings who are inclined to obey the law. Therefore, there seems to be an effort underway to drive out well-educated, highly-qualified, conscientious, experienced and charismatic workers who can stand in the way of profoundly unlawful strategies.
IT is undeniable that the EPO has a retention and recruitment crisis. People don't wish to work for tyrants and they can properly research matters online, only to realise that Benoît Battistelli and António Campinos have turned a once-reputable institution into a tyranny, compelling examiners to grant illegal patents, such as European software patents.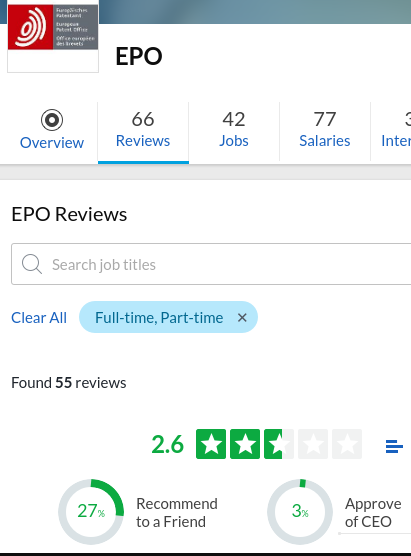 Over the years we've amassed evidence of the brain drain, the EPO's low-ranked status as an employer, and bad reviews in Glassdoor (see screenshot on the right).
Today's EPO has resorted to very obscenely low qualification levels, even for key positions such as "patent examiner". The standards have fallen so sharply that the place isn't recognisable anymore. The above video speaks of a new publication regarding Job Groups 5 and 6 and here's the content of the message. "The team manager appointed in April retired in July and no replacement is foreseen," it says.
Zentraler Personalausschuss
Central Staff Committee
Le Comité Central du Personnel

Munich,28/07/2022
sc22108cp

Paratechnicals: Highly skilled colleagues without a future?

When the "Paratechnicals and Paralegals" pilot project was launched in 2012, it was seen as the future of formalities work: "This project is all about offering a new and attractive professional home in which staff can reach their full potential."1 Unfortunately, management changed its vision over the years, and with it the investment in the paratechnicals, who now find themselves in the position of "laissés pour compte".

Dear Colleagues,

Your Staff representation continues its tour to the teams in Job group 5 and 6 and recently met with the team of paratechnicals. The dispirited colleagues shared many issues with us. We foremost noted they feel left behind.

1. Restructuration

In 2017, the team of paratechnicals (PTs) was shrunk and split into 8 teams. 6 in the different OCFD Directorates and 2 in the Classification and Documentation Department. This resulted in abruptly disrupting the cooperation between colleagues in the OCFDs. The latest reorganisation in April 2022 saw the PT being merged again into 3 teams in the Classification and File Management Directorate.

This directorate has become very large, yet the feeling of togetherness is gone and replaced by a growing uncertainty about the future. Some colleagues from Classification and File Management do not feel they should belong to the PT team as the nature of their work is different.

The team manager appointed in April retired in July and no replacement is foreseen. This reinforces the feeling that no one cares about the situation in the team. The absence of a TM also makes the rewarding exercise even more unpredictable.

Each time teams are split and later merged again, work is negatively affected, and staff suffer. It particularly harms cooperation and long-established workflow. Stability and predictability play an important role in wellbeing at work. We observe that the current management model instead produces uncertainty and disengagement.

_____
1 See Gazette November 2012, pages.12 and 13: "A new way of working designed for the future".

---

2. Massive backlog and understaffing

PTs report that the backlog is considerable and automatic pre-classification fails more often than not. They would either need more staff or less manual re-distribution. Understaffing is the word that keeps popping up throughout the workday.

Management has not yet offered a solution to the persistently high workload. "Fire brigading" across technical fields cannot be done ad hoc as each field has its specificities.

Understaffing naturally poses a problem of flexibility too, it renders holiday coverage problematic, and leave requests have to be adjusted accordingly. Our colleagues like their jobs, they care about delivering the best possible quality, they wish the Office would give them the working conditions to achieve this goal.

We cannot help but notice that management is unaware of the depth of the colleagues' knowledge, and the time they have invested in learning. We are very concerned that the understaffing observed with PTs and generally in all JG 5&6 teams will lead to burn-outs and early retirement.

3. No future?

The expectations that management places in artificial intelligence (AI) have not yet materialized but succession planning is not on the agenda.

The colleagues foresee that in 5 to 10 years PT work will be automated and they fear that in the meantime their wellbeing and job satisfaction will continue to deteriorate.

The whole situation leaves them to believe there is no future for them.

4. Inefficient IT tool

Ansera is supposed to become the IT tool for PTs in the future but it does not meet the requirements of the work. Work efficiency is foreseen to be massively disrupted by the use of Ansera.

PT colleagues would like to be involved in the development of their tools and have their feedback taken into account when implementing new functionalities or making corrections. They regret a stop in investment while intellectual (manual) classification still remains the norm.

As can be seen in all areas at the EPO but especially for PTs, management's expectations about AI influence staffing levels. Although AI has long been announced but has not yet materialized, the number of staff members is already shrinking continuously. The remaining colleagues are faced with an ever-growing workload.

5. Job Group mismatch

The work requires in-depth knowledge of technical fields and is therefore very specialised. It also partly involves performing work for the divisions which should qualify the PTs as experts.

---

While procedure experts are in JG 5 grade, PTs are still graded JG 6.

We will convey to management all the issues identified, among which understaffing certainly is the most burning one.

6. In conclusion,

After an already too long period of neglect, the Office urgently needs to take action to improve the working conditions of our PT colleagues.

We would like to take this opportunity to thank our PT colleagues for a very informative meeting and for the trust they placed in us.

The Central Staff Committee
Job Groups 5 & 6 seem to be facing the fate of some mangers who opposed Battistelli or former colleagues of the fraudster Željko Topić. They're being reassigned tasks or given unrealistic work expectations which render them obsolete or simply scuttle the whole team. The Central Staff Committee is informing other colleagues that this is happening. After Job Groups 5 & 6 it can be many of the examiners, who are not so easy to manipulate. The tyrants want obedient robots, not human beings who are inclined to obey the law. █
Permalink
Send this to a friend