12.11.07
Gemini version available ♊︎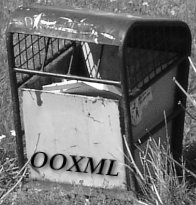 As you may or may not remember, Microsoft has quietly ensured that its own employees go to the Ballot Resolution Meeting (BRM) to represent entire nations. This is of course preposterous because you virtually let a fox watch the henhouse, or let someone decide on his/her own wage. It's just another examples of what Jeremy Allison called "Einstein's definition of insanity". And yet, the world goes on obediently and blindly (a peripheral picture of three monkeys [PNG] might be a good fit here).
"Remember 'votes for hire' in Italy, to name just one example?"Groklaw has just collected some more details. It's looking ugly. It's almost as though the BRM was nicely set up for Microsoft to come and collect a trophy. Since Microsoft is likely to attend 'on behalf of' entire nations and industries, this is another example (among many we've covered in the past) where the deck of cards contains just aces. Remember 'votes for hire' in Italy, to name just one example? Anyway, here are some of the latest information.
So if you had concerns about Microsoft's patent policy, forgeddaboudit.

It's been magically erased, and any comments are out of order.

[...]

They have chosen a room that can seat only 120 people for reasons unknown, so there may not be room for all the delegates. Let me guess. The head of the delegation is a Microsoft guy, and the ones who can't fit in the room are the ones who have issues with the proposed format? You think? Hey, some of us remember the games that were played already over rooms too small for IBM and Sun.
This is the story PJ is referring to. Look who else is listed?
This is starting to look really, really bad. At a minimum, you have to say this is the very opposite of an open process. I can't help but notice too that Brown lists Rick Jelliffe's as one of the "cool blogs" he recommends on Brown's blog. I think that is what novelists would call foreshadowing.
For those who do not know, Microsoft flies Rick Jelliffe around the world and also paid him to edit Wikipedia. With 'independent' professionals like these, who needs moderators? █
Related articles:
Permalink

Send this to a friend