02.02.08
Gemini version available ♊︎
Yesterday we mentioned the diagram which had a lot of people speak. It shows Microsoft's attitude towards (Free) open source software and it brought some obvious facts to more people's attention. LinuxToday has a new short article about it. It's worth a read because it comes from a conservative editor who rarely bashes — let alone harshly criticises –Microsoft.
What they [Microsoft] are not telling you is the why behind all of this. Why are they establishing an open source policy in the first place? Why not start a misleading marketing plan and discredit Linux and its fellow open source applications right out of business?

Well, for one thing, they have. And, for the most part, it did not work. People in IT looked at the Get the Facts campaign and decided that facts were something the campaign seriously lacked. In the end, all it seemed to do was bring more attention to Linux than before, leading many IT organizations to come to the conclusion that Linux is indeed a viable alternative.

[...]

I will admit that this may be a reach. But I also think, with Microsoft's ongoing legal woes and the threat of the LAMP space forever closed to them using their traditional business practices, this whole notion of competing with open source on open source terms does not sound so far fetched.

If this is the plan, the OSS community should be ready to respond.
This is a classic case of competing through assimilation. See:
Using a proprietary format called Open XML (the name is no coincidence by the way), among other things like OSI membership and Linux deals, Microsoft is hoping to successfully pretend that it's 'part of the club', thereby blurring the gap between openness and proprietary technology. Remember various recent developments including Holland's explicit requirement for open source software. One thing worth reminding the readers of is the fact that Microsoft threatened to sue last month when Holland decided on this new policy that isn't favourable to Microsoft [1, 2, 3, 4, 5].
"The platform is still a common carrier to other products."At the end of the day, Microsoft wants the "L" squeezed out of LAMP. Sun Microsystems, by the way, wants an "S" (or "OS", for OpenSolaris) to replace that "L". The platform is still a common carrier to other products. Just consider the number of applications a GNU/Linux distribution comes with.
With the Novell deal (and its succession), Microsoft sought to subvert the GPLv2. The FOSS 'taxation' Microsoft hopes to introduce is its best chance of keeping Windows relevant. If there is a significant problem at the moment, this is it. Licences often make the software and defend its success. █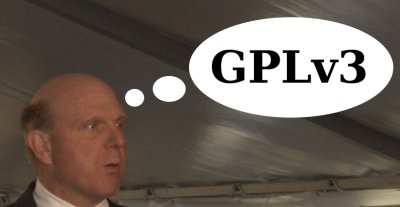 Permalink

Send this to a friend