10.14.08
Gemini version available ♊︎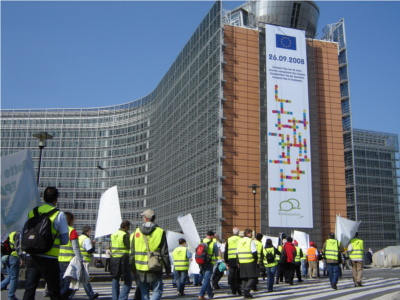 Latest Damage Assessment
A few days ago we wrote about the derailing of the Indian and English patent systems, partly due to Nokia (Symbian). The monopolists want software patents even where the law explicitly forbids it. Microsoft does this too, e.g. in South Africa and in India.
To change laws by breaking them — thus potentially setting a precedence — is still a felony; it's not a victory and people should be furious. As ORG puts it, in relation to the latest debacle in the UK:
"Unlike copyright, patents can block independent creations," said ORG. "Software patents can render software copyright useless. One copyrighted work can be covered by hundreds of patents of which the author doesn't even know but for whose infringement he and his users can be sued."

Companies that are in favour of software patents include Microsoft, which encourages companies to licence software from patent owners.
Ciaran from the Free Software Foundation Europe wrote: [via Digital Majority]
[I]f the drafters intended the exclusion to be meaningless, why did they bother adding it? Of course, the EPO's interpretation isn't at all what was intended.

A second obvious problem with the EPO's interpretation is that it doesn't just render meaningless the exclusion of computer programs. It renders all the exclusions meaningless, so games, doing business, scientific theories, "rules and methods for performing mental acts" (yes, ways of using your brain), and all the other things listed in Paragraph 2 of Article 52 should be patentable. Which is completely absurd.

Unfortunately, a UK appeal court has recently upheld this bizarre twisting of patents – and that article mis-reports the patent dangers as "protection" for software developers.
Developers want copyrights. They don't want to work inside an unfamiliar minefield (patents). Polls consistently suggest so.
Nokia
Let us look a little more closely at what Nokia, the sole owner of Symbian, is now doing. Over in India, where the situation [1, 2, 3, 4, 5, 6, 7, 8, 9, 10, 11] is already turning complex due to Microsoft, BT, and some other companies like Symantec (mostly dependent on Microsoft), there is this attempt by Nokia is trying to sneak in some software patents too.
New Delhi, Oct 12: World's largest mobile phone maker Nokia has filed a patent application in India for its networking solution which allows a user group to share multimedia contents during a group communication.
And this is the owner of Qt?
Glyn Moody has just published an article to explain this catastrophic landmark ruling, attributed to Symbian (Nokia).
Although I've written elsewhere about the recent court case of Symbian v Comptroller General of Patents, noting that it was bad news, I hadn't realised quite how bad the news was until I went through the complete judgment.

It's plain that the judges in question, who to their credit tried their level best to understand this mysterious stuff called software, failed to grasp the central issue of what software is. As a result, they have passed down a judgement that is so seriously wrong it will cause a huge amount of damage in the future unless it is revoked by a higher court.

[...]

Basically, the UK patent office appealed against an earlier appeal against its own refusal to grant a patent to Symbian for a programming technique. Yes, you read that correctly: the Patent Office was trying to get an appeal against its refusal to grant a patent struck down, because it didn't believe that the original patent application should be allowed. Through its own appeal, the UK Patent Office was trying to establish what could and could not be patented in the world of code.
There are so many more articles about this subject, including ones that propose an overhaul due to economic reasons.
No matter what the degree of adequacy or inadequacy of the system to today's technology markets, a situation that is based on deliberate abuse of the law cannot be desirable. Therefore, either the law as it is should be more strictly enforced, or it should be adapted to better fulfil its economic purpose.
On the other side of things, Nokia has just been sued by a patent troll called Azure Networks. The case was filed in Texas, as usual.
A patent-holding company has sued Nokia Inc. for allegedly infringing two patents related to computer network security appliances, according to a new lawsuit.
Nokia may attempt to argue that its software patents are intended to defend it under such circumstances. Well, too bad that according to Azure Networks' Web site, the company has no products. The renders such an argument for software patents totally moot.
Apple
Apple may be recognised an easy target to pick on, but the matter of fact is that its patents are hurting GNU/Linux desktops. Here is Apple's latest (among very many) patent.
As per the patent, one of key components is a hardware component called "voice-to-command analyzer" which would determine whether the audio is meaningless or represents an action request. This would save other processors the burden of deciphering speech.
How can Apple be labeled a friend of open source when a lot of what it does is obtain intellectual monopolies which act as fences against programmers? █
"If people had understood how patents would be granted when most of today's ideas were invented, and had taken out patents, the industry would be at a complete standstill today… some large company will patent some obvious thing… take as much of our profits as they want."
–Bill Gates
Permalink

Send this to a friend