04.30.10
Gemini version available ♊︎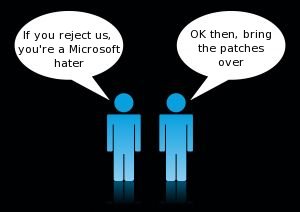 Learning to say "No" is sometimes a quality/virtue, not a weakness
Summary: Microsoft's assault on GNU/Linux takes new routes as additional deals get signed to undercut it or to make it more expensive
THE previous post spoke about Microsoft's racketeering [1, 2, 3, 4, 5, 6, 7] against Android [1, 2]. This is an aggressive action, it is not an interaction, no matter how Microsoft employees try to paint that.
Microsoft has gotten all sorts of witty ways of imposing software patents upon GNU/Linux. One way to get around Samba's deal (patent concessions) in Europe appears to be a group of former Microsoft staff (called Likewise [1, 2, 3, 4]) which is bringing such patent fees into the latest Ubuntu GNU/Linux (or Kubuntu, the latest version of which I am trying at the moment, alongside PCLinuxOS 2010). But this isn't the main subject of this post.
Yesterday we found out from a Microsoft apologist (Thom Holwerda [1, 2]) that Microsoft is exploiting Joomla! too, essentially trying to help Windows at the expense of GNU/Linux through such a Free software project. Yes, it's ironic. To quote Holwerda:
So, the deal with HTC isn't the only partnership Microsoft entered into today. The Joomla! project has announced that Microsoft has signed the Joomla! Contributor Agreement, meaning the Redmond company is now a contributor to this GPL project. Microsoft code has already found its way into the upcoming Joomla! 1.6 release, and closer cooperation between Joomla! and Microsoft will follow.

The news was announced by Open Source Matters, Inc., the not-for-profit organisation behind Joomla!. The fruits of the closer cooperation between them are already finding their way into the code base; Joomla! will be better optimised for running on Microsoft's IIS, while it will also be delivered through the Web Platform Installer.
This is not about Free software. It's about connecting Joomla! to proprietary software, which would have a negative effect. Microsoft also hooks onto Moodle in the form of a plug-in [1, 2, 3] in order to advance its own proprietary software/services and it hooks onto Linux (with Novell's help [1, 2, 3]) in order to promote Windows and Hyper-V, which are both proprietary. Suffice to say, there was a violation of the GPL in there, but this wasn't the first such incident, either. Microsoft does not respect software licences [1, 2, 3, 4]. In any event, all that Microsoft ever contributes in terms of code are connectors to Microsoft databases, services, operating system, etc. It doesn't actually add real function.
Anyway, there is something to be learned from XOOPS, whose governance crisis has just been covered by Zonker:
The XOOPS community was dealt a bad hand last week. The Dutch Court has rejected its suit against former project manager Herko Coomans and allowed Coomans to keep funds totally more than €15,000 held in a fund earmarked for the project.

This is hardly the first open source project to come into a bad way when early or original founders split due to disagreements. Gentoo had all manner of drama surrounding founder Daniel Robbins departure and attempted return. CentOS experienced issues with control of its funds and its domain last year. There's the split from Mambo to Joomla, X.org from XFree86… most of which have their roots in poor governance issues.
Joomla! is a free/libre CMS software derived from Mambo and XOOPS is similar to that. Joomla! has a history of disagreements; It has been quite troublesome at the management level since the Mambo-server days. Already we are seeing some people who are very unhappy about Joomla!'s engagement with Microsoft. Regarding the news, Oiaohm wrote: "Think about it, Microsoft has to pay their staff to do the open source work. How are Microsoft going to get money back from it?"
By selling Windows and IIS, of course.
We have also just been sent a press release from Opsview, which is taking pride in Microsoft being involved using the headline "Global brands Ericsson, Microsoft, Allianz and Electronic Arts are turning to Opsview". The press release itself hardly mentions Microsoft, but it does show that Microsoft is trying to 'embrace' its competition (open source included) in order to help itself. It's an attack on Free software because proprietary software is promoted and it is especially an attack against GNU/Linux. Already, we are seeing coverage about Microsoft front groups like CompTIA speaking about "open source". Well, there are many forms of "open source" and it's not always free/libre. █
Permalink

Send this to a friend