07.24.10
Gemini version available ♊︎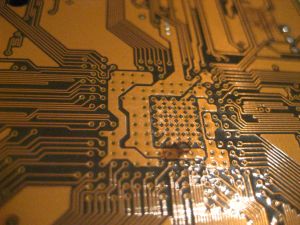 Summary: GNU/Linux news roundup
GNU/Linux
The Playstation 3 slim is not just a gaming console, but also a powerful PC besides the styled layout that the playstation 3 has. Everybody generally use the console for it?s main objective, to perform video games, with out realizing how significantly more the console can offer them . With Linux on Playstation 3 you can do almost everything a computer can do and then some with your Ps3. Not to mention installing Linux system on a Playstation 3 is very effortless. Here are some of the benefits linked with setting up Linux system on a Playstation 3 slim.

This is an old favorite of mine. Here is the problem, switching desktops on a Linux machine with or without compiz is not intuitive. Why? because it is related to some window keys Ctrl+Alt+Right or Left Arrow, it is a secondary menu, or it depends on the mouse being at the corner of the window.

Defragmenting the hard drive. It's hard to believe that even Windows 7, the latest operating system from Microsoft, is still prone to this problem. The NTFS filesystem (used by Windows NT and up) has other quirks, but it seems to slowly get fragmented and requires defragmenting from time to time. This process can take a long time depending on your hardware, and no doubtedly has to happen when you are not using your computer. It's more like a band-aid to the problem, whereas Linux solves the problem up front by not even allowing fragmenting to happen at all. This has been the case since the ext3 filesystem was first used for Linux, and is still the case today with the ext4 filesystem. To quote the Linux System Administrator Guide: "Modern Linux filesystem(s) keep fragmentation at a minimum by keeping all blocks in a file close together, even if they can't be stored in consecutive sectors. Some filesystems, like ext3, effectively allocate the free block that is nearest to other blocks in a file. Therefore it is not necessary to worry about fragmentation in a Linux system.". Again, this is brilliant.

So let's look at two of the most common operating systems used today used in datacenters and on server systems. On one hand, Windows and the other Linux.

Windows by nature has more downtime per system, because Microsoft releases patches that require frequent rebooting. Windows patches are scheduled to be released on the second Tuesday of each month, so at a minimum once per month Windows systems will need to reboot. Sometimes, patches are released even more frequently, depending on the severity. Windows just can't activate a majority of software updates without rebooting the entire system.

Server

- Over two thirds (29 out of 42) of the most reliable hosting companies use Linux (would they use GNU along with it?)
- 14.2% use BSD (FreeBSD to be more precise)
- A little less than 10% use Windows
- 3 out of 42 are a big question mark

The z196 can be configured to include up to 80 specialty engines to further reduce costs and increase performance including the System z Application Assist Processor (zAAP) for integrating Java workloads with core business applications, the System z Integrated Information Processor (zIIP) designed to help free-up computing capacity and lower IT costs, and the Integrated Facility for Linux (IFL) to optimize Linux workloads running on the mainframe, IBM said in its press release.

Graphics Stack

Applications

Why do I care about this so much? Because I have music playing whenever I'm using this computer, and when you add up work plus free time, I'm at this computer 8-10 hours per day. Music keeps me sane during multi-hour debug sessions. Music is an integral part of my life, and a music app is an integral part of playing music.

It's very important to me that the programs and tools I use all day are comfortable. Otherwise I become cranky. If you were a carpenter, would you want to use a hammer with a wobbly handle all day? I'm a programmer, and I want to use comfortable computer programs.

Clementine is very comfortable.

A library management system (also known as an integrated library system) is an automated resource planning system which enables a library to operate efficiently, freeing staff from unnecessary tasks. This type of software typically offers functionality such as cataloging, searching, reporting, acquisitions, library circulation and management embodied into a central system.

A student information system (also known as a student management system or school management system) is computer software for educational institutions to manage student data.

We continue our Linuxables series on the Linux text editor. As you might have noticed, this is one of those topics that breed much contempt. If you talk about vi, you must give equal time to emacs. If you talk about Kate, you best talk about Gedit. And that is precisely where we are – Gedit (although we have yet to talk about Kate, that comes next week).

[...]

By default Gedit will be installed on a GNOME desktop.

GSmartControl is a really useful Linux app to check the health of your hard disk drive. GSmartControl is basically a graphical user interface for smartctl, which is a tool for querying and controlling SMART (Self-Monitoring, Analysis, and Reporting Technology) data on modern hard disk drives. Only ATA drives including both PATA and SATA are supported for now.

Ear Candy Automatically Fades and Raises Volume Levels in LinuxLinux only: Free utility Ear Candy makes your sound system smarter. If you're listening to music and a Skype call comes in, or you load a YouTube video, Ear Candy gently lowers your music volume to let the other sounds through.

Proprietary

More than two years after version 1.0 arrived and about one month behind schedule, the Wine Project development team have released version 1.2 of their Windows API implementation. Wine (Wine Is Not an Emulator) is free open source software that allows users to run Windows applications on Linux and Unix by providing its own native replacements for Windows DLLs. According to Wine Project leader Alexandre Julliard, Wine 1.2 represents more than 23,000 changes, including over 3,000 bug fixes, and includes a number of improvements and new features.

Instructionals

Desktop Environments

K Desktop Environment (KDE SC)

I'm happy to announce the availability of our first patch level release for KDevelop 4.

Well, here comes a good one I think. As I was talking to some people on the KDE IRC channel yesterday, there was a comment made about a possible way to orient new KDE users on how to use the desktop. However, I believe that users should be left clues to discover their desktop on their own. There should not be an intro popup or anything like that. Ponder about this for a moment.

Today, the KOffice team presents a contest to create great KPresenter slide templates, offering t-shirts for the winners and of course inclusion in the next KPresenter releases for all good submissions. Read on for information on the contest!

GNOME Desktop

This September, a new desktop will be unveiled to the world in the form of GNOME 3. This desktop will change the way people view, work with, and think of the desktop. It's different, it's intuitive, and it follows the current evolution of what the desktop should be. But best of all, it's all about Linux.

I have owned a Victorinox USB flash drive for several years now – long enough that it is only a 512MB unit, and it was considered "typical" at the time that I got it. I recently decided it was time to get a new one with a capacity more typical by today's standards. My basic selection criteria was very simple – besides the capacity, it must not have any knife or scissors which would cause me problems when taking it in my backpack on commercial flights.

Reviews

Parted Magic is a Slackware-based Linux distro which is made for the sole purpose of partitioning hard disks. Parted Magic comes with tools like GParted, TestDisk, fdisk etc. The latest release, Parted Magic 0.5 was released yesterday and it includes Linux kernel 2.6.34.1, GParted 0.6.1 etc.

New Releases

After several years of development, German T2 creator Rene Rebe has announced the release of version 8.0 of his cross compiling Linux distribution System Development Environment (SDE), T2 SDE. According to Rebe, the latest release includes more than 10,000 Subversion revisions, hundreds of new packages, performance improvements and several new features.

The Sabayon Linux team has now released two new flavours of the Gentoo-based Linux distro packed with alternative desktop environments for those who prefer them or have slower computers. The Sabayon 5.3 XFCE and Sabayon 5.3 LXDE 'spins' are more experimental in nature than the regular release though they are considered stable enough for regular use. This is just the first step, more spins are planned, and these two will continue to evolve until they reach a more mature state.

Canonical/Ubuntu

Flavours and Variants

Some love Gnome, others love KDE, for me it's XFCE all the way. When I jumped on the Ubuntu bandwagon several years ago it was only natural that I'd use Xubuntu.

If you're looking for a great KDE distribution built on Ubuntu packages, Linux Mint KDE is the one to get. Forget Kubuntu, Mint does everything it does and more. In fact, it's everything Kubuntu used to be. By itself, Mint's KDE edition shines with custom tools, a customized appearance, and attention to detail at just about every turn. Distributions like this one make it harder for me to choose a single distro to stick with, as there are many great ones out there to try out.

[...]

Overall: 5/5 (Great!)

Phones

I caught an excellent presentation by Aaron Williamson from the Software Freedom Law center here at OSCON yesterday examining why smartphones built on open source software aren't as open as they possibly could be. What Williams talked about was often eye opening, though there were a few points I found myself disagreeing with him on.

He started the presentation by talking about Motorola's Droid X and the controversy that was stirred up when hacking enthusiasts discovered that Motorola had implemented an encrypted boot loader that forced the device to boot into a "recovery" mode in the event a custom ROM was detected on the device. While this was shocking (and even infuriating) to some, The only thing setting Motorola apart from the other Android OEMS in this case is that they're actually enforcing the restrictions mandated by the OS maker.

Mobile photography could get a shot in the arm thanks to the combined efforts of Stanford University researchers and Nokia Research, who have pushed a new open-source digital photography platform out the door. FCam – or "Frankencamera" – is initially available for the Nokia N900, and unlocks high-end functionality like RAW image capture, full manual controls and low-light imagery through combining multiple shots of varying ISO and exposure settings.

Android

In two reports filed from this week's OSCON conference, The Register says that Google will open Android's internal development kit to contributors, and that Linux maintainers are holding tough in negotiating with the search giant regarding Android's readmission to the kernel. Meanwhile, Linux 2.6.35 RC6 was released, featuring enhancements to network scalability, memory management, and sleep-wait detection.

Interest levels in syncing music collections have notched up a bit of late with the introduction of a plethora of new Android-based super phones. That is, unless you happen to be one of those owners with a large quantity of digital music encumbered by digital rights management (DRM) better known as copy protection. In that case, you might want to do some research into converting said digital files into a more portable format. Meanwhile, for the rest, with media ready to load up on a new cool phone, we'll take a look at Linux options.
Permalink

Send this to a friend