08.17.10
Gemini version available ♊︎

Photo by RightOnBrother
Summary: Leader of Sun's open source programme is not at all positive about Oracle's commitment to Free/libre software
THE ORACLE-GOOGLE case has gotten us increasingly distracted [1, 2, 3, 4, 5, 6, 7, 8, 9], but it's an important issue. Simon Phipps' initial reaction was:
Hmm. Aren't these both Linux Foundation members and OIN licensees? Fighting over open source technology in a Linux distro? Presumably this also indicates Oracle's decision on Apache's request for a TCK for Harmony.
Phipps was Sun's key "Open Source" guy, so his opinion matters a great deal. He is calling for everyone to abolish software patents (again). "If you still think software patents are a spur to innovation, you're not paying attention," he wrote. More importantly, he goes on to show that Oracle is not serious about Free software, except as a control freak or a 'consumer' (exploiting without contributing much, pretty much like Apple). Oracle has grabbed MySQL and other such projects which relate to databases. In a 2006 interview Ellison made a revealing statement:
FT [Financial Times]: Is open source going to be disruptive to Oracle?

LE [Larry Ellison]: No. If an open source product gets good enough, we'll simply take it. Take [the web server software] Apache: once Apache got better than our own web server, we threw it away and took Apache. So the great thing about open source is nobody owns it – a company like Oracle is free to take it for nothing, include it in our products and charge for support, and that's what we'll do. So it is not disruptive at all – you have to find places to add value. Once open source gets good enough, competing with it would be insane. Keep in mind it's not that good in most places yet. We're a big supporter of Linux. At some point we may embed Linux in all of our products and provide support.
Phipps also links to Carlo Daffara's second insightful post about the subject:
I believe that the first one is the most probable one; Larry Ellison should know that cornering Google would not be sufficient to make them capitulate – they have too much to lose. But this will not be sufficient to create an opportunity for Oracle; I believe that the lawsuit will actually bring nothing to Oracle, and lots of advantages to Google. But only time will tell; the only thing that I can predict for sure right now is that Solaris will quickly fade from sight (as it will be unable to grow at the same rate of Linux) exactly like AIX and HP-UX: a mature and backroom tech, but nothing that you can base a growth strategy upon.
The FSF-backed swpat.org is already stepping in and Google promises to fight Oracle to defend Android/Dalvik. █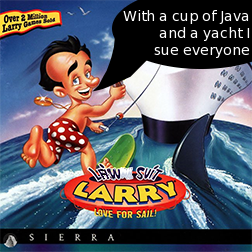 Permalink

Send this to a friend