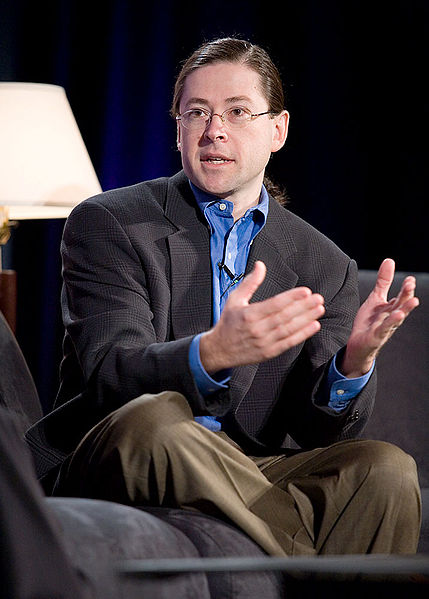 Jonathan Schwartz: "Years back, Sun was under pressure in the market. [...] With business down and customers leaving, we had more than a few choices at our disposal. We were invited by one company to sue the beneficiaries of open source. We declined. We could join another and sue our customers. That seemed suicidal." (photo by James Duncan Davidson/O'Reilly Media, Inc.)
Summary: Further analysis of possible motives in the "SCOracle" case; another look at Apple's software patents lust
IN PREVIOUS POSTS about Oracle's lawsuit against Google [1, 2, 3, 4, 5, 6, 7] we explained that it is more complex than it initially seems.
There are
some more cartoons
about it and plenty of opinions, including
some from Carla Schroder ("Oracle on the Warpath")
and
from IDG
. What we found interesting is the reaction from the Microsoft camp though. We did not find a reaction from
Microsoft Gavin, who is busy doing 'damage control' regarding Microsoft's violation of privacy
. We did, however, find that the 'Microsoft press' and Microsoft boosters like Mary Jo Foley (Gavin's colleague) have begun
advertising Microsoft's database
in the midst of disdain/fear of Oracle. How timely. Microsoft MVP de Icaza led Groklaw to writing (Groklaw has
just published another new post
: "In the "You Won't Believe This" Department, Miguel's suggestion to Google is: "...I can not help to think that Google could migrate Android from Java to the ECMA/ISO CIL and C#. Unlike the Java patent grant, the Microsoft Community Promise for both C#, the core class libraries and the VM only require that you have a full implementation. Supersetting is allowed....Google could settle current damages with Oracle, and switch to the better designed, more pleasant to use, and more open .NET platform."
"I can't help but think about what Jonathan Schwartz wrote about meeting with Bill Gates and Gates asking for royalties for patents he claimed were infringed by OpenOffice. Schwartz told him that .NET infringes JAVA patents, and so Gates went away. But why isn't Oracle suing Microsoft, then?"
--Pemela Jones"Like *that* will ever happen. I think he's completely missed the real lesson to be learned about patents and skating close to the edge. And now, because Miguel wrote this, I must begin to wonder about the purpose of this litigation. I can't help but think about what Jonathan Schwartz wrote about meeting with Bill Gates and Gates asking for royalties for patents he claimed were infringed by OpenOffice. Schwartz told him that .NET infringes JAVA patents, and so Gates went away. But why isn't Oracle suing Microsoft, then? Instead, here's Boies Schiller again, after SCO, with another anti-Linux lawsuit, if we define Linux in the broadest terms. Things that make you go hmm."

To further expand on that point, Groklaw cites "The Java Trap" and agues: "Just a reminder that Richard Stallman warned developers years ago to watch out for nonfree versions of Java and stick to what became the GPL code. Had they all listened, there'd be no Oracle v. Google, methinks. Money makes people do strange things, but you as individual programmers don't have to. This is in the live and learn from the mistakes of others category. And may I remind you that rms is now warning about Mono and C#, not to depend on them? When you see others pooh pooh his warning, look at his track record. How often is he right? Extrapolate."

Huge damage has potentially been done to Java's reputation. As one writer puts it:


Personally, it's Ruby on Rails and Hadoop for now. My application has a browser-based front so Ruby on Rails is great and as far as the server is concerned, I use the old fashioned C++. Given how I use the data I use in my stealth app, I will never want to use mySQL. It's Hadoop for the moment. Now with this Java lawsuit, I will not even consider building a Java-based application. Given a choice, one should never pick uncertainty or maybe even a lawsuit.

James Gosling was right. Goodbye Oracle Java.
Oracle has made
one rare and important clarification
(Oracle is mostly quiet, Google says the claims are "baseless"):
An Oracle spokeswoman said: "This suit is specifically about Google and that's it."

[...]

Oracle's suit also underscores the sharp difference in philosophies between Oracle and Sun, which became one of the most visible proponents of open-source software. Google CEO Eric Schmidt is a former senior Sun executive.
Bruce Perens
explains this as follows
:
Apparently, Android is missing AWT and Swing, as Google created its own user-interface toolkit. So, Android would not conform with Java Standard Edition nor Java Micro Edition, which both require AWT. Google loses Sun's patent grant through non-compliance with its requirements to follow the Java standard.
Perens watched the SCO case very closely and whether one recalls it or not,
a few years ago Jonathan Schwartz wrote publicly in his blog that Sun had been invited to sue a competitor, pretty much like SCO on the face of it
. This may lead to all sorts of suspicions and theories about past and present. Sun did pay SCO at the end.
At a later stage Groklaw was made aware of the Apple connection, which was mentioned here before. Groklaw, which spends some time defending Apple for reasons we do not understand,
quotes
: "This unexpected move by Oracle sends a strong and threatening message to Google and the entire Android community—specifically that Oracle will use its intellectual property rights to get compensated for innovations around the exploding mobile marketplace. Oracle's CEO Larry Ellison is inserting himself in the middle of an ever-evolving battle between Google CEO (and former Apple Director) Eric Schmidt, Apple CEO Steve Jobs, a long-time friend of Ellison's."
Pamela Jones writes: "Ah! Apple. HTC. Now the picture is getting clearer as to the why. So it will come down to facts of the case, and the stupid patent system." For background about Apple vs HTC see
our Wiki
.
To say more about Apple and patents, the company "Wants Patent On Video Game-Based iBooks,"
according to Slashdot
:
theodp writes "Patently Apple reports that a new Apple patent application has surfaced describing an application that would record your personal journey through a video game and turn it into a custom comic or iBook when you're done playing. Imagine how thrilled little Billy's Mommy would have been if she only had the chance to read the story of her son's foray into Grand Theft Auto: San Andreas or see how he dealt with BioShock's Little Sisters."
Also in the news:
●
Apple Patent Opens a New Frontier for Gaming--Documenting
●
Here Comes the iBike? Apple Files Patent for a Bicycle Accessory [Updated]
●
Apple Researching Methods to Turn iPhone Into Feature-Rich Bike Computer
●
Here comes the iBike? Apple files patent for a bicycle
Yes, you read that headline right. Apple has applied for a patent for a bicycle concept.
Apple's love of software patents has already angered one Apple 'partner' (FutureTap), but
Apple still denies the allegations
which were made repeatedly .
There is no "PatentGate." That's the word from FutureTap, the company which The Reg reported last Friday was concerned about Apple's lifting of the look-and-feel from its flagship app and including an illustration of it in a recently published patent application.
We have covered the FutureTap story in [
1
,
2
,
3
].
Apple's hypePhone also
allows people to look up patents
(Apple would love this app):
I wrote last May about Apptorney IP, an app that facilitated patent and trademark searching on an iPhone by providing direct links to the appropriate sections of the U.S. Patent and Trademark Office website. Now comes an app that takes that to the next level, enabling more seamless searching of patents and trademarks.

Called Banner & Witcoff's IP Lawyer, the free app from the IP firm Banner & Witcoff provides direct search access to patents and trademarks, as well as to corresponding assignments, without the necessity to connect through a web page.

The app lets you search for patents by keyword, patent number, assignee, inventor or classification, and by keywords or exact phrases. Once you find a patent, you can further search within its text or download a PDF (via Google Patents) of the actual patent images.
Apple is a major part of the problem with software patents. As we showed on Friday, it has a lot to gain from the lawsuit against Google.
⬆