09.02.11
Gemini version available ♊︎
Microsoft's use of MOSAID (which recently sued Red Hat), either directly or as a proxy, is no longer secret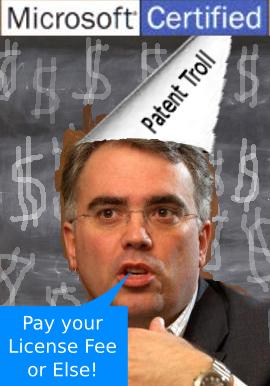 Picture contributed by a reader
Summary: "Microsoft is party to the just-announced deal between Nokia and Mosaid," claims Mary Jo Foley, who calls the patent troll a "patent licensing firm"; the debate over the abolishment of patents is gaining traction in the UK today
IT was yesterday that we first found out about Nokia/Microsoft armament of a patent troll. The following day, semi-official Microsoft PR dunce Mary Jo Foley admitted that "Microsoft is party to the just-announced deal between Nokia and Mosaid, a Canadian patent licensing firm. The Redmond company has a "passive economic interest," its officials are saying." So we were right all along.
Just as we continue to see articles about "How the Patent Wars Are Hurting High-Tech" and other such complaints, we are receiving yet more examples of why patents need to die, and perhaps not just software patents anymore (although software would be a good start). Microsoft has already groomed the world's biggest patent troll (IV), which does nothing but extort companies that actually make products (mostly Microsoft rivals). Who benefits from this? These are very evil people with nearly zero ethical values, just PR (like patent lawyers in their echo chamber). Microsoft seems to be preparing to use Nokia's patents through a troll and this new statement from a Nokia executive seems to validate our concerns. It basically does seem like Nokia's patents will soon be used against Android but via a proxy which is a patent troll, in order to avoid Motorola patents being used to counter-sue or deter. Microsoft is playing an evil game here with Nokia and with patent trolls. Will somebody tell President Obama or some EU regulators? Pieter Hintjens (former FFII president) explains why "Patents [Are] Considered Evil" in his new blog post which wisely states:
There are a set of classic arguments for patents, ranging from "inventors have a right to profit from their hard work" to "without patents, no-one will innovate". None of these arguments stand up to scrutiny nor comparison with fields that aren't patented. We do not generally ask the State to intervene to ensure that artists will paint, musicians play, chefs prepare meals, fashion designers create the new seasons. The vast bulk of our economy innovates well without 20-year monopolies. By contrast, the areas that are heavily patented, such as telecoms and pharmaceutics, resist change, are run by cartels, and extort consumers with grossly inflated prices.
Interestingly, since around 7 AM there have been several radio programmes (different channels based on our IRC members who live in the UK) which discussed the subject almost simultaneously. It was a hot topic on Friday and even the BBC's Rory Cellan-Jones did an article about it, providing as background the following passage:
On the Today programme this morning, there was a spirited debate about patents and whether they are a positive or negative force for innovation.
If anybody needs a great example of why patents need to be killed, look no further than what Microsoft does to Android/Linux right now, via patent trolls acting as a loophole. █
Permalink

Send this to a friend