11.12.11
Gemini version available ♊︎
Because racketeering is a crime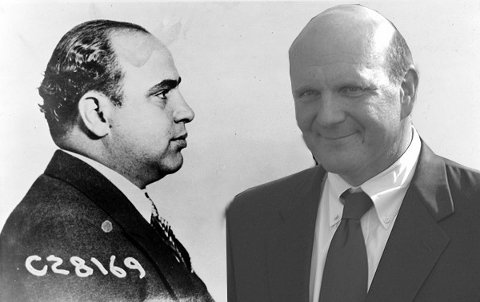 Summary: Kind request for the RICO Act to be upheld and enforced now that federal agents are under active pressure from Barnes and Noble, Google, and others
MICROSOFT has engaged in a new type of crime for about 5 years now. A lot of it happens behind closed doors. Extortion rackets are not legal, but they can be spun or painted as something else provided that the perpetrators are rich enough to buy the press, to buy lobbyists, to buy politicians, and to change the law with all of those things. The tide is beginning to turn against Microsoft now that the extortion racket has grown too big to be ignored.
While Groklaw does not look at the Oracle vs. Google case (its main focus these days [1, 2, 3]) it looks again at Microsoft and then covers what we covered here before. Microsoft lobbyists such as charlatan/crook Florian Müller and Novell will collude with Microsoft and try to get regulators off their back. Who can blame them? Microsoft pays their wages to do this. They are aiding crooks because it's profitable. One tactic has been to divert attention to the victim, Google, portraying it as an aggressor. Here is one article among many about pursuit of "DOJ probe into Microsoft patent tactics". "The overview, in the slides, of Microsoft's anti-competitive behavior is the following," writes Pamela Jones, who then quotes:
* Publicly Claiming Control of Android and Other Open Source Operating Systems

* Requiring Potential Licensees to Enter into Overly Restrictive Non-Disclosure Agreements

* Demanding Royalties Commensurate with Owning the Entire Android Operating Sysem (and Similar to Royalties for a Windows Phone License) Even Though Microsoft Only Owns Trivial Patents

* Imposing Licensing Provisions Unrelated to Microsoft's Patents and Designed to Prevent Competitor Innovation

* Filing Frivolous Patent Infringement Actions Against Companies That Refuse to Enter Into Anticompetitive Licensing Agreements

* Deal with Nokia Includes an Agreement to Engage in a Coordinated Offense Use of Patents Against Open Source Software

* Purchasing Patent Portfolios that Threaten Open Source Software
"It's almost as Martin Niemöller said," writes Pogson, "First they came for the communists,
and I didn't speak out because I wasn't a communist.
Then they came for the trade unionists,
and I didn't speak out because I wasn't a trade unionist.
Then they came for the Jews,
and I didn't speak out because I wasn't a Jew.
Then they came for me
and there was no one left to speak out for me."
It is time to call out this nonsense and actually make Microsoft afraid of the law being enforced. What it is doing almost certainty violates the RICO Act, it's just that nobody bothers to actually enforce the law and Microsoft uses NDAs to hide evidence of its criminal activities, just as it hid OOXML bribes to ensure it can corrupt ISO without the watchdogs sending anybody to jail.
Microsoft commits crimes of extortion and only gets away with it because of crooked political systems and a PR campaign it funds to whitewash its behaviour. If you are are US citizen who is tired of this, make sure you let your government representatives know (Microsoft is based in the US, so it has to be done there). A talented writer says that an expert claims regulators are "slow to catch up" to Microsoft patent bullying. In a sane system, Ballmer and his buddy Horacio would possibly be put in prison for a very long time, but as Timothy B. Lee makes apparent, the government is too afraid to take legal action against billionaires (we see this in Wall Street, too). Well, nobody wants to say that the emperor is naked because the PR campaign keeps talking about the garments, not the obvious absurdities:
Expert: Regulators "slow to catch up" to Microsoft patent bullying

Google and at least one of its Android partners—Barnes and Noble—have been agitating for a government antitrust investigation of Microsoft's patent licensing practices. Last month, Barnes and Noble submitted a formal request for the Department of Justice to launch a probe.

According to Barnes and Noble, Microsoft claims to have over 60,000 patents. Fewer than 20,000 of those were granted by the patent office; Microsoft presumably purchased the other 40,000 from other firms. The result is one of the world's largest "patent thickets." Microsoft has so many patents that it's difficult to build a software product as complex as a mobile operating system without infringing dozens, maybe even hundreds, of them.

And Microsoft is taking full advantage of that fact, approaching each Android-based phone manufacturer in turn and demanding stiff licensing fees—fees that are allegedly at least as high as the fees Microsoft charges for its own Windows Phone 7 operating system. Microsoft has also been cagey about identifying the specific patents allegedly infringed by Android vendors. Some observers (including me) have characterized the process as a shakedown.

So does Microsoft's conduct run afoul of antitrust law? Michael Carrier, an antitrust scholar at Rutgers-Camden, is skeptical. "I'm concerned by a lot of this conduct," he said, but antitrust law has "limited tools" to deal with it. And antitrust regulators tend to be slow to adapt to changing market circumstances.
Nobody suggests an "Occupy Redmond"; we only ask US citizens to demand enforcement of the RICO Act, which was not put in place for mere 'decoration' or symbolism. It is the legal rights of US citizens to contact their elected officials and at the very least share with us their responses. We need to apply pressure. The president of the FSFE calls this whole thing "extortion" in one of his latest tweets, but he cannot do much about it. To quote:
Barnes & Noble: Microsoft trying to make #android as expensive as Windows Mobile through patent extortion
Steven J. Vaughan-Nichols wrote one of the best articles about this. To quote:
While Google has been fighting with Oracle over Java's intellectual property (IP) and Android, it hasn't been doing a lot for its Android allies who have been being whipsawed by Apple, Microsoft and patent trolls such as Intellectual Ventures. That may be changing. Google executive chairman Eric Schmidt said today in Taiwan that Google will stand by the phone vendors firms in any Android patent lawsuit.

According to Focus Taiwan, Schmidt said, "We disagree with Microsoft that anyone needs to pay Microsoft a royalty fee for products they didn't build. I want to emphasize that Google built these products [Android and Chrome], not Microsoft. We tell our partners, including the ones in Taiwan, that we will support them."

It's not just Microsoft though that Schmidt is giving notice to that Google won't be sitting back in patent lawsuits. "For example, we have been supporting HTC in its dispute with Apple because we think that the Apple thing is not correct."

I also suspect it's because, as Google gets closer to sealing the deal that will bring it Motorola Mobility. Google will be able to use its Motorola Mobility patent arsenal against Android's enemies in the courtroom.
Pogson cited this and added:
Some other nuggets:

see Oracle v Google where the judge has seen patent claims and copyright claims whittled away to almost nothing compared to the $billions Oracle made. Google's lawyer stated in court, "when Android was announced in 2007, Sun didn't throw up their hands and say, oh, my gosh, you're infringing, Sun congratulated Google on Android, welcomed Android to the Java community, put Android on Sun products, asked Google how they could help Android."

see A suggestion that the ugly Apple v Samsung global war was actually the result of Steve Jobs' vanity and may soon be resolved.

The world of IT needs this war to be short and decisive. There is hope.
According to a new article from Reuters, "Google offers support to Android firms in lawsuits". Well done:
Google Inc will continue to offer support to firms using its Android system that are involved in legal disputes, its executive chairman Eric Schmidt said on Wednesday, as the Internet giant looks to cement alliances in the face of toughening competition.
It would be unfair to name only Microsoft for its extortion of Android. Apple's former CEO too vowed to use up to $40 billion just trying to kill Android in the courtroom, as though the courtroom is just a little playground for him — a playground by which to subvert competition, maybe even by liaising with his best friend Larry Ellison. Watch this new patent from Apple, the company which only pretends to innovate. When it does 'innovate', it's stuff like this:
Apple has been awarded a US patent on an embedded SIM capable of switching between mobile network operators under command from Cupertino, assuming the operators comply.

The patent places an embedded SIM within the secure element which one would expect to see managing electronic payments, which is why it was spotted by NFC World. Its editor, Sarah Clark, realised the significance of the patent and how it validates last year's rumours that Apple was planning a cross-network SIM-less handset.

We discussed that idea almost exactly a year ago, coincidentally on the very date the patent was filed. We pointed out that in Europe the legally mandated GSM standard requires a removable SIM, and that Apple would have to get the standard changed before would be allowed to sell such a device. That change is now in process, but we didn't expect Apple to patent the idea too.
It has been suggested elsewhere that Steve Jobs' own words should be used to report Apple too — not just Microsoft — for abusing the legal system for anti-competitive purposes, incidentally colluding with Microsoft at the same time. The bottom line though is clear; it is time to actually use the law the way it was supposed to be used — to serve justice, not to derail competitors, extort competition, bankrupt competitors, intimidate competitors, and present fake evidence to block imports of the competition.
US citizens: the Barnes and Noble complaint text can be (re)used to contact representatives without having to do much work. If you hear back, please let us know and share. █
Permalink

Send this to a friend